CNN contributor Dean Obeidallah is a Muslim who is extremely peeved at any American who does not believe that CAIR (Council American Islamic Relations) is a benign organization, whose mission is to work with American organizations and law enforcement to combat terrorism.
Obeidallah believes conservative news sites are portraying Muslims falsely. He points to his emotions and the emotions of several "prominent" Muslims, many CAIR representatives or supporters, who condemned the Paris attacks. From an article on November 16, 2015, he had this to say in response to the Paris attacks:
The fear, of course, is that there will be a backlash against Muslims in America for ISIS's actions. No doubt we would see online hate against Muslims—that's there regardless of the news of the day.

The question is how else would the backlash manifest? Would we see hate crimes spike? More discrimination against Muslim Americans at the workplace? Will our government engage in wholesale spying on Muslim Americans, depriving us of our civil liberties simply because of our faith?
John Nolte, a contributor at Breitbart related his encounter with Obeidallah [via Breitbart]
If you are looking for yet more proof of just how far CNN's ethical and professional standards have fallen, for no reason other than my declining an invitation to profile Muslims, regular CNN contributor Dean Obeidallah lashed out at me on Twitter. Twice I was told "go fuck yourself," once I was compared to a Nazi.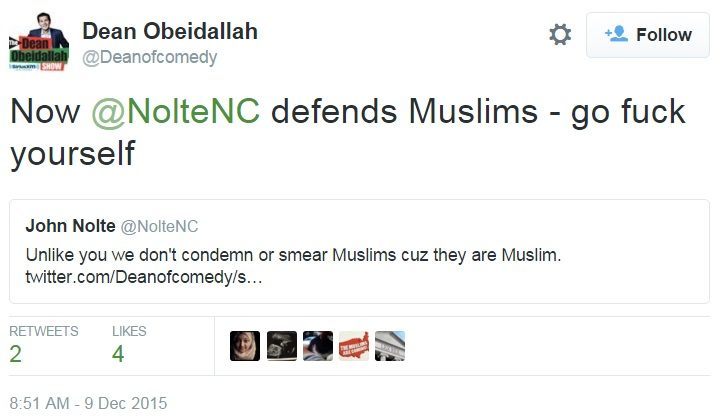 I decided to engage Obeidallah on tweeter. I was curious about the CAIR supporters he posted about "condemning" the Paris attacks. Anyone with some knowledge of Islam understands that "lying" to achieve the goals of Allah, or the Caliphate is acceptable:
Muslim scholars teach that Muslims should generally be truthful to each other, unless the purpose of lying is to "smooth over differences."

There are two forms of lying to non-believers that are permitted under certain circumstances, taqiyya and kitman. These circumstances are typically those that advance the cause of Islam – in some cases by gaining the trust of non-believers in order to draw out their vulnerability and defeat them.
This is the response I received:
@rebeccadiserio Then lets go to the FBI together- when do u want to go?

— (((DeanObeidallah))) (@Deanofcomedy) December 9, 2015
My intent was to get his "take" on Islam. Going to the FBI? Yeah, we all know how the FBI/DOJ rolls under Obama. Need I say Eric Holder? Or even Loretta Lynch? My next question was the heart of what I wanted to know from him.
@Deanofcomedy Is it your contention that Muslims who are waging "jihad" on the West are perverting true Islamic teachings?

— Deplorable Rebecca (@rebeccadiserio) December 9, 2015
Obeidallah had initially answered me within seconds. After I asked this question — no response. I tried to follow-up, being respectful, as I am not looking for a fight, I am looking for truth and common sense.
@Deanofcomedy Not picking a fight-want to understand your point of view-thank-you

— Deplorable Rebecca (@rebeccadiserio) December 9, 2015
Still no answer from Obeidallah. For someone who responded so quickly and wanted to lead me to the Obama Administration FBI, he quickly fell quiet. I really wanted to know how a big CNN Contributor, who is calling any American crazy, a bigot, and a Nazi for believing our country is under threat from teachings found in the Quran, believed others are perverting the definition of Islam.
Who are the true "orthodox" Muslims? That question is about as "hot" as it gets. We Americans, at some point, will have to act with our heads, not our hearts. The problem with Obama and his "war on terrorism" is he never identified what is terrorism? Terrorism from where? Terrorism from who? Obama, against many of his generals' advice, coddled organizations like CAIR and forbid the nation from calling Islam anything but the "religion of peace."
No one wants to incite violence. If they do, they are ignorant. Yet, when your homeland or your nation is under attack, with no end in sight, the first step is to finds out the truth. No matter how uncomfortable that truth may be. For to act without truth guiding you, you devolve into darkness, living a lie.
A whole nation living a lie and half-truths is not a nation that will stand the test of time.
[h/t the Daily Beast]
The content on Mad World News expresses a personal opinion, advocates a point of view (e.g., on a social or political issue), or is self-promotional. For the purpose of fact-checking, it should be rated as Opinion according to Facebook policy.