(This post may contain disputed claims. We make no assertions as to the validity of the information presented by our Opinion Columnist. We are an opinion blog, not a traditional news outlet, and this post should be treated as such. Enjoy.)
Hollywood leftists are attacking the rapper known as 50 Cent after he endorsed President Donald Trump. The 45-year-old Grammy Award winner pointed to Joe Biden's tax plan saying: "I don't want to be 20 Cent." Immediately, he got blasted, and that's when Candace Owens stepped in and taught them all a lesson they won't soon forget. You'll love this.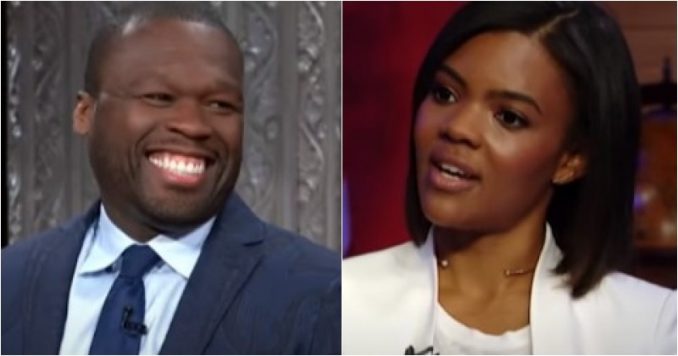 Curtis James Jackson III, who goes by the name 50 Cent, sent social media platforms into shockwaves after he posted to his 26 million followers on Instagram and his 12 million followers on Twitter that he would be voting for President Trump.
"WHAT THE F*CK! (VOTE For TRUMP) IM OUT. F*CK NEW YORK The KNICKS never win anyway. I don't care Trump doesn't like black people 62% are you out of ya f*cking mind," 50 Cent posted along with a screenshot of tax rates:
This news was almost too much for the Biden supporters to take. First, it was Ice Cube, who last week acknowledged the GOP had positively responded to a plan he is touting for the black community while the Democrats blew him off "until after the election."
Then, we have 50 Cent endorsing Trump. Many of them lashed out. 
Multimedia journalist David Leavitt posted: "50 Cent can go f*ck himself for choosing his personal wealth over the health of the nation. What a selfish piece of sh*t."
50 Cent can go fuck himself for choosing his personal wealth over the health of the nation

What a selfish piece of shit pic.twitter.com/R9QzUPGtGf

— David Leavitt (@David_Leavitt) October 19, 2020
Most detractors claimed Trump was a "white supremacist." That's when 50 Cent doubled down posting: "Yeah, I don't want to be 20 cent. 62% is a very, very, bad idea. I don't like it! #abcforlife nov 18 #starzgettheapp."
"That's not real though lol. That's propaganda, you would think a natural born hustler would recognize game from white supremacists," tweeted "Trump Blocked Me."
That's not real though lol. That's propaganda, you would think a natural born hustler would recognize game from white supremacists.

— Trump Blocked Me (@ReelLiveFilms) October 20, 2020
Enter Candace Owens. The Blexit founder schooled those blasting the African-American rapper. 
Owens defended Jackson's concerns over Biden's proposed tax increases for top earners, saying: "He's smart, you're not."
"I want to just say something to defend 50 Cent because I am just seeing so much ignorance in his comments from the majority of Black people saying they're done with him and it's because he's rich and he's betrayed them," she said. "No, it's because he's smart and you're not, okay?"
The 31-year-old African-American Trump supporter explained about states like California who raise taxes so high on "rich people" and big companies that they flee.
"Rich people aren't going to be taxed 90 percent," Owens adds.
She went on to explain how rich people who own big companies will leave the state and the result is they leave behind middle-class Americans they employed who are now unemployed. Owens pointed to Charles Swabb, who employed hundreds, and Amazon, who employed thousands, who left California.
She urged her followers to read Thomas Sowell's essay "Trickle Down Theory" and "Tax Cuts for the Rich" to prove her point.
"Okay, so 50 Cent is saying 'I'm not paying these taxes' rich people all over different states that are hiking taxes right now are saying 'I'm not paying taxes,'" she explained. "Now when they say that they're not bluffing, they're literally moving, picking up and leaving the states."
"So if you think that you're going to just tax rich people 90 percent and they're going to stay in the state, you're an idiot. Rich people are the ones who can afford to leave the state," she said. "What happens is the government then turns to the poor people and raises their taxes."
"I'm not making up this scenario," Owens declared. "It's happened in America multiple times. You can read about how this happened in the Great Depression when the government had to resort to raising taxes to an unbelievable rate. Rich people will always hide their money while poor people get stuck."
Candace is right. Those who can afford to flee will flee, while the lower and middle-class and poor people get stuck holding the bag. It's not just income taxes that get raised but state taxes and sales taxes in Democrat states are out of control.
She also describes the effects of lower taxes overall. Employers who own big companies are not only happy to pay "their fair share," but the extra income is spent hiring more people and expanding which benefits the working class.
Owens points to Thomas Sowell who is an African-American economist who causes the leftists to go nuts. 
"At various times and places, particular individuals have argued that existing tax rates are so high that the government could collect more tax revenues if it lowered those tax rates, because the changed incentives would lead to more economic activity, resulting in more tax revenues out of rising incomes, even though the tax rate was lowered," Sowell writes. 
In other words, lower taxes gives individuals more money that they go out and spend. Those purchases get taxed. Lower taxes also give employers more money and they can employ more people who pay income tax. More people employed paying lower income taxes, in the end, gives the government more money.
It's a win-win situation, and it's that exact situation that President Trump has modeled his tax plan on. Let's be clear: under Trump, the economy was at historic highs, while unemployment was at historic lows. So, it's a no brainer. That's what 50 Cent figured out, and that's why President Trump is going to shock the liberals once again and be re-elected.