(This post may contain disputed claims. We make no assertions as to the validity of the information presented by our Opinion Columnist. We are an opinion blog, not a traditional news outlet, and this post should be treated as such. Enjoy.)
Austin's Democrat mayor released a video warning residents to "stay home." There was just one problem, however, as people quickly realized what he was doing while filming the message, and it didn't take long for the mayor to get called out. Don't miss this.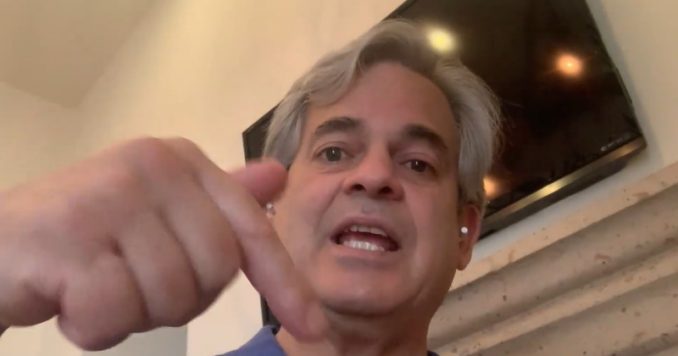 Democrat Mayor Steve Adler came under fire after posting a video on Facebook, urging Austin residents to stay home to help curb the spread of the coronavirus after health officials warned the public of a spike in new cases. There was one thing Adler failed to mention, however, and that's what led to him being lambasted as a hypocrite.
"The most important message trying to get out to the community right now is that our numbers are increasing," Adler warned. "We need to stay home if you can," he added. "We need to try to keep the numbers down. Now is not the time to relax." That sounds well and good until you realize that the mayor was filming the video while relaxing at his Cabo San Lucas, Mexico, vacation home, but that's not all.
Indeed, Adler later admitted that he traveled outside of the country and was vacationing in Mexico with his family as he filmed the video message, urging the residents of Austin to stay home. Making matters worse, the mayor's warning came just two days after he flew to his Cabo timeshare on a private jet following his daughter's wedding in Austin. And, it gets worse.
Adler not only flew into Mexico with eight people, including extended family, but he had also just watched his daughter tie the knot in a ceremony with 20 people at the Hotel Saint Cecilia. There was another problem, too. According to KVUE, several wedding attendees flew to Austin from across the country, including a Seattle-based wedding photographer.
According to Adler, however, all wedding guests were tested prior to the event. He also said attendees wore masks and practiced social distancing. That did little to quell the backlash, though, since Austin was under Stage 3 COVID guidelines at the time of Adler's video.
Under Stage 3, residents were told to avoid gatherings of more than 10 people and refrain from non-essential travel if they were high-risk. So, it comes as no surprise that Adler's behavior amid the pandemic drew criticism with many leaving comments on social media, saying he should have disclosed his location.
"How's Cabo?! Must be nice to not 'stay home' but when you are part of the political elite well…we all know how that goes," one user commented while one resident suggested the mayor should be penalized for failing to follow his own rules after imposing a strict lockdown in the city.
"He's personally kept bars and restaurants closed all year while charging them property taxes. He's put hundreds of thousands of Austinites on unemployment. He should be put in jail for not following his own rules," the Twitter user wrote as another added, "Typical Dem Elite POS 'Do as I say, not as I do.'"
Adler, of course, denied violating any guidelines. "There was no recommendation for people not to travel during that period of time," he told the Statesman. "Someone could look at me and say, 'He traveled.' But, what they could not say is that I traveled at a time when I was telling other people not to travel."
The mayor maintained that he did not violate his own orders or state rules since he said he consulted with the city's top health official, Dr. Mark Escott, before the wedding and the trip. "At that point, I am with my family group and people who just tested," Adler said, defending his decision to travel after allegedly ensuring the wedding and the subsequent trip were done safely. "It is not perfect. Obviously, there are infections that could happen, but I think all of us should be minimizing risks as best we can."
Not everyone was convinced that Adler was free of any wrongdoing. Instead, many felt he should be setting an example. "The real issue with Adler's 'just like everybody else, I'm trying to navigate this for my family' is that most Austin families are doing a better job of navigating it than he is, and our leaders should be the safest and most responsible among us so they have an example to follow!" journalist Dan Soloman explained.
Addressing the controversy in a statement, Adler attempted to explain his actions before issuing a public apology, saying he regretted his actions, the Daily Mail reported. "Every day since March, I repeat that being home is the safest place for people to be. Only at our most trying moments, like around Thanksgiving, have I asked people not to travel as part of extra precautions," he said.
"Several weeks ago, when my daughter canceled her planned wedding to replace it with a COVID appropriate more private ceremony and when my family traveled, we consulted with health authorities and worked hard to model the kind of behavior I've asked of the community," Adler continued. "We were in a lower risk 'Yellow' level than now. It is always safest to stay home. However, we aren't asking people never to venture out. We ask everyone to be as safe as possible in what they do," he added.
"My family and I are no exception and we'll continue to do as I ask of our community," Adler added, saying "we should all be especially mindful" during the upcoming holidays, but he later added, "I regret this travel. I wouldn't travel now, didn't over Thanksgiving, and won't over Christmas. But, my fear is that this travel, even having happened during a safer period, could be used by some as justification for risky behavior. In hindsight, and even though it violated no order, it set a bad example for which I apologize."
Sadly, any damage is likely already done — and we aren't just referring to the virus. People don't like being told, "Do as I say, not as I do." And, for many, that's what Mayor Steve Adler seemingly did, even though he thought he had crossed his T's and dotted his I's. He set a bad example — as he himself admitted. A good leader leads by example. If Adler wants his residents to make sacrifices, perhaps he should too. Appearing to live by the motto "rules for thee, but not for me" isn't going to sit well with the public as Adler learned the hard way.