(This post may contain disputed claims. We make no assertions as to the validity of the information presented by our Opinion Columnist. We are an opinion blog, not a traditional news outlet, and this post should be treated as such. Enjoy.)
Rep. Adam Schiff is claiming the Hunter Biden laptop scandal is based on lies from Russian "disinformation" agents. Schiff told CNN's viewers to ignore the "lies and disinformation." Well, poor Adam Schiff and his media cohorts just got a rude awakening. They should no longer claim the laptop and emails are unreliable as new information comes to light. You'll love this.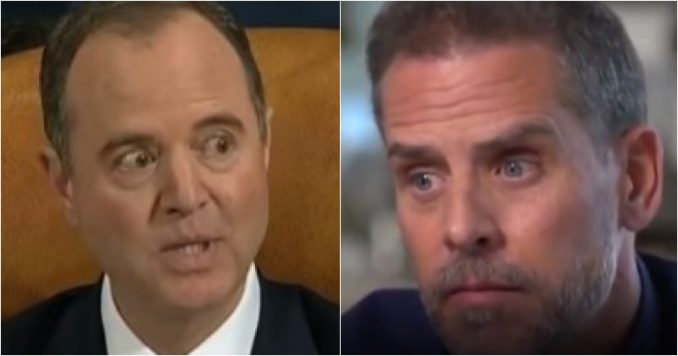 If Americans had a fair press that was not in the bag for the Democrat Party, there is no way politicians like Adam Schiff could get away with telling lies. However, over the last four years, Americans have had to endure the mainstream media backing up the bogus accusations of those in the Democratic Party.
We watched as Schiff and his cohorts claimed the bogus Trump-Russian dossier was all truth. Millions of our taxpayer dollars were spent on the Special Counsel that the Democrats knew was based on lies. Now, we have this Hunter Biden laptop scandal, and they are claiming that's just "Russian disinformation."
See how they turned that around? The common denominator with the Democrat propaganda machine is Russia. It's always the Russians.
"Well, we know that this whole smear on Joe Biden comes from the Kremlin," Adam Schiff said. "Clearly, the origins of this whole smear are from the Kremlin, and the president is only happy to have Kremlin help in trying to amplify it."
"I think we know who the driving force behind this smear has been all along, and it's been the president and the Kremlin. The Kremlin has an obvious interest in denigrating Joe Biden. They want Donald Trump to win. … He's been the gift that doesn't stop giving for the Kremlin, so clearly, they want to help him, so they want to denigrate the vice president.

"The intelligence community has made that abundantly clear, and this particular smear, though, has also been acknowledged to come from the Kremlin, and there it is in the Oval Office, another wonderful propaganda coup for Vladimir Putin, seeing the president of the United States holding up a newspaper promoting Kremlin propaganda."
This is the same tired lie Schiff tried to sell to Americans to convene the Special Counsel: Putin is controlling President Donald Trump. Well, we spent millions of dollars to investigate those claims, and we all know it turned out to be a huge untruth.
CNN's Chief Media Correspondent Brian Stelter, a huge Democrat cheerleader, noted on "Reliable Sources" Sunday, "We are not talking about fully reliable sources here," referring to the New York Post's story.
How do we know the Hunter Biden laptop is legitimate? 
The Director of National Intelligence, John Ratcliffe, said Schiff is full of crap.
"Let me be clear," he said Monday, "the intelligence community doesn't believe [Schiff's conspiracy theory] because there is no intelligence that supports that."
"We have shared no intelligence with [Schiff] or any other member of Congress that Hunter Biden's laptop is part of a Russian disinformation campaign," Ratcliffe said.
Ratcliffe said that he would know because of his position as intelligence chief whether or not the laptop was part of a Russian disinformation effort.
Thankfully, we also have a few reporters who are doing what every mainstream news outlet should be doing, investigating the laptop's emails.
"One of the people on an explosive email thread allegedly involving Hunter Biden has corroborated the veracity of the messages, which appear to outline a payout for former Vice President Joe Biden as part of a deal with a Chinese energy firm," Fox News reports.
The email includes a note that "Hunter has some office expectations he will elaborate." A proposed equity split references "20" for "H" and "10 held by H for the big guy?" with no further details. Fox News spoke to one of the people who was copied on the email, who confirmed its authenticity.
Sources told Fox News that "the big guy" is a reference to the former vice president.
Making matters worse for Schiff and the Biden campaign is the newly released email dated October 13, 2020, from Hunter Biden's attorney to the computer repairman asking for his client's laptop back.
"Here ya go….this is the email sent to John Paul [New Jersey computer repairman] by Hunter Biden's lawyer. It is in reference to returning the laptops. Also…the attorney said Hunter dropped em off in 2017. Nope..try April 2019. He didn't even know when he left em there. Redactions on this document are mine," tweeted former senior news correspondent Adam Housely.
Here ya go….this is the email sent to John Paul by Hunter Biden's lawyer. It is in reference to returning the laptops. Also…the attorney said Hunter dropped em off in 2017. Nope..try April 2019. He didn't even know when he left em there. Redactions on this document are mine https://t.co/QszglOJV1d pic.twitter.com/VvEguJ0Cec

— Adam Housley (@adamhousley) October 17, 2020
The other big indicator that the Hunter laptop is legitimate comes from Joe Biden and his campaign. 
Joe Biden had two campaign stops on Friday in Michigan. This would have been a perfect time to deny the laptop as Hunter's. In fact, for political purposes, it was imperative for Joe Biden to claim that the laptop was "Russian disinformation" and that he and his son totally deny there is any truth to the emails, etc.
But the former vice-president did not do this.
What did President Trump do when he was accused of colluding with the Russians? He denied it in the strongest terms possible, over and over again.
So, why doesn't Joe? If he has the truth on his side, why not strongly deny it as Russian propaganda?
The Biden campaign has not strongly disputed the authenticity of these emails or that Hunter dropped off his laptop at a repair shop last year and forget to retrieve it, yet Joe Biden still refuses to answer basic questions. 
The last time Joe Biden was seen in public, on Sunday afternoon, he was asked by reporters about the laptop. Joe just waved them away and left:
WATCH: Joe Biden refuses to answer a question about the FBI seizing his son Hunter's laptop last year.

The laptop contained emails about the Biden family receiving money from China and other foreign sources. https://t.co/EoGvdS7eUt pic.twitter.com/VCtocB3Br8

— Trump War Room – Text TRUMP to 88022 (@TrumpWarRoom) October 18, 2020
Now, the Biden campaign has put their candidate back in the bunker calling a "lid" for the rest of the week. Yes, you read that right. Joe Biden is back in his basement and will not be seen until the scheduled debate on Thursday night.
"Back into the basement he goes," the New York Post reports. "Democratic presidential nominee Joe Biden is back at his Wilmington, Del., home and will not return to the campaign trail until after his face-off with President Trump at Thursday night's debate."
This also means no reporters can ask Joe a question about the Hunter laptop. This comes on the heels of the New York Post reporting the laptop includes: "a computer camera roll of nearly 25,000 images is loaded with sexually explicit selfies and porn (which The Post is not publishing)."
Stay tuned. This laptop bombshell is just getting going. We can expect that President Trump will bring up the Hunter laptop emails at the debate, and we also expect Joe Biden will try to give Americans the "run around."
That's not going to work. Joe will get angry but he won't flat-out deny it. The only conclusion one can make is that the Biden family has engaged in so much corruption using Joe's political office to enrich themselves.