(This post may contain disputed claims. We make no assertions as to the validity of the information presented by our Opinion Columnist. We are an opinion blog, not a traditional news outlet, and this post should be treated as such. Enjoy.)
Fulton County District Attorney Paul Howard Jr. announced Wednesday that former Atlanta Police Officer Garrett Rolfe faces felony murder charges and could face the death penalty in the fatal shooting of Rayshard Brooks. But there's just one huge problem with this case. You don't want to miss the shocking truth that this Democrat District Attorney does not want you to know.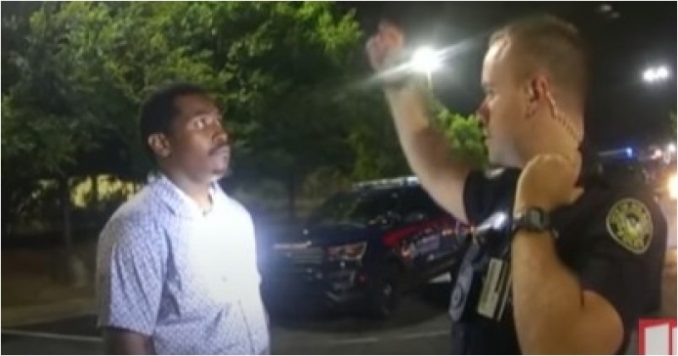 ABC News reports that Officer Garrett Rolfe and Officer Devin Brosnan responded to calls of a man sleeping in his car Friday night at a Wendy's restaurant and blocking the drive-thru lane. That man turned out to be 27-year-old Rayshard Brooks, who allegedly blew .108% on a breathalyzer test, above the legal limit of .08%.
Most Americans are familiar with the details. However, the Democrat DA's office made sure only certain portions of the police officer's body camera were made public. It's the other 40 minutes of the officers' encounter with Brooks, and another little-known video Brooks made himself, that are shocking.
The first officer on the scene, Devin Brosnan, was alone. In the first three minutes of the video, it takes Brosnan two attempts to get Brooks out of the drive-thru lane. Brooks is completely passed out, and after Brosnan opens his car door and tells him to move the car into a parking spot, Brooks passes out, once again.
Brooks is plainly a guy who is impaired.
Brosnan radios into dispatch the driver smells like alcohol. There is no way any police officer could just leave Brooks to "sleep it off," as some on the Left have claimed. What if he were to awaken in that impaired state and attempt to drive?
Next, Brosnan asks dispatch for a "DUI unit." The Atlanta Police Department must have certain officers who handle DUI's. As he waits for the DUI unit to come to the scene, Brosnan engages Brooks in conversation to better assess his mental and physical impairment.
Brooks makes no sense. Brosnan asks: "Why did you fall asleep in the drive-thru?"
"I'm a waiting on my fifty," Brooks says, his words slurred.
Brosnan asks how much has he had to drink, and again Brooks's words are slurred as he says, "Just a little Margarita."
Brooks confirms he is driving a rental car, but he can't say where he rented it. Brooks talks about "his girlfriend" and "staying at a motel." We know from reports he is married and has three kids. His license is from Ohio, and he states he is in Georgia because his "mother died."
When Brosnan asks when did she die, Brooks says: "One and a half years ago."
Brooks is incoherent, and his story makes no sense. At this point, the DUI officer shows up. 
Brosnan explains to Officer Garrett Rolfe that Brooks' story makes no sense and confirms this was a 911 call made by Wendy's employees. Rolfe then does his own assessment by asking Brooks questions.
None of his answers match what he told Brosnan. He tells Rolfe he has no memory at all of being "asleep" in the drive-thru. His speech is slurred. Brooks is obviously so impaired he does not recall what he told Brosnan. Brooks offers that his girlfriend "was probably sleeping," but he was not.
"She drove here," Brooks says. "She probably was sleeping but I said babe I want fries, a burger."
Rolfe then proceeds to inform him about being passed out in the drive-thru, and Brooks is completely shocked. Rolfe asks him if he knows where he is at? Brooks names the wrong streets, city, and county.
Brooks goes from saying he was "drinking Margaritas," and then about two minutes later he claims to only be drinking "Daiquiris."
Officer Rolfe has a ton of patience with Brooks as he goes through the field sobriety tests, which he fails. Brooks finally agrees to a breathalyzer test. After he blows over the limit, Officer Rolfe attempts to handcuff him. That's when it all goes south and Brooks goes berserk. We have spoken to five police officers who all say the shooting was justifiable.
This is the 43-minute video of the entire police call with Rayshard Brooks:
Another video has come to light dated May 24, 2020.
Brooks called into a podcast to discuss parole, probation, and "being in the judicial system" just a few weeks before he was killed.
Brooks admits to having an ankle monitor and being incarcerated. He complains about the costs of having an ankle monitor. He admits to being on probation.
"I'm doing my part," Brooks says. "The moment I do anything out of hand, back to jail I go." 
This video may shed light on Rayshard Brooks' mindset and why he went berserk.
He obviously is already on probation and has had or had an ankle monitor. He knows when he is about to be arrested that he may go back to jail. Then, being impaired his mind isn't thinking clearly. He makes a fatal mistake, and as sad as it is… Officer Rolfe's shoot was clean.
It was by the book. Brooks chose to drink and drive. He was a danger to the public at that point. Then he chose to tackle two law enforcement officers and grab their weapon. He chose to run away and then discharge that weapon at an officer of the law.
Those were fatal choices, and the outcome is he lost his life. He should not be made a martyr or saint. It's those two cops who were doing their duty that should be thanked. Cops are the only thing that stands between us and a drunk driver who may kill us or a loved one. The charges should be dropped, as no jury will find these two officers guilty.