Hillary Clinton might have thought she was free and clear of taking responsibility for the email server scandal, but Judicial Watch did not give up the fight. In a lawsuit involving the former failed presidential candidate, the judge gave her an epic smackdown she never saw coming. You'll love this.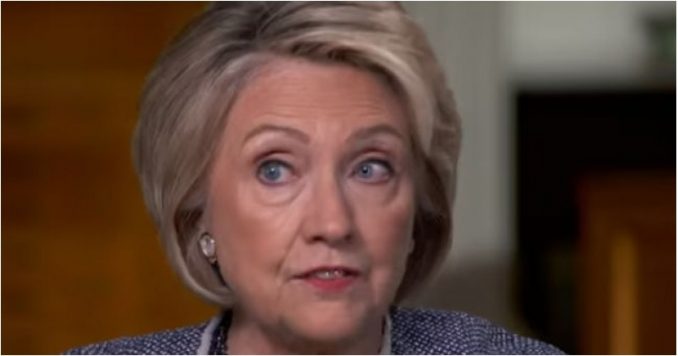 No patriot can forget what happened in Benghazi when four Americans lost their lives thanks to then-Secretary of State Hillary Clinton. She was the final authority and had total control over State Department matters and personnel.
We also can't forget how Clinton got away with having an email server in her New York home's basement in which classified documents were exposed to foreign powers. Thankfully, the good attorneys at Judicial Watch did not give up on holding her accountable.
The U.S. District Court judge wasn't buying what Hillary Clinton was selling and has ordered that she must give new testimony under oath.
"A federal judge on Monday ordered former Secretary of State Hillary Clinton to deliver a sworn deposition in response to a lawsuit filed by Judicial Watch over her role in the Obama administration's response to the 2012 terror attack on the U.S. facilities in Benghazi, Libya," Breitbart reports.
Judge Royce Lamberth limited the scope of depositions to the email server. However, he also wrote in court filings that Clinton's written answers to questions regarding the email matter in a separate case were "incomplete" and "unhelpful" and demanded more information.
"As extensive as the existing record is, it does not sufficiently explain Secretary Clinton's state of mind when she decided it would be an acceptable practice to set up and use a private server to conduct State Department business," wrote Lamberth. "Simply put, her responses left many more questions than answers."
The judge added: "Even years after the FBI investigation, the slow trickle of new emails has yet to be explained."
Politico attempted to cast doubt on if any such deposition would ever occur, writing that Lamberth didn't immediately rule on the request but "repeatedly expressed concern with a continuing drip, drip, drip of Clinton messages."
"Whatever concerns judge Lamberth may have had couldn't have been that great after all – because he just ordered Hillary to be deposed, and he isn't buying any of her excuses," Dan Bongino said.
HUGE: State Dept "has thus failed to persuade the Court that all of Secretary Clinton's recoverable emails have been located. This is unacceptable." Court authorized deposition of Hillary Clinton today. https://t.co/Zp5GKdJB4z pic.twitter.com/8XP5tqqisK

— Tom Fitton (@TomFitton) March 2, 2020
Judicial Watch initiated the lawsuit in 2014 to uncover whether Clinton used her private email server to communicate about the Benghazi attack to skirt the Freedom of Information Act and whether the State Department reviewed records following an FOIA request from Judicial Watch.
On September 11th, Ansar al-Sharia terrorists attacked the diplomatic compound, killing U.S. Ambassador to Libya Christopher Stevens and U.S. Foreign Service Information Management Officer Sean Smith.
"Judicial Watch uncovered the Clinton email scandal and we're pleased that the court authorized us to depose Mrs. Clinton directly on her email conduct and how it impacted the people's 'right to know' under FOIA," Judicial Watch president Tom Fitton said of the development.
Lamberth also allowed Judicial Watch to depose Cheryl Mills, chief of staff and counselor to Clinton at the State Department, and IT specialist Paul Combetta, who was hired to manage Clinton's server in her basement.
Meanwhile, Hillary has been dodging being served in a defamation lawsuit from Democrat presidential candidate Tulsi Gabbard. She won't have any luck dodging this.
Making Matter worse for the former Obama regime, Judicial Watch's Tom Fitton is gunning for Hillary's former boss, Barack Obama. In a separate tweet on the ruling, Fitton writes: "Obama knew. State Dept withholding in their entirety 19 Obama emails to Hillary Clinton."
Obama knew. State Dept withholding in their entirety 19 Obama emails to Hillary Clinton. https://t.co/TQS5N34lWG

— Tom Fitton (@TomFitton) March 2, 2020
Barack Hussien Obama is in major hot water with Judicial Watch, too.
That email chain Tom Fitton is referring to is the missing link that proves Barack Obama knew about the Benghazi cover-up and knew about Hillary's email server was located in her basement. James Comey played the good cop-bad cop routine with the email server, pretending he was carrying out justice when all along he was going to do nothing at all.
"Clinton and her lawyers have spent months inventing one excuse after another for why she shouldn't have to answer questions in a deposition about her unauthorized and unsecured computer system," Fox News' Greg Jarrett reports.
There is no doubt that Clinton's unprotected email apparatus jeopardized America's national security. The State Department eventually divulged that there had been, at minimum, thirty separate security breaches. Here's hoping justice will finally be served.