(This post may contain disputed claims. We make no assertions as to the validity of the information presented by our Opinion Columnist. We are an opinion blog, not a traditional news outlet, and this post should be treated as such. Enjoy.)
Barack Obama is in panic mode after a recent phone call was leaked. The former president can be heard saying he is extremely upset the "Justice Departement dropped the charges against Micheal Flynn." Obama goes on to give his operatives instructions. Making matter worse for him, President Donald Trump signaled that it's time for an "Obamagate" investigation, claiming that "he was caught." You don't want to miss this.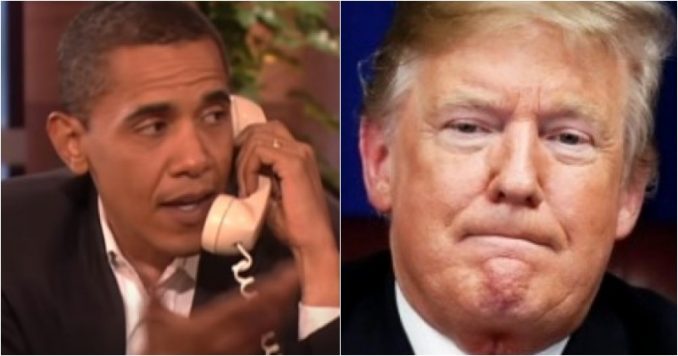 Now that the case against Lt. General Michael Flynn has been dropped, the spotlight moves to Barack Obama. Most Americans know Flynn was wrongly prosecuted by the Obama administration. In fact, he was totally set-up in a sting operation led by fired FBI Director James Comey. Now, new information has come to light which proves Barack Obama was involved from the very beginning.
Which is why President Trump was criticizing Obama on Sunday. 
"President Donald Trump on Sunday repeatedly challenged former President Barack Obama for investigating him and his winning campaign before leaving office," Breitbart reports.
Trump shared several messages on Twitter that criticized Obama.
"He got caught, OBAMAGATE!" Trump wrote.
OBAMAGATE! https://t.co/mSmWsbfOWf

— Donald J. Trump (@realDonaldTrump) May 11, 2020
He got caught, OBAMAGATE! https://t.co/oV6fum0zIS

— Donald J. Trump (@realDonaldTrump) May 11, 2020
Obama felt the heat over the weekend as Americans on social media made "#Obamagate" the number one trending hashtags with over 1.5 million tweets.
Most Americans want to know when did Obama know about the bogus Trump-Russia witch hunt and did he condone it? That is easily answered by documents Susan Rice made on the Obama administration's last day in the White House.
Rice later wrote an email to herself on January 20, 2017 — Trump's inauguration day and her last day in the White House — purporting to summarize that meeting.
"On January 5, following a briefing by IC leadership on Russian hacking during the 2016 Presidential election," Rice wrote, "President Obama had a brief follow-on conversation with FBI Director Jim Comey and Deputy Attorney General Sally Yates in the Oval Office. Vice President Biden and I were also present."
According to Rice, "President Obama began the conversation by stressing his continued commitment to ensuring that every aspect of this issue is handled by the Intelligence and law enforcement communities 'by the book.'"
By Rice writing "his continued commitment" tells us Obama was fully aware of the bogus investigation into Trump. 
But then she added a significant caveat to that "commitment": "From a national security perspective, however, President Obama said he wants to be sure that, as we engage with the incoming team, we are mindful to ascertain if there is any reason that we cannot share information fully as it relates to Russia."
This "caveat" makes it so much worse for Barack Obama. It is evidence the former president instructed his holdovers to lie to the Trump administration after he left office. 
Obama tells Comey and other holdovers to lie to Trump after he is inaugurated as Commander in Chief.
"At the time Obama suggested to Yates and Comey — who were to keep their posts under the Trump administration — that the hold-overs consider withholding information from the incoming administration, Obama knew that President Trump had named Flynn to serve as national security advisor. Obama also knew there was an ongoing FBI investigation into Flynn premised on Flynn being a Russian agent," The Federalist reports. 
"Yet, rather than direct his team to provide the president-elect a briefing on the Russia investigation as it related to Flynn, Obama suggested it would be appropriate to withhold such information from the Trump administration," The Federalist adds.
But it wasn't just Obama and Comey's secreting of the supposed intel about Flynn that shows they put damaging the incoming Trump administration above protecting the country from so-called Russian agents. The Flynn investigation was but one aspect of the Crossfire Hurricane probe, and Trump was not briefed on the other investigations either — most significantly the continuing investigation of Carter Page.
Obama tells his operatives in leaked call it's imperative Trump gets defeated. 
So, Obama is in panic mode now that the Flynn case has fallen apart and the truth of his malfeasance is coming to light. On Friday, Yahoo News reported that it had obtained a tape of a web talk between the former president and members of the Obama Alumni Association.
"The news over the last 24 hours I think has been somewhat downplayed – about the justice department dropping charges against Michael Flynn," Obama reportedly said.
"And the fact that there is no precedent that anybody can find for someone who has been charged with perjury just getting off scot-free," Obama added. "That's the kind of stuff where you begin to get worried that basic – not just institutional norms – but our basic understanding of rule of law is at risk."
"And when you start moving in those directions, it can accelerate pretty quickly as we've seen in other places. So, I am hoping you all feel the same sense of urgency that I do. Whenever I have campaigned I always said this is the most important election…this one I'm not on the ballot but I am pretty darn invested. We gotta make this happen," Obama said referring to defeating Trump.
Obama is being less than honest with his cohorts. Mike Flynn did not perjure himself as we all know. He was set up. In fact, the initial assessment by the FBI officials was Flynn was "being honest" and "we can not find any wrong-doing in any of his statements."
Barack's obsession with Flynn dates back to 2015 when the General outed the Obama administration's lies that the Islamic State was "on the run." Flynn testified under oath that Obama did not have ISIS on the run and that his operations in Afghanistan were failing.
When Flynn became President-Elect Trump's National Security Adviser, the deep state rats knew Flynn was a danger to exposing their bogus Trump-Russia witch hunt and had to be destroyed.
Obama is scared that his involvement in the biggest political scandal in American history will be investigated, and that's why he is telling his minions he feels "urgency" to get rid of Trump.
"We gotta make this happen," Barack said, which is an odd way of talking about a campaign he is not directly involved in. It proves to us Barack Obama knows the noose is tightening. The "Obamagate" investigation will make "Watergate" look like child's play.