(This post may contain disputed claims. We make no assertions as to the validity of the information presented by our Opinion Columnist. We are an opinion blog, not a traditional news outlet, and this post should be treated as such. Enjoy.)
Joe Biden claimed on Monday that the shooting of a black man in Kenosha, Wisconsin, by police on Sunday was "systemic racism." He failed to condemn the rioting, looting, and arson that followed throughout the working-class city. That's when the video came out, along with the truth about what really happened, giving the Democrat nominee a rude awakening. Don't miss this.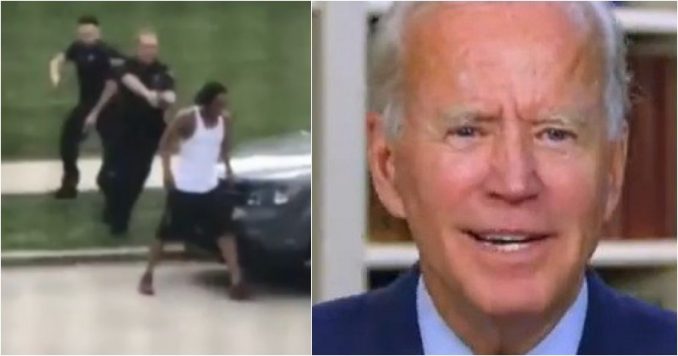 There is no doubt police officers have one of the most dangerous jobs in the world. Then you add Black Lives Matter railing against cops, and their job becomes much more dangerous.
If you ask a cop what they fear most, it's not coming home after their shift ends because they are dead. There are numerous instances when a call about domestic abuse gets out of control so quickly and a police officer ends up dead.
In fact, of all the calls cops get in a day, domestic abuse calls are statistically the most dangerous.
Late Sunday afternoon, Kenosha police officers were called to what was reported as a "domestic incident." Tragically, it ended in a police shootout, when the suspect, identified as Jacob Blake, refused to listen to police commands, resisted arrest, and started to open his car door.
The police officer behind him pulls on his t-shirt, as he tries to stop him from entering the vehicle, but he continues to move inside the vehicle, leaning down as though he's grabbing at something.
That's when the cops opened fire. The minute the suspect reaches into his car, the police officer has no idea if he has a weapon and must assume he does. By all accounts of what cops learn in the academy, this is a clean shoot.
"Sad. Jacob Blake looks like he could have been grabbing a gun. He wouldn't have got himself shot if he had just followed the cops' reasonable instructions in Kenosha WI," tweeted Mark Dice along with the video:
Sad. Jacob Blake looks like he could have been grabing a gun. He wouldn't have got himself shot if he had just followed the cops' reasonable instructions in Kenosha WI. pic.twitter.com/rkYxJr0Pkp

— Mark Dice (@MarkDice) August 24, 2020
Joe Biden throws these cops under the bus. He must take the side of the rioters, looters, and BLM. 
Biden refuses to leave his bunker basement. So, he has to make his ridiculous accusations on social media. "Yesterday in Kenosha, Wisconsin, Jacob Blake was shot seven times in the back as police attempted to restrain him from getting into his car," Biden said in a post to Facebook.
"His children watched from inside the car and bystanders watched in disbelief. And this morning, the nation wakes up yet again with grief and outrage that yet another Black American is a victim of excessive force," he added.
"Equal justice has not been real for Black Americans and so many others. We are at an inflection point. We must dismantle systemic racism," Biden declared.
Jacob Blake remains in serious condition at a Milwaukee-area hospital. However, Blake has a long wrap sheet filled with violent crimes.
Blake has a history of assaulting officers and resisting arrest. There had also been a warrant for Blake's arrest issued on 7/7/2020 (see below) for misdemeanor criminal trespass to a dwelling with domestic abuse as a modifier; felony third-degree sexual assault with domestic abuse as a modifier; and misdemeanor disorderly conduct with domestic abuse as a modifier.
This arrest and shooting — up to a point — has a lot in common with the George Floyd arrest. Floyd was resisting arrest as the new video footage showed. He also was well-known to the police for various violent crimes.
Blake also had a history of resisting arrest and having a concealed weapon. 
Back in 2015, "Blake was charged in Racine County Circuit Court with one felony count of resisting arrest causing a soft tissue injury to a police officer and one misdemeanor count each of carrying a concealed weapon, carrying a firearm while intoxicated, endangering safety-use of a dangerous weapon, and disorderly conduct," Racine County Eye reports. 
When cops are rolling to a domestic abuse call, they routinely are going to be briefed on these details to better understand the history of the suspect. Knowing Blake had a history of resisting arrest and carrying a concealed firearm while intoxicated, the cop's split-second decision to open fire is totally justified.
Police officers pass down certain "sayings" to recruits. One saying on making life and death decisions is: "It's better to be judged by 12 than carried by 6."
Who can blame them? Every day they strap on a bullet-proof vest praying this day will not be their last. They have to make life and death split-second decisions, and we all expect them to have our back when we call 911.
When someone called the cops on Jacob Blake, they responded. Blake made the decision to not obey their commands. The minute the cops can no longer see his hands is the minute they opened fire.
Those cops all were able to go home to their families knowing leftists like Joe Biden would vilify them, but common-sense Americans would see the shooting for what it was: police officers who are human beings, doing a tough job to the very best of their ability. They don't deserve someone like Joe Biden using them as scapegoats to gain points with his good friends at BLM.