(This post may contain disputed claims. We make no assertions as to the validity of the information presented by our Opinion Columnist. We are an opinion blog, not a traditional news outlet, and this post should be treated as such. Enjoy.)
Nancy Pelosi and Alexandria Ocasio-Cortez got a brutal smackdown from Tom Homan, who is the former director of I.C.E. and a retired police officer. He is sick and tired of their "defund the police" hypocrisy. You don't want to miss this.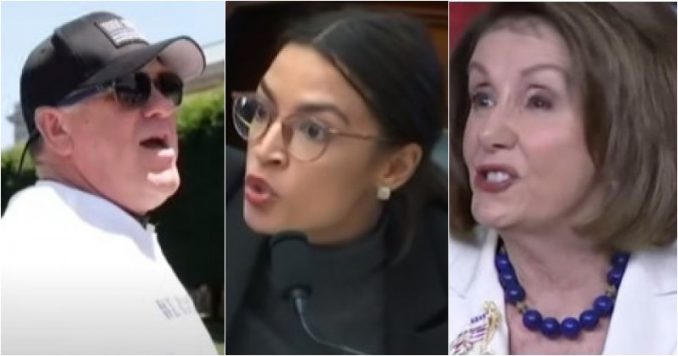 Tom Homan started his career as a beat cop. He knows all too well the dangers men and women in blue take every day as they don their bullet-proof vests. Homan led the "Back the Blue" rally in Washington D.C. on Saturday.
"You can't profile cops based on one bad one," Homan said. "I come from a family of cops. My grandfather was a cop, my father was a cop, and I was a cop. I spent more than three decades with a badge and a gun."
"Schumer and Pelosi are not speaking up," he told the audience, emphasizing, again, that "we're all against" racism.
"No one's going to justify that, but they'll stand out on a moment's notice and defend people that are in here in the country illegally in violation of law, but they won't stand out there and defend the men and women who leave the safety and security of their home every day … to defend their communities," he continued. "They haven't said a word."
He used far-left "Squad" member Ocasio-Cortez as another example of a progressive politician who has failed to defend officers, instead using her platform to champion defunding police departments.
"She says we should defund the police and we should all make sacrifices. Okay. So lead by example," he suggested.
"Let's take the law enforcement officers that provide them 24/7 law enforcement security. If they want to take protection away from the American people in their communities, lead by example," Homan said.
"Defund your protection first, you hypocrites," he added. "You think they're going to do it? They're never going to do it."
Meanwhile, Americans got to see what it would be like if the Democrats are successful in "defunding the police." 
Video obtained by Fox 5 shows Washington, DC, residents having a wild west shootout right along the street Friday just before 7 p.m.
Fox 5 reports the shootout lasted just under two minutes and left one person injured.
Sirens can be heard on the video toward the end of the shootout, and the shooters nonchalantly put their guns in their cars and walk toward a house as police cruisers roll-up.
Some of the gunmen can be seen assisting another individual who was wounded in the exchange.
Six people were arrested after police arrived on the scene.
However, imagine a world were no cops came this scene: 
Ocasio-Cortez said on Thursday that a "defunded" police "looks like a suburb."
"It looks like a suburb. Affluent white communities already live in a world where they choose to fund youth, health, housing, etc more than they fund police," she wrote in response to a question on Instagram.
The former bartender claimed that "affluent white suburbs" also "design their own lives so that they walk through the world without having much interruption or interaction with police at all aside from community events and speeding tickets."
For millions of Americans who live in the suburbs, AOC claiming the peace and quiet of the suburbs are "designed" so we can walk in a world without cops, is a mind-numbing statement.
The first suburbs in America sprung up by those middle-class families who had enough money to escape the crime of the inner cities. They were not escaping police officers who bring law and order, they were escaping the criminals who bring rape and murder.
They could still work in the city but chose to commute to keep their families safe. It's not less law enforcement that is needed, it's more. If AOC wants to bring the law and order of the suburbs to the inner-city, then she would be sincere in admitting the truth.
The Democrat-run inner cities education system spends much more on each student than suburban schools, yet the students rank last in math and reading proficiency.
"Baltimore spends roughly $1.4 billion annually on education, or roughly $16,000 per student," The Hill reports.
"Baltimore's spending on education is the fourth highest of any municipality in the country. Despite this massive commitment of resources, Baltimore schools have some of the lowest educational proficiency levels in the country," they add.
This is exactly why President Donald Trump says the real Civil Rights issue of today is "school choice," not the phony "systemic racism in police departments."
Democrats largely oppose what Republicans call "school choice," arguing it would deprive public school systems of needed resources and is intended to eventually supplant them with private and religious schools.
Well, school choice would break the horrendous teacher's unions which keep bad teachers in place. School choice would force inner-city schools to get their act together. Imagine the difference it will make if minority kids get a great education? No doubt it would be the death knell of the Democratic Party as we know it today.