(This post may contain disputed claims. We make no assertions as to the validity of the information presented by our Opinion Columnist. We are an opinion blog, not a traditional news outlet, and this post should be treated as such. Enjoy.)
New York Governor Andrew Cuomo is using his daily COVID-19 update, which is being covered on most cable news networks, to attack President Donald Trump. Cuomo is hoping to "out-shine" Trump as the true leader in this crisis, and he is accusing the Trump administration of dropping the ball when it comes to ventilators, saying that "New Yorkers are going to die." Well, that's when the president proved it's "his own damn fault." You'll love this.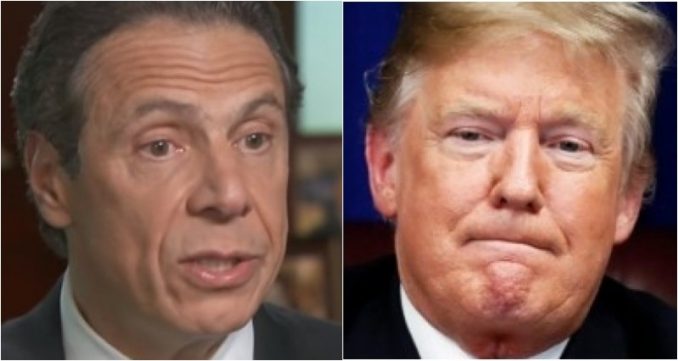 As the coronavirus crisis sweeps across America, we are seeing the Democrat Governors using it to trash the Trump administration. They are also using this crisis to take away basic liberties.
It's the states governed by Democrats who are seeing draconian measures like shutting down all gun stores, barring the anti-malarial drugs hydroxychloroquine, and threatening citizens with the national guard.
New York Gov. Cuomo is being touted as the new Democratic Party hope for the future. Every day during the shutdown, Cuomo's daily updates are shown live by FOX, CNN, MSNBC, and CBS.
New York State has over 50 percent of the coronavirus cases in the nation. They are being slammed. However, that is no excuse for Cuomo's lies.
While the Trump administration is directing resources to the state, Cuomo is predictably using the crisis for his own political posturing by complaining about the state's lack of ventilators.
The problem is, Cuomo didn't prepare his state when he had the chance — but he's blaming the Trump administration's supposed lack of response.
Despite the Trump administration's swift and thorough response, Cuomo complained in a news conference Tuesday about his state's lack of ventilators, which are vital to patients with acute respiratory distress caused by coronavirus infection.
"I need the ventilators in 14 days," Cuomo said. "Only the federal government has that power. And not to exercise that power is inexplicable to me. And I do not for the life of me understand the reluctance to utilize the Defense Production Act."
"What are we going to do with 400 ventilators when we need 30,000? You pick the 26,000 people who are going to die because you only sent 400 ventilators," Cuomo said.
Wow, Cuomo claims he needs 30,000 ventilators? 
Well, that is just a crazy number. As one Boston ER doctor pointed out on Laura Ingraham's show Wednesday night: "There is no way to have enough doctors, nurses, and respiratory therapists to staff 30,000 patients on ventilators, even in New York state."
Those numbers do not match the current data we have, but they do match a total apocalyptic situation—which is not happening.
Trump was eager to rebut Cuomo's charge with the cold, hard facts about the governor's failure to prepare when he had the chance.
The president explained during Fox News' virtual town hall with Bill Hemmer that Cuomo "rejected buying recommended 16,000 ventilators in 2015 for [a] pandemic" but "established death panels and lotteries instead."
Fox News reported that in 2015, health officials in New York established a task force to look into the state's lack of ventilators.
The task force discovered there were 8,991 ventilators in the state including a stockpile of 1,750, with most already in use, leaving just over 2,800 of them available.
The report explained that in the case of a severe health pandemic, "many more patients will require the use of ventilators than can be accommodated with current supplies," with a peak of over 18,600 potential ventilators needed in a case like the 1918 flu pandemic.
According to Fox News, instead of purchasing the additional ventilators, the task force created a system to determine who would be put on a ventilator based on priority.
In other words, a death panel. 
Cuomo's other complaint, about the Defense Production Act, is another fallacy.
President Donald Trump reiterated on Tuesday that it simply is not necessary to use the power of the federal government to compel companies to do what they're already doing.
"The Defense Production Act is in full force, but haven't had to use it because no one has said NO!" Trump said on Twitter Tuesday. "Millions of masks coming as back up to States."
The Defense Production Act is in full force, but haven't had to use it because no one has said NO! Millions of masks coming as back up to States.

— Donald J. Trump (@realDonaldTrump) March 24, 2020
The dirty little secret is that Cuomo knows this, yet still complained that ventilators and masks can't be made fast enough to meet the coming need for his state for one important reason: it is his fault that the state has a shortfall in the first place.
Americans need to have all the facts. It's the Democrats in Congress and the Democrat governors who are using the pandemic to play politics. Andrew Cuomo's lies and misinformation prove he is not a team player. He is not on  "Team America." Instead, he is on "Team Cuomo."
Meanwhile, President Trump's approval ratings are at an all-time high. We'll continue to expose the leftwing lies during this crisis. In the end, Americans will thank God it was President Trump who was in charge as we faced this deadly pandemic.