(This post may contain disputed claims. We make no assertions as to the validity of the information presented by our Opinion Columnist. We are an opinion blog, not a traditional news outlet, and this post should be treated as such. Enjoy.)
As the White House daily press briefings on the COVID-19 crisis have now turned to re-opening our economy, Dr. Anthony Fauci has become less visible. Well, that's what most reporters thought. Fauci directs the National Institute of Allergy and Infectious Diseases, which had convened a panel of experts who recommended against the use of the combination of hydroxychloroquine and azithromycin to treat the virus. That's when sinister plans to "set up" President Donald Trump came to light. Don't miss this.
Ever since the COVID-19 effort shifted focus toward re-opening the economy, Dr. Anthony Fauci has been less visible.
"This step-back allows Dr. Fauci to better position himself for maximum political damage when the [Democrat] operatives deploy Fauci as an expert antagonist who recommended against re-opening; which frames the soon-to-be deployed 'dangerous Trump' narrative," Conservative Treehouse reports. 
Supporters of President Trump are well aware that the Democrats are now focused on keeping the shutdown going for political purposes. 
This political plan is helped by the virus having a greater negative impact on minorities. Thus the DNC media shall proclaim dangerous Trump attempting to kill black people. CNN's Van Jones says states reopening businesses is "a death sentence for communities of color."
"However, in the background; and with Fauci's crew working on the Bill Gates objective for global COVID-19 vaccinations; the NIH today recommends against any treatment for the coronavirus using a hydroxychloroquine and azithromycin cocktail," CTH adds.
"A panel of experts convened by the National Institute of Allergy and Infectious Diseases recommends against doctors using a combination of hydroxychloroquine and azithromycin for the treatment of COVID-19 patients because of potential toxicities," National Public Radio reports. 
"The combination of hydroxychloroquine and azithromycin was associated with QTc prolongation in patients with COVID-19," the panel said. "QTc prolongation increases the risk of sudden cardiac death."
"The recommendation against their combined use would seem to fly in the face of comments made by President Trump suggesting the combination might be helpful," NPR adds.
"QTc" prolongation is referring to an electrocardiogram, also called EKG's. Each "wave" on an EKG has an associated letter: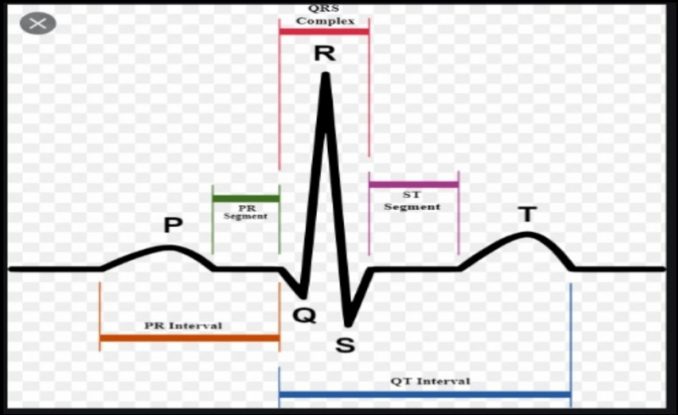 Hydroxychloroquine by itself as "a prophylaxis" is not discussed. It is the combination with other drugs, specifically azithromycin, that leads to the current recommendation against use.
More likely, it's Dr. Fauci's connection to Bill Gates that is pushing the NIH to make this highly-suspect recommendation against hydroxychloroquine. 
As all medical professionals know, every single drug listed in books like "Mosby's Drug Handbook" all show many, many side effects. To say that hydroxychloroquine causes heart issues is true, but so does chlorpromazine, haloperidol, droperidol, quetiapine, olanzapine, amisulpride, and thioridazine. Those are just a few examples.
Regular aspirin causes bleeding. Ibruprofen, also known as Motrin, causes liver damage. Every antibiotic can cause "anaphylactic shock." Medical professionals know every single drug has a myriad of side effects.
The truth is hydroxychloroquine has been around for 70 years and the incidence of heart issues is extremely rare. Doctors can easily do EKGs during drug therapy to track any adverse effects.
"Anthony Fauci sets stage for mandatory — lucrative! — vaccine," says the Washington Times headline.
Millions of dollars are at stake in the vaccine game. Bill Gates is rushing to corner the market on the COVID-19 vaccine, and Dr. Fauci has refused to back therapeutic responses to the virus such as hydroxychloroquine.
AIDS does not have a vaccine. Nevertheless, we did not shut down the economy. We have developed good drug therapeutics to treat AIDS and HIV patients. So, why the harsh response to hydroxychloroquine which has shown such promise in multiple studies?
"This country may never, no never, go back to normal. Never, that is, Fauci suggested, until a vaccine is developed. And by logical extension, that's to say — never, until a vaccine is developed that must then be included on the required list of shots for all children to attend school," Washington Times reports.
"What great news for Big Pharma," they add. "What great news for Bill Gates who just announced his foundation is going to spend billions of dollars to help build factories for seven possible coronavirus vaccine makers. 'Spend' is probably the wrong word here. Invest is more like it."
Gates' COVID-19 vaccine campaign includes a Leadership Council, a Steering Committee, and an International Advisory Committee.
But here's an interesting link: The Leadership Council "is comprised of … Dr. Anthony S. Fauci," the Gates Foundation reported.
"Fauci, the same guy who just set the stage for the dire need for a protective coronavirus vaccine, has a vested interest in seeing this vaccine come to fruition — come to widely administered fruition," Washington Times concludes.
The forces behind the campaign to make this COVID-19 crisis continue on are very powerful entities. This should make every American more fearful of these forces than of the virus itself. Trump is now in the crosshairs of Bill Gates, his powerful investor friends, and the Democratic Party.
They want you to be scared and hide in your homes. There is no reason why our economy should not re-open in May as planned. Stand up for the president and let him know you no longer will sit back and watch as our country is destroyed by these sinister forces who don't care about the American people at all.