(This post may contain disputed claims. We make no assertions as to the validity of the information presented by our Opinion Columnist. We are an opinion blog, not a traditional news outlet, and this post should be treated as such. Enjoy.)
Rush Limbaugh took on the most popular leftist radio show in America hosted by three African-Americans who challenged him on so-called "white privilege." Limbaugh made them all utterly furious. "If what happened to George Floyd had happened to a white man, we probably wouldn't even of heard about it," he said. But that's not all. Limbaugh masterfully taught them all a huge lesson on the truth about the Democrats. You'll love this.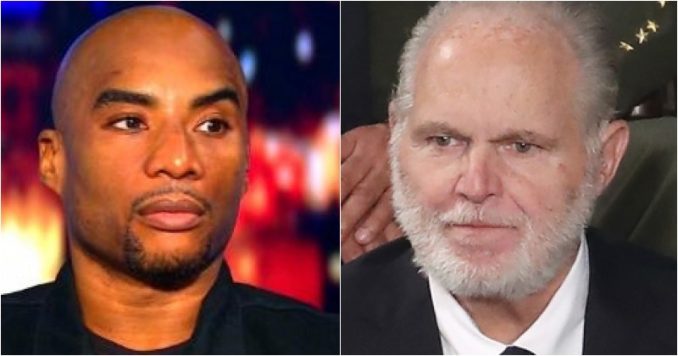 Monday on his nationally syndicated show, conservative talker Rush Limbaugh aired a conversation he had pre-taped with "The Breakfast Club," the syndicated morning drive radio show featuring DJ Envy, Angela Yee, and Charlamagne tha God.
During the interview, Limbaugh and Charlamagne tha God got into an exchange over the topic of so-called "white privilege."
"The George Floyd story is being lost," Limbaugh said. "There are two things happening in America, and it sickens me what happened to him. Legitimate national outrage about a policeman's criminal brutality has been hijacked. I don't want to forget about George Floyd. What happened to George Floyd sickened me. I wanted to reach out and tell you all this. I wanted to make sure you have no doubt —and I'm not the only American who feels that way, the senselessness of it."
"How are you going to use your privilege as a white male to combat this prejudice?" Charlamagne asked. "You got a direct line to Donald Trump."
"Now, wait a minute. I don't buy into the notion of white privilege," Limbaugh declared.
"You're being delusional," Charlamagne said.
"That is a liberal political construct right along the lines of political correctness," Rush said. "It's designed to intimidate and get people to shut up and admit they are guilty for doing things they haven't done. I don't have any white privilege."
"You know what white privilege is?" Charlamagne said. "White privilege is what happened to George Floyd wouldn't have happened to a white man."
"If what happened to George Floyd had happened to a white man, we probably wouldn't even of heard about it," Limbaugh declared.
That "mic drop" moment caught the Breakfast Club crew off guard. The truth can do that to people. It stops them dead in their tracks.
First off, no one would have videoed a disheveled white guy getting arrested. Secondly, what makes George Floyd's story interesting and compelling is his race and the race of the evil former officer Derek Chauvin.
Who cares if a white guy with a history of drug use ends up dead following an arrest? Of course, after about 30 seconds of silence, the African-American activist hosts tried to rebound and knew they had to counter such a good point.
They tried to recover but were perplexed, so Limbaugh had to take the lead.
"How do we end racism? Would you tell me…" Rush asked.
"Here's the thing, right?" Charlamagne said. "As long as there's a system of white supremacy, you know, there will always be these type of situations, you know, it doesn't matter who's in the White House, if that person is not willing to dismantle the mechanism of white supremacy. If that person is not willing to change legislation that disproportionality impacts black folk, it doesn't matter. You know what I'm saying? Like we've seen this a million times."
"Okay. But tell me what happened — you had [eight] years of Barack Obama," Limbaugh explains. "You had Americans, white Americans voting for Obama 'cause they wanted to say we're not racist, we're not a racist country. You had people electing the first African-American president in our history. He served for eight years. Why isn't there anything to show for it that makes you less angry than you were then?"
Rush then asked the one question most Democrats can't answer. 
"The Democrats have been promising to fix your grievances for 50 years and you have the same grievances, you have the same complaints," Rush declared. "They haven't done a damn thing for you. They haven't even punished the people that you think are responsible for the racism and bigotry being done to you. Why do you keep supporting them?"
Charlamagne had to concede that Rush was right. But don't hold your breath. It's highly unlikely anyone who is so brainwashed into believing America has a huge problem with "white supremacists" running around and thinking most police officers are huge racists would ever be ready to look at the truth.
America isn't a perfect nation, but it sure is the best nation on earth. Everyone has issues they must overcome to be successful in life. However, believing your race is preventing you from reaching the American dream of a good education and a good career, that's the biggest lie the leftists sell to minorities to keep them on the Democrat plantation.