(This post may contain disputed claims. We make no assertions as to the validity of the information presented by our Opinion Columnist. We are an opinion blog, not a traditional news outlet, and this post should be treated as such. Enjoy.)
We always hear about the Hollywood leftists who are constantly reminding us of their sheer hatred of President Donald Trump. So, it was refreshing to find a list of 19 Hollywood celebrities who support the president, and it is going viral. Many Americans were surprised to learn there is a growing trend in Hollywood to support Trump, and that's causing the Democrats to explode. You'll love this.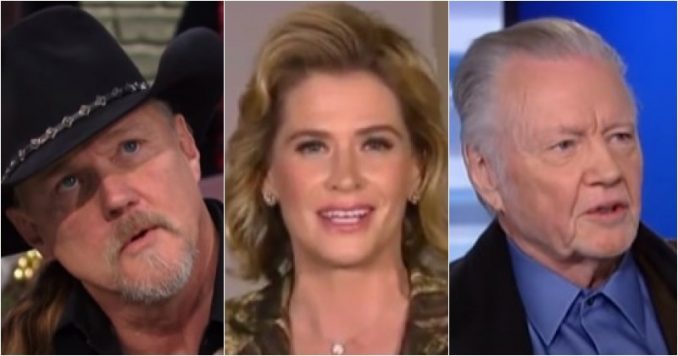 Hollywood star Kirstie Alley's announcement that she is voting for President Donald Trump unleashed a firestorm of vitriol from the left against the Emmy-winning Cheers actress. But it also placed her in a growing list of celebrities who have been brave enough to publicly declare their support for the president.
Kirstie Alley says she's voting for Trump because of Biden's "racial slurs." pic.twitter.com/gTbIx3A0qS

— The Recount (@therecount) October 20, 2020
The list includes an Oscar-winning actor in Jon Voight, Emmy-winning TV stars, a Pulitzer Prize-winning playwright in David Mamet, and country music stars Trace Adkins and Lee Greenwood.
Kirstie Alley said Monday that she voted for Trump on 2016 and is voting for him again "because he's NOT a politician… He gets things done quickly and he will turn the economy around quickly."
Her sentiment echoes those of her fellow Hollywood Trump supporters, who see in the president a Beltway outsider who is standing up for average Americans and against the political and media establishments.
On Monday, the rapper 50 Cent signaled his support for the president by slamming Joe Biden's tax plan and writing "vote for Trump" in an Instagram post. The rapper doubled down on Tuesday, calling Biden's tax plan "very, very bad."
Here's one list compiled by Breitbart News that is causing Joe Biden supporters to go nuts.
1) Jon Voight
The Oscar-winning actor recently urged people to vote to re-elect President Trump, calling Joe Biden "evil" in a video message posted to Twitter. The Midnight Cowboy and Coming Home star has been an avid Trump supporter since the 2016 election, and he participated in the president's inaugural festivities.
Evil pic.twitter.com/P99gvy6lZL

— Jon Voight (@jonvoight) October 16, 2020
2) James Woods
The Emmy-winning and Oscar-nominated actor is one of the president's most vocal Hollywood supporters on Twitter with 2.6 million followers.
"Screw the polls. Donald Trump is a rock star and Joe Biden can't get out of his basement. Hiding with Hunter probably…" Woods tweeted.
Screw the polls. Donald Trump is a rock star and Joe Biden can't get out of his basement. Hiding with Hunter probably… pic.twitter.com/5oV3IxD2bI

— James Woods (@RealJamesWoods) October 18, 2020
3) Lee Greenwood
The country music star has been a staunch Trump supporter, allowing the campaign to use his song "God Bless the USA" at rallies.
Thank you Mr. President! 🇺🇸 https://t.co/MtGGxIwIsp

— Lee Greenwood (@TheLeeGreenwood) November 5, 2018
4) 50 Cent
The rapper and Grammy Award winner posted on Instagram "vote for Trump" while blasting Biden's tax plan. He later doubled down, saying that he doesn't want to be "20 Cent" under a Biden presidency.
👀Yeah, i don't want to be 20cent. 62% is a very, very,bad idea. 😟i don't like it ! #abcforlife nov 18 #starzgettheapp pic.twitter.com/y9TsSs0o6Q

— 50cent (@50cent) October 20, 2020
5) Kelsey Grammar
The multiple Emmy-winning star of Frasier defended voting for Trump in 2016.  "I do not think Washington was doing us any favors for the last 50,  60 years," he said on PBS' "Amanpour & Company." "I think they've all been sort of the same party, the same bunch of clowns, the same bunch of really unpleasant people. And I don't think they've been helping anybody but themselves."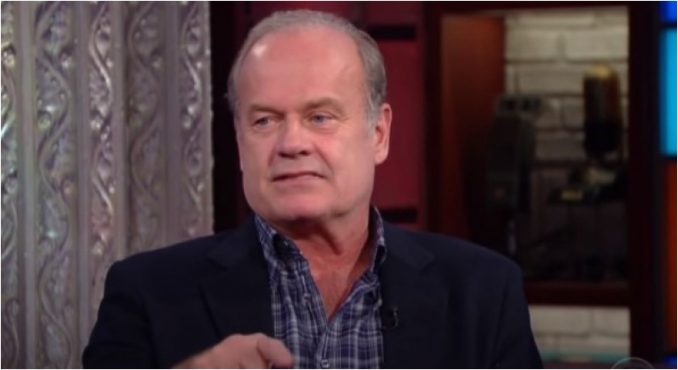 6) Roseanne Barr
Barr said ABC canceled her sitcom which was breaking rating records over her support of President Trump, claiming: "That is not allowed in Hollywood." She also got suspended from Twitter over posting "rightwing" conspiracy theories. She remains a staunch supporter of Trump's re-election.
farming it up pic.twitter.com/i867lPUMIJ

— Roseanne Barr (@therealroseanne) October 8, 2020
The Emmy-winning star of Roseanne has been a loyal supporter of President Trump as she told Jimmy Kimmel:
7) Kid Rock
The Michigan rock star recently teamed up with Donald Trump, Jr. for a September rally in the battleground state.
— Kid Rock (@KidRock) February 5, 2020
8) Dean Cain
The star of TV's Lois & Clark endorsed President Trump during the 2016 election. He recently defended Kirstie Alley against attacks for her support of the Commander in Chief.
In case you missed it@RealDeanCain on Kirstie Alley's backlash for supporting Trump. #FoxandFriends https://t.co/pfNnY53cl0

— Joy (@missjoynicole) October 20, 2020
9. Kristy Swanson
The star of Buffy the Vampire Slayer is an ardent supporter of President Trump.
An honor to meet you Mr. President 🇺🇸 @realDonaldTrump pic.twitter.com/6YwIOAJK7a

— Kristy Swanson (@KristySwansonXO) March 9, 2020
10) Robert Davi
The License to Kill, Expendables 3, and Goonies 2 star is a vocal Trump supporter who has contributed to Breitbart News in the past.
Forgive some of my language pic.twitter.com/RznYqDoJlx

— Robert Davi (@RobertJohnDavi) July 24, 2020
11) Scott Baio
The Happy Days star is a long-time Republican and has endorsed President Trump's re-election bid.
Get the word out. Better to wait in line to vote for @realDonaldTrump NOW, then to wait in line for food in a @JoeBiden socialist America! 🇺🇸

— Scott Baio (@ScottBaio) October 19, 2020
Baio recently blasted Ron Howard for reuniting the Happy Days cast (he did not get an invite) in a last-ditch effort to get Wisconsin to tip for Joe Biden.
What a shame to use a classic show like Happy Days about Americana to promote an anti-American socialist. #Shameful https://t.co/v1uB2vK5sj

— Scott Baio (@ScottBaio) October 20, 2020
12) Ted Nugent
The singer-songwriter called President Trump the "greatest president of our lifetime" at a Trump rally in Michigan this week.
13) Trace Adkins
The country music singer performed "The Star-Spangled Banner" during the Republican National Convention in August.
15. Johnny Rotten
The Sex Pistols frontman came out as a Trump supporter after previously backing Democrats. "He's [Trump] an individual thinker, I'll give him that for a start," he said in an interview with BBC's Newsday. "He's not the most lovable fellow on God's earth, but I cannot see the opposition as offering me anything by way of a solution."
Iconic Sex Pistols Singer Johnny Rotten: 'Of Course I'm Voting For Trump' https://t.co/OVWSB6qFaO

— Thomas Paine (@Thomas1774Paine) October 14, 2020
16) Isiah Washington
The former star of ABC's Grey's Anatomy said in September that he is through with Democrats and is backing President Trump. "You got a lot of conservative or centric libertarian-minded people that really care about other people but they are terrified to come out of the closet and say anything that's not in line with the Democratic party," he told Fox Nation.
Who would've thought isiah Washington would be a Trump supporter https://t.co/kP1TqJEtHB

— 2-3 spoons △⃒⃘ (@ty_hotcommodity) September 9, 2020
The list also includes Duck Dynasty star Phil Robertson, actor Antonio Sabato Jr., and Pulitzer Prize-winning playwright David Mamet, who said earlier this year he thinks Donald Trump is a "great president" and that liberal reaction to his presidency has been "psychotic."
Kirstie Alley reported on those "psychotic" Biden supporters who attacked her on Twitter. There is no doubt their heads were exploding over the growing list of celebs supporting Trump.
Like this Nancy Lee Grahn, who claims she is an "actress." She attacked Kirstie Alley for supporting Trump and got blocked.
Another leftist responded by posting: "Well so far I know of Clint Eastwood, Jon Voit, Scott Baio, James Woods, Roseanne Barr, Kirsty Ally, Ted Nugent, Kid Rock are Trump supporters. Please tell me there are no more of these celebrities who are off my list to watch."
Well so far I know of Clint Eastwood, Jon Voit, Scott Baio James Woods, Roseanne Barr, Kirsty Ally,Ted Nugent, Kid Rock are Trump supporters. Please tell me there are no more of these celebrities who are off my list to watch.

— Sue (@SLacymae1) October 18, 2020
They may not agree with these brave celebrities who had the guts to admit they support Trump. It takes no guts in Hollywood to say you support the Democrats.

In fact, it's required. So, I know I speak for all Trump supporters who thank those in Hollywood who know it will hurt their careers to stand up and support the president. It takes resolve to stand up to the psychotic leftwing bullies. And for that alone, they deserve our support.