(This post may contain disputed claims. We make no assertions as to the validity of the information presented by our Opinion Columnist. We are an opinion blog, not a traditional news outlet, and this post should be treated as such. Enjoy.)
On Thursday, Meghan McCain called the coronavirus the "silver bullet" that will cost President Donald Trump getting re-elected. Joy Behar claimed Trump is "Forrest Gump in the White House" and he should just "resign now." The View has turned into a daily dose of misinformation of COVID-19. That's why the president shut them down with the truth. You'll love this.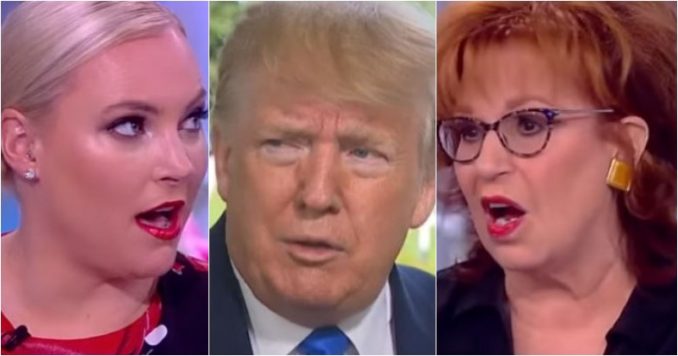 Supporters of President Trump should be angry at the way the Democrats and their cohorts are blatantly lying about the coronavirus. This is not the time to be playing party politics. ABC's The View is an example of a panel of Trump-haters who are parroting all the misinformation coming from the leftwing media.
You might think the shrews of The View have a duty to their audience to fact-check information before they ramble on. Well, not only are they totally misinformed on the coronavirus, but they also take it up a notch by making outlandish claims about President Trump's response.
"Joy Behar panned President Trump's response to the coronavirus on Thursday, likening him to the slow-witted movie character Forrest Gump," Fox News reports. 
"Don't you think that this is a good time for him to resign?" Behar asked. "I do not feel any confidence with this guy. He has been incompetent from the giddy-up."
Meghan McCain is a huge fan of Joe Biden. "There's a Quinnipiac poll that came out that says 56% see Joe Biden as a leader in crisis," McCain said. "You want your leader to reassure you, and to say he didn't do that for me last night is putting it very lightly."
"The entire White House should know this could be the silver bullet that takes out this administration," McCain adds.
President Trump shuts down these vipers by pointing to his response to the coronavirus that the mainstream media refuses to report. 
On January 30th while Nancy Pelosi, Adam Schiff, Jerry Nadler, and Chuck Schumer were literally trying to impeach President Trump; on that very day, President Trump was assembling a task force in advance of his authorization for HHS Secretary Alex Azar to declare a proactive national health emergency.
On the exact same day that the Senate was debating whether to call more witnesses for the Senate impeachment trial, the newly assembled Coronavirus Task Force was holding a press conference to outline their rapid response. The media chose to ignore this and cover the impeachment.
"So perhaps it's not a surprise that most Americans did not know about the proactive steps that President Trump was taking. After all, the entirety of the media focus was on a ridiculous Senate impeachment trial while the White House coronavirus mitigation effort was happening," Conservative Treehouse reports. 
But that's not all. 
Thanks to President Trump, our reliance on China has drastically decreased. Imagine if Trump had not put tariffs on China that forced many of our American businesses to return to manufacturing inside the United States.
"Now, with the global pandemic known as coronavirus, people are starting to awaken to the real dangers of our medicines, pharmaceuticals, and critical health care products being made overseas.  Right now we see the clear reasons why President Trump was so adamant about a conversation no-one wanted, Wall Street hated, and few were paying attention to," CTH adds.
"Heck, it is only now that most Americans realize just how many critical products are at risk…. and instead of thanking President Trump for the foresight, the incredible prescience he exhibited, the professional political class are criticizing him for over minor details in addressing an issue they allowed to happen. In many cases those who are now criticizing are the same people who participated in assisting the dependency, for decades."
The criticism of Trump is not only unreal to witness, but it's also maddening in the scale of its hypocrisy.
President Trump has taken steps to protect Americans that Barack Obama refused to do. Trump closed travel coming from China so quickly that the Democrats initially called it "racist." Obama never closed our borders or travel during the Swine flu which killed over 12,000 Americans.
We have 40 dead in America due to the coronavirus. That number would no doubt be much greater without the measures President Trump has taken. The truth is most people recover, and it's thanks to our president who was working on this while the do-nothing Democrats were impeaching him.
Now, it's time we spread this truth. Trump foresaw reliance on China as a bad thing. He took steps to ensure our medication and other critical healthcare goods are being produced inside the United States. The Democrats are trying to use this crisis to pass a huge stimulus package full of pork.
So, the shrews of The View are lying to Americans hoping we turn to Joe Biden for help — when it's Joe Biden who needs his head examined. If Trump had not been our president at this time, China would be taking full advantage of us, while the rate of this virus would be much higher thanks to Democrats' open border policy.