(This post may contain disputed claims. We make no assertions as to the validity of the information presented by our Opinion Columnist. We are an opinion blog, not a traditional news outlet, and this post should be treated as such. Enjoy.)
When Renata Espinoza heard Kamala Harris was seeking one of the highest political offices in our nation, she was filled with anger and disgust. Harris was the district attorney of San Francisco when Renata's husband and high school sweetheart was shot and killed by a gangbanger, and Harris refused to seek the death penalty. But that's not all. Renata got a chance to warn all Americans about Harris, and she utterly destroyed her.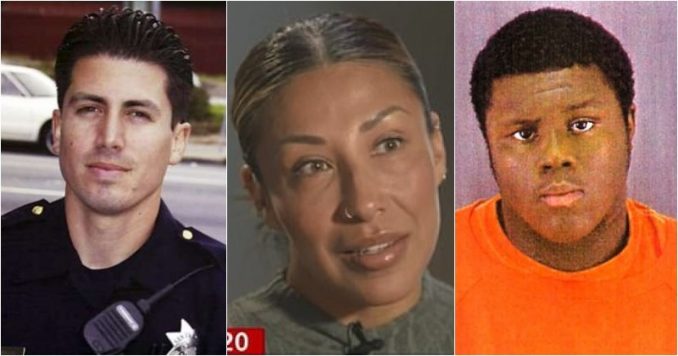 When it comes to cop killers in California, there is only one case since 1987 where a district attorney did not seek the death penalty. That case happened in 2004, and the DA was Kamala Harris.
"The results of The Chronicle's review were supported by legal experts, who could not recall another California case in which prosecutors — given the option of seeking capital punishment for an accused cop killer — decided against seeking the death penalty," San Francisco Chronicle reported about Harris in 2004.
Sann Francisco Police Office Issac Espinoza was on duty the night before Easter in 2004. Espinoza believed he saw 21-year-old gangbanger David Hill hide a weapon and approached him. When he identified himself as an officer, Hill took out an AK-47 assault rifle and fired about a dozen rounds.
Renata Espinoza's life was shattered. 
To get the votes she needed to become the district attorney in the leftwing San Franciso, Harris made a campaign promise to not seek the death penalty. However, cop killers are viewed differently in California.
Cop killers in California are always charged as a "special circumstance" case which means the death penalty is warranted. Harris didn't care. She was thinking only about herself.
Even CNN had to admit Kamala Harris' decision to not seek the death penalty was purely political.
"For Harris, she was on a crucial early rung of the professional and political ladder that would take her to today, becoming a top-tier candidate for the Democratic nomination for President of the United States," they reported.
So, it was all about Kamala's political career. Forget about seeking justice. 
Officer Espinoza's wife had never spoken publicly but felt compelled to speak up last year when Kamala Harris was running for president.
"Is it the real you?" Espinoza asks of the candidate on the TV screen. "Or is it not? We never saw that," she said. "It upsets me because I see her doing that now, and I wish she would have done that back then."
"I want people to know who she is," Espinoza said, "how she was back then and how her actions affected us. I want people to know everything about her, even in the past, before they vote for her. And I want them to hear Isaac's story."
The widow expressed anger that Harris never contacted her before she went on camera three days after Espinoza died to announce she would not seek the death penalty in the case.
It was unusual for a prosecutor to announce such a decision so quickly. Even with the shock of becoming a 27-year-old widow with a 3-year-old toddler to raise, Renata Espinoza's memory is crystal clear about that news conference.
"She did not call me," Renata told CNN. "I don't understand why she went on camera to say that without talking to the family. It's like, you can't even wait till he's buried?"
"I felt like she had just taken something from us," she added. "She had just taken justice from us. From Isaac. She was only thinking of herself. I couldn't understand why. I was in disbelief that she had gone on and already made her decision to not seek the death penalty for my husband."
"I had just talked to Isaac maybe about 30 to 40 minutes before," recalled Renata, her voice soft and shy, sometimes barely above a whisper. "He had told me to stay up because he was coming home."
Renata doesn't remember everything she said that night — she just knew that then, like every night since she was 16-years-old, Isaac was the center of her life. He had to be OK.
Police officer Isaac Espinoza was murdered by a gang member. Instead of seeking the death penalty, Kamala Harris gave the killer a pass.

"I felt like she had just taken something from us… She was only thinking of herself," said Espinoza's widow Renata. "She did not call me." pic.twitter.com/E5uAkx3aG7

— Trump War Room – Text TRUMP to 88022 (@TrumpWarRoom) August 12, 2020
The president of the San Francisco Police Officers Association at the time, Gary Delagnes, also remembered his shock that Harris was so brazen to not seek the death penalty.
On April 13, 2004, three days after Isaac Espinoza was shot to death, Hill was in custody and Delagnes agreed to join Harris at a news conference.
"In San Francisco, it is the will, I believe, of a majority of people that the most severe crimes be met with the most severe consequences," Harris told reporters. "And that life without the possibility of parole is a severe consequence."
"I'm standing there and I'm going, 'Oh my God,'" recalled Delagnes, who stood stoically next to the DA, then 39, as she spoke.
"The kid's not even in the ground yet. You're thinking to yourself, OK, is she sorry that this kid died, or is this just a political opportunity? Is this just an opportunity for her to double down on the fact she's not going to pursue the death penalty?" he added.
Renata Espinoza, who once considered Kamala Harris part of the police family in San Francisco, is sickened she is seeking higher office. The police widow is rightly warning Americans that we do not need this type of grifter anywhere near the Oval Office. Kamala Harris deeply damaged the Espinoza family when her job was to get them justice. What more do we need to say?