(This post may contain disputed claims. We make no assertions as to the validity of the information presented by our Opinion Columnist. We are an opinion blog, not a traditional news outlet, and this post should be treated as such. Enjoy.)
Over the weekend, protesters brought out a guillotine with a message: "It's time the knives come out." It was all captured on video. But that's not all. You don't want to miss how the violent mob is making a huge mistake as they morph into this "reign of terror."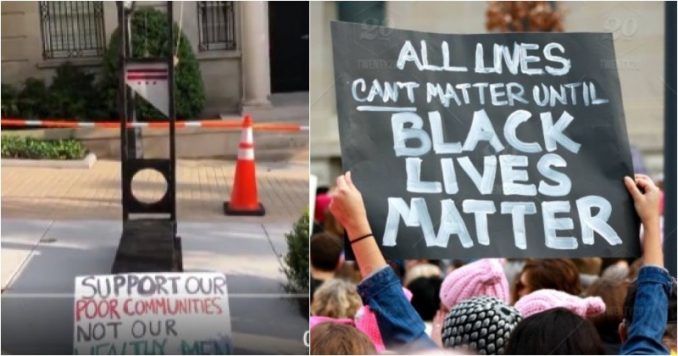 According to a number of videos posted to social media, protesters in DC placed a guillotine in front of Amazon CEO Jeff Bezos' DC complex. A flyer for the event stated: "End the abuse and profiteering. Abolish the police, the prisons, and Amazon."
While most of us have no love loss for billionaire Jeff Bezos, who has kowtowed to the BLM cause and donated millions, we should take note of the murderous overtones the mob is now signaling. The guillotine became famous during the French Revolution's "reign of terror."
Drew Hernandez, the host of the web show "Lives Matter," posted videos to Twitter that show protesters gathering near the guillotine:
DC protesters have set up a "guillotine" in protest of Jeff Bezos in front of his complex in DC pic.twitter.com/VZ0AWTJqaV

— Drew Hernandez (@livesmattershow) June 28, 2020
In another video posted by Hernandez, protesters can be seen giving a speech stating: "when they become threatened, and we have no voice, the knives come out," while standing before the guillotine:
DC protester says: "when they become threatened, and we have no voice, the knives come out." In front of a guillotine set up in front of Jeff Bezos complex in DC pic.twitter.com/synjRwgD1H

— Drew Hernandez (@livesmattershow) June 28, 2020
Thanks to corporations and billionaires like Jeff Bezos donating millions to BLM, hoping to satisfy the mob, the only thing they did give them was legitimacy. Weak GOP politicians like Senator Mike Braun of Indiana are also scared to denounce the BLM movement. In fact, Braun has introduced legislation making it easier for leftwing activists to sue police officers. 
Braun got excoriated by Tucker Carlson on Monday night:
Fox News' Tucker Carlson confronts GOP Sen. Mike Braun on his proposed legislation to reform qualified immunity:pic.twitter.com/JjbHHdcSpK

— Alex Salvi (@alexsalvinews) June 30, 2020
Two years ago, no one would believe we would see BLM become legitimized by GOP politicians along with major corporations donating millions to their Marxist agenda.
Fox News contributor Victor Davis Hanson, who is a noted historian, warned back in 2017 that the BLM and Antifa riots on college campuses would eventually become mainstream. He was right. Now, he is warning that these "race protests" are morphing into "French Revolution fervor."
"After morphing into splinter groups, the protest of the death of George Floyd in police custody has become 'holistic,' entering a new stage accentuating the ongoing clash between the values of two different historic revolutions, the American of 1776 and the French of 1789, observed scholar Victor Davis Hanson," World Net Daily reports. 
"Everything is on the table," he said. "I never imagined that NPR would be telling listeners to decolonize their library or there would be women to shave their heads so they wouldn't have non-African American hair, or they wouldn't privilege their whiteness."
He also cited ideas gaining traction such as banning cop shows, abolishing police departments, and "pledging formally what we're going to do to promote racial diversity and identity politics."
The American Revolution was founded on liberty and equality of opportunity, Hanson pointed out. For the less fortunate, there is a moral role for churches, communities, families, and even government.
But the French Revolution's values of "egalitarianism and fraternity" were based on equality of result. The revolution sought to change every aspect of the citizen's life.
"Cultural revolutionaries attack the very referents of our daily lives. The Jacobins' so-called Reign of Terror during the French Revolution slaughtered Christian clergy, renamed months, and created a new supreme being: Reason," Victor Davis Hanson said.
"But inevitably cultural revolutions die out when they turn cannibalistic. Once the Red Guard started killing party hacks too close to Mao, it began to wane," Hanson added.
The BLM mob is helping Trump get re-elected. 
Targeting a BLM supporter like Jeff Bezos is the beginning of the end. Another sign Hanson pointed to was the renaming of the graduate program at Princeton, the Woodrow Wilson School of Public and International Affairs. Princeton just announced they will remove Wilson's name.
Wilson was a huge Democrat. So again, they are eating their own.
Hanson also warned unless the movement is hijacked by an evil figure with charisma, like Adolf Hitler, or Napoleon, they will die out when they begin to cannibalize their own.
"A final thought: Cultural revolutions not only eventually die without cruel dictators, but they can spawn dramatic pushback," Hanson declared. "Ronald Reagan was the answer to the radical Sixties. Revolutionaries are now sowing the wind, but they have little idea of the reactive whirlwind they may soon reap."
This may be the key to President Donald Trump's re-election. As BLM morphs into this "reign of terror" by targeting suburban gated communities and Washington, D.C.'s elite neighborhood where Bezo's lives, the silent majority of Americans, including many Democrats, will vote for Trump.
There is one thing we can all count on: people love law and order. They are growing tired of the continued upheaval and mayhem, and they will reject the party that has condoned this behavior. BLM might just be Trump's secret weapon in the end.