(This post may contain disputed claims. We make no assertions as to the validity of the information presented by our Opinion Columnist. We are an opinion blog, not a traditional news outlet, and this post should be treated as such. Enjoy.)
Rush Limbaugh caused the Democrats to meltdown after he blew the whistle on the coronavirus pandemic. "It looks like the coronavirus is being weaponized as yet another element to bring down Donald Trump," Rush said. "I want to tell you the truth about the coronavirus." Well, what he went on to say is causing quite a stir. But that's not all. You don't want to miss this.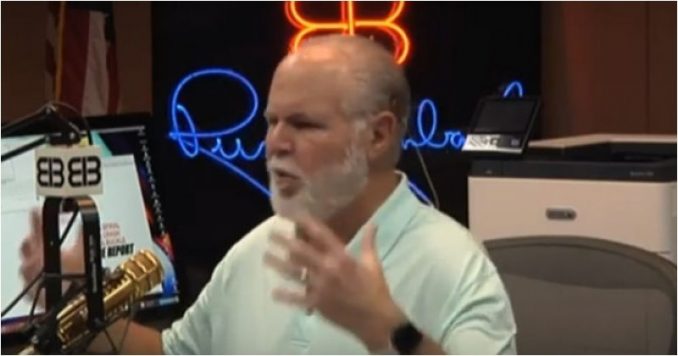 Tucker Carlson said that the coronavirus might just help get Bernie Sanders elected by "causing a global recession." Rush Limbaugh agrees, but he also believes it's not as bad as some people are making it out to be.
Rush Limbaugh on his Monday broadcast warned coronavirus was being hyped by "the drive-by media" to bring down President Donald Trump.
Limbaugh said, "It looks like the coronavirus is being weaponized as yet another element to bring down Donald Trump. I want to tell you the truth about the coronavirus."
He continued, "The coronavirus is the common cold, folks. The drive-by media hype of this thing as a pandemic, as the Andromeda strain, as, 'Oh my God, if you get it, you're dead,' do you know what the — I think the survival rate is ninety-eight percent. Ninety-eight percent of people who get the coronavirus survive. It's a respiratory system virus. It probably is a ChiCom laboratory experiment that is in the process of being weaponized."
"All superpower nations weaponize bioweapons. They experiment with them. The Russians, for example, have weaponized fentanyl. Now fentanyl is also not what it is represented to be," Limbaugh added.
"I'm not trying to get you to let your guard down. Nobody wants to get any of this stuff. I mean, you never —I hate getting the common cold. You don't want to get the flu.

"It's miserable. But we're not talking about something here that's going to wipe out your town or your city if it finds its way there. This is a classic illustration of how media coverage — even if this media coverage isn't stacked — even if this just the way media normally does things. This is a hyped, panic-filled version. Exactly how the media deals with these things to create audience, readership, interest, clicks what have you."
Rush makes the point that the Democrats and their cohorts in the media are hyping the coronavirus knowing it will affect Trump's economy. Of course, the Democrats and their media buddies will fail to make the correlation and blame the economic downturn on Trump, not the coronavirus.
Meanwhile, China's dictator Xi Jinping sure has a reason to cause the United States economic distress. President Trump masterfully played Xi into a corner with sanctions. Then, the president stayed the course and patiently waited until Xi was forced into a new trade deal that cost China billions.
In fact, Xi's actions have pointed to the coronavirus as something that came from a Chinses lab. 
"At an emergency meeting in Beijing held last Friday, Chinese leader Xi Jinping spoke about the need to contain the coronavirus and set up a system to prevent similar epidemics in the future," The New York Post reports. 
A national system to control biosecurity risks must be put in place "to protect the people's health," Xi said, because lab safety is a "national security" issue.
The Post adds: Xi didn't actually admit that the coronavirus now devastating large swaths of China had escaped from one of the country's bioresearch labs. But the very next day, evidence emerged suggesting that this is exactly what happened, as the Chinese Ministry of Science and Technology released a new directive titled: "Instructions on strengthening biosecurity management in microbiology labs that handle advanced viruses like the novel coronavirus."
Read that again. It sure sounds like China has a problem keeping dangerous pathogens in test tubes where they belong, doesn't it? And just how many "microbiology labs" are there in China that handle "advanced viruses like the novel coronavirus?"
Regardless of how the coronavirus started, it is being weaponized against Trump. On Monday, the stock market was down 900 points over fears that China was shutting down and would be unable to export many items like pharmaceuticals and computer parts.
Shockingly, Martha MacCallum reported on Fox News Monday that penicillin has not been produced in the United States since 2004. She wasn't making that up.
"In 2004, Bristol-Myers Squibb said it would close its factory in East Syracuse, N.Y. the last plant in the United States to manufacture the key ingredients for crucial antibiotics like penicillin," New York Times reported in 2009.
"Decades ago, most pills consumed in the United States were made here. But like other manufacturing operations, drug plants have been moving to Asia because labor, construction, regulatory and environmental costs are lower there," they added.
That may be a clue to the president's trip to India. The Times also said most of our drugs are now manufactured in China and India.
We should all stay on alert over the coronavirus. Limbaugh may have inside info about the disease since his diagnosis of advanced lung cancer would make him an extremely high-risk candidate. However, the political fallout of the coronavirus could really hurt our economy which is a win-win for the Democrats.