Maxine Waters was hoping to score points with the "woke crowd" by interfering in a traffic stop in her Los Angeles district over the weekend. The 81-year-old Californian jumped out of her luxury SUV and started to disrupt a legal traffic stop made by deputies with the Los Angeles Sheriff's Department. Waters made the claim "a brother" was being harassed. Well, that's when the cops shut her down. You'll love this.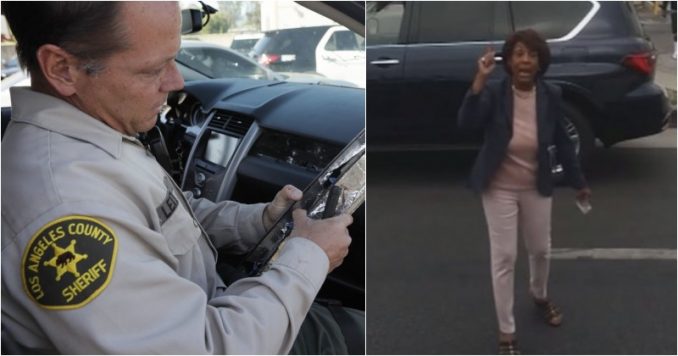 Rep. Maxine Waters was seen in a video outside of a car on the side of a road, reportedly watching police officers perform a traffic stop on a black driver.
The California Democrat was driving in her home district over the weekend when she quickly stopped her car and bolted over to the L.A. County Sheriff patrol car, TMZ reported.
"They stopped a brother so I stopped to see what they were doing," Waters said in the video.
Waters then got a smackdown by one of the deputies who told her she was parked illegally. Reports claim the deputy gave her the ultimatum to "move her vehicle or get written up." Waters is well-known by the Sheriff Department deputies who patrol her district's crime-ridden streets.
"They said I'm in the wrong place and they're going to give me a ticket. That's OK as long as I watch them," she said.
Except, Auntie Maxine really didn't follow through. Once the cops were unfazed by her histrionics on the scene and threatened to give her a ticket, she left.
Waters couldn't get a reaction from the two deputies who do so much more for her own constituents than she ever has in over 30 years:
Congresswoman Maxine Waters (D-CA 43) making sure the brother pulled over is having his rights protected! Queen! pic.twitter.com/sT9Mk3Tz7X

— 𝐄𝐱𝐚𝐯𝐢𝐞𝐫 𝐏𝐨𝐩𝐞 (@exavierpope) July 19, 2020
Maxine also got blasted by conservative black activists like Brandon Tatum and Wayne Dupree for making such a "knuckle-headed move." 
"Maxine Waters pulled off a typical Democrat PR stunt recently, where she dramatically 'jumped out of her car' after just 'happening' to drive by a black man being stopped by police," Dupree reports. "Waters decided she had to 'help a brother out' and supervise the traffic stop in order to make sure the black man wasn't abused or killed by police."
"Meanwhile, her district is a hell-hole of violence, drugs, poverty, and hopelessness," the radio host added. "It's so bad as a matter of fact, that Auntie Max doesn't even live in her district – no way – she lives in the super-rich 'white neighborhood' a ways away in a sprawling mansion, far from all the hell and turmoil she happily does nothing about."
"But she does like to pull off PR stunts in her sad district," Dupree declared. "However, things went south for Superhero Granny Max, when cops hip-checked her and told her that she was illegally parked and was about to get a ticket."
Former Tuscon Police Officer Brandon Tatum also gave Auntie Maxine a reality check. 
Tatum became a well-known black Trump supporter during the 2016 campaign. Following a Trump rally, he argued in a viral video that he felt unsafe — not because of Trump supporters, but because of those who protested the event.
He went viral a second time in September 2017 for a video where he expressed his opposition to players taking a knee during the national anthem at NFL football games.
"She trippin'," Tatum said as he trashed Maxine Waters' stunt with the cops. In fact, he made a six-minute video to just make sure ole Maxine got the message:
House Democrats passed police reform legislation in late June, just one day after their Senate counterparts blocked the GOP's reform bill.
Speaker of the House Nancy Pelosi worked with the Congressional Black Caucus (CBC) to come up with legislation on racial profiling and police brutality as protests continue across the country.
Maxine Waters hasn't lived in her own district for years. The fact she is caught driving down one of its drug-infested streets pretty much looks like a set-up.
Except, poor Auntie Maxine couldn't control the deputies who see her as the real problem. They risk their lives to patrol the neighborhoods she refused to clean up.
They protect her constituents as she backs defunding their jobs.
It says volumes that Waters made sure the video cuts out as she is walking toward the cops. They weren't playing her game and shut her down. They immediately recognized her hustle and were too busy taking care of the very streets Maxine has made a mint representing for over 30 years.