(This post may contain disputed claims. We make no assertions as to the validity of the information presented by our Opinion Columnist. We are an opinion blog, not a traditional news outlet, and this post should be treated as such. Enjoy.)
Barack Obama and his cohorts love the civil unrest over the George Floyd case. The longer the riots and mayhem go on, the better, they believe. However, now we have uncovered one of the big reasons why the former president and his allies are supporting the mayhem. It has to do with the Floyd case and how they have manipulated it to ensure good cops can't protect you in the future. You do not want to miss this.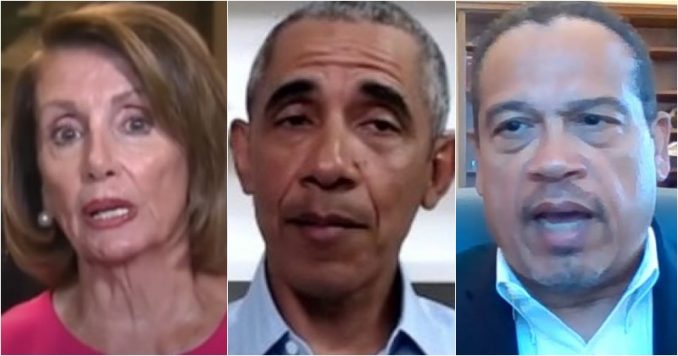 One of Barack Obama's good buddies is now the attorney general in Minnesota. His name is Keith Ellison, and he is the former Minnesota Congressman who became infamous for his ties to Antifa and CAIR (Council on American-Islamic Relations) and the allegations he physically abused his girlfriend.
So, not only is Keith Ellison the State Attorney General involved in the prosecution of the police officers in the Floyd case, but he is also the top law dog in Minnesota who is supposed to be prosecuting the rioters and looters.
Former Federal Prosecutor Andy McCarthy explains when Ellison upped the charges in the case against the disgraced Officer Derek Chauvin, adding a second-degree "felony murder" charge,  it was purely a politicized move masquerading to look like "justice."
Of course, to most Americans upping the charges to second-degree "felony" murder seems just. Most of us would say throw away the key and let Chauvin rot in his cell. However, Obama, Nancy Pelosi, and Black Lives Matter allies were pushing for this new charge for one reason: it would ensure police officers across the country would be extremely diminished in how they can use "force."
"Prosecutors in Minnesota have filed an amended complaint against Derek Chauvin for the killing of George Floyd, adding a second-degree felony murder charge. This dangerously flawed theory could be used to portray any police restraint of a resistant suspect as criminal assault," McCarthy said.
"The amended complaint against Chauvin also re-alleges the two homicide charges originally filed last week: third-degree 'depraved indifference' murder and second-degree manslaughter, both of which better fit the facts of the case while posing no risk of criminalizing the legitimate use of force by good cops," McCarthy adds.
This explains the coordinated protests staged by Black Lives Matter on Tuesday which they demanded: "defund the police." These radical leftists won't be satisfied until we abolish all law and order in this country.
McCarthy explains with third-degree murder "prosecutors would concede that it was lawful in principle for the police to subdue Floyd, but argue (correctly) that their manner of doing so was recklessly indifferent to human life, causing his death."
With Ellison upping the charges, it accomplished the goals of Black Lives Matter.
"By contrast, the new 'felony murder' count, spearheaded by Keith Ellison, the radical leftist state attorney general, puts police on notice that they can be charged with a crime — felony assault — for doing their job, which routinely involves physically restraining suspects who resist lawful commands," McCarthy declares.
On Wednesday, after Ellison announced the new charges, Barack Obama was beaming in his "virtual town hall." Obama pushed his own community policing task force that he put together in his administration and urged all mayors to do more to "fix their police forces."
Obama created the Task Force on 21st Century Policing in December 2014 which recommended police departments outlaw all "use of force" by their officers. This is a ridiculous idea. It would be like asking the military to not use force when they go to war. 
"Any experienced law-enforcement officer will tell you that it is common for suspects to resist arrest by lying on the ground, claiming to be ill, waving arms to avoid being cuffed, and refusing to be placed in a squad car. Cops, of course, may not use excessive force when that happens. They must, however, be permitted to use sufficiently superior force to detain and transport uncooperative arrestees," McCarthy said.
Nancy Pelosi also was giddy about the thought of "banning police from using chokeholds/use of force and ending the Defense Department program that gives surplus military-grade weapons to local police departments."
"We'll be intense, proactive, and, again, because the American people have identified with all of these injustices, we believe, at long last, we may have some success in the United States Senate with it," Pelosi said Wednesday on MSNBC.
Obama sees the riots and civil unrest as the impetus which gave Keith Ellison the green light to up the charges, even though any good prosecutor will tell you it's the wrong charge. This is how the former president and his cohorts use the rioters and looters as their useful idiots to bring about their "transformation" of America.
If you are a law-abiding citizen and have expectations that police officers will risk their own lives to protect you from harm, then you should be outraged at how Obama and his cohorts have manipulated this case.
Think about it. They have stoked the fires of riots and are using the death of George Floyd to make sure good cops won't be able to do their job of protecting the American people. It is one of the most disgraceful things to come out of this terrible tragedy.