President Donald Trump is between a rock and a hard place when it comes to juggling the health of the American people versus allowing the country to dive into another Great Depression. However, we have now discovered shocking information on coronavirus deaths in the hotspot of New York City. According to the data, doctors have found the numbers are being "cooked." Rush Limbaugh further exposes hard truths Americans need to hear.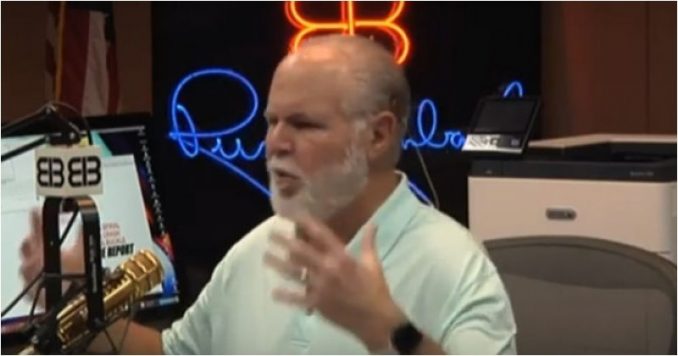 To understand how data can be "cooked," we need to understand how doctors determine what led to the death of a patient. For example, a patient is diagnosed with cancer, and that cancer caused the lungs to fill up with fluid, which led to the patient dying. The doctor would say on the death certificate the patient died of cancer, secondary to pleural effusion. The main reason the patient died is cancer.
Now, let's look at the data coming from New York.
As of April 1, New York City is reporting 1139 deaths due to coronavirus. 789 of those deaths had an underlying condition. Only 14 of those deaths had no underlying condition. While 336 of those deaths are still pending for possible underlying conditions.
You can see why this is a huge issue. One expert has weighed in claiming some of those deaths with "underlying conditions" have nothing to with coronavirus.
"The mistake is being made worldwide to report virus-related deaths as soon as it is established that the virus was present at the time of death – regardless of other factors. This violates principles of infectiology: only when it is certain that an agent has played a significant role in the disease or death may a diagnosis be made," writes Dr. Sucharit Bhakdi, Professor Emeritus of Medical Microbiology at the Johannes Gutenberg University Mainz.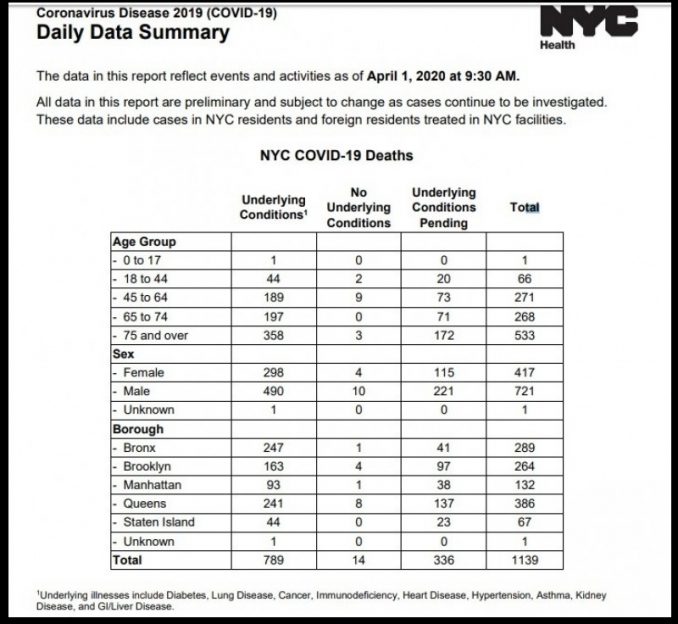 NYC numbers are cooked so that "if a patient died, and they tested positive for COVID-19, book it."
Let's say a patient comes in dead on arrival due to heart failure. During the post-mortem exam, the doctor will test the blood for COVID-19. If it's positive, then the patient is added to the COVID-19 list of deaths with "underlying conditions."
Dr. Bhakdi was writing this letter to Germany's Angela Merkel to warn her that data is being skewed in the hopes of making the pandemic appear extremely virulent with a high mortality rate.
He adds: "How, then, is a distinction to be made between genuine corona-related deaths and accidental virus presence at the time of death?"
Dr. John P.A. Ioannidis, Departments of Medicine, of Epidemiology and Population Health at Stanford University published a paper: Coronavirus disease 2019: the harms of exaggerated information and non-evidence-based measures.
"It is important to differentiate promptly the true epidemic from an epidemic of false claims and potentially harmful actions, " he writes. 
Even more alarming is that the Centers for Diese Control (CDC) is basing its forecast of 100,000 to 240,000 deaths by the virus in America on the New York City data.
Part of that has to do with those in our society who have been infected and are asymptomatic. All medical experts agree there are potentially thousands and thousands who were infected and never knew it. That matters because the real mortality rate (percentage of deaths) can only be ascertained by adding those numbers to those infected and recovered.
That would probably put the true mortality rate at a very low number.
Rush Limbaugh also weighed in and exposed some hard truths. 
Limbaugh cited an article in The Federalist by Ben Domenech, saying: "We face an unprecedented situation — not a global pandemic, we've seen those before, but a modern capitalist economy that turned itself off for potentially more than 60 days, on purpose."
"This is exactly my point," Limbaugh adds. "What are we doing? We have purposely shut down capitalism. We've shut down the largest economy in the world. We've shut down the economy the world needs. The biggest roaring economy the country has ever seen, we've shut it down. It took three years, only three years to build this economy up from the tepid state the Obama administration left it in, and now we're right back there. Do you realize it's just taken two months to take this economy back to where we were in December of 2016?"
Limbaugh says we need a date to end the shutdown before its too late. 
"And Trump comes along, Make America Great Again, saying to hell with [Obama's recession]. And now we just shut it down. We just turned it off, and we did it on purpose. And Mr. Domenech says, 'Uncertainty crushes hope. So the question on the minds of our leaders should be: how do we give citizens more confidence that we can, and will, turn the economy back on?"' Rush said.
"It is the uncertainty about how it will reopen that could prove far more destructive in the long run," Limbaugh declares. "And the knee-jerk reaction from a jittery Congress in the form of multi-trillion-dollar bailouts could create a number of disincentives for many people to go back to work."
You know, I'm a guy on the radio. I can say this. Domenech writing his piece can say it. But if somebody on the task force goes out there today and says it? If somebody in business comes out and says, "You know what? We gotta get back to work. We're risking long-term damage"? Boy, are they gonna be hit.

The media is gonna cream 'em for insensitivity, not caring about how many lives are lost. But it is a reality that cannot be ignored. "[T]his is exactly the moment when we should expect more from our local officials than being led around by national cable news." National cable news and its overall attitude of apocalyptic futures ought not be what dominates everybody's mind-set.
Rush makes the case you can't keep people in their homes with no end in sight. 
"I'm fully aware of what needs to be done to stop the spread of it, all these mitigation things — the social distancing and all that. My only point is you can't keep people in their homes interminably with no end in sight to it. There has to be some way of conveying an evaporation of the uncertainty that exists out there," Limbaugh concludes.
Rush Limbaugh wasn't aware at the time of his broadcast of the report that the data in New York City appears to be "cooked." However, his points on the economic shutdown just cement what Americans are thinking at home. We all want to be safe.
However, there is a way to open up the economy and keep some key precautions in place. President Trump will need our support as the Democrats are banking on keeping the economy shut down until its utterly ruined.