(This post may contain disputed claims. We make no assertions as to the validity of the information presented by our Opinion Columnist. We are an opinion blog, not a traditional news outlet, and this post should be treated as such. Enjoy.)
Bevelyn Beatty went viral a few days ago when she was videoed schooling white liberals at the Seattle "occupied zone." This time she is dropping a massive truth bomb on all "black liberals supporting Democrats," who she says "ain't nothing but house negroes, and Al Sharpton is one of the overseers reporting to the masters." But that's not all. Beatty was just getting warmed up, and she is Nancy Pelosi and the Democrats' worst nightmare.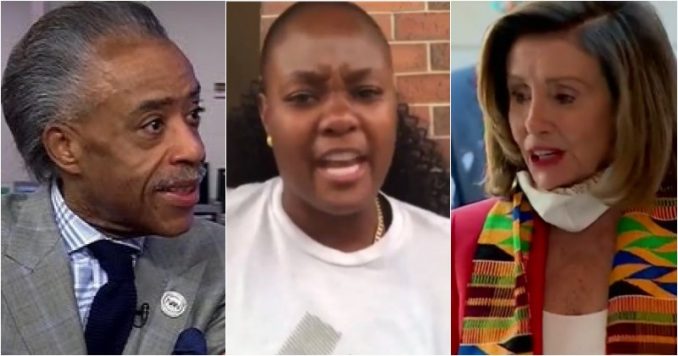 Bevelyn Beatty, a conservative activist and preacher, wore a red poncho while speaking to protesters outside the "Capitol Hill Organized Protest" on Monday. She also then appeared on The Ingraham Angle with Laura Ingraham.
Now, Bevelyn is back with a bang to deliver a new message to "black liberals." 
"Drop the bomb, boom," Beatty said. "A black liberal ain't nothing but a house negro."
"Tell me I'm not lying," Beatty declares. "Y'all so pressed to keep that welfare, y'all so pressed to stay in Massa's house, you all so pressed to hear Massa swear up and down that black lives matter, and that you all need Massa, and Massa needs y'all."
"Not ah baby," Bevelyn adds. "I don't need nothing from nobody, I got Jesus."
"You all are house negroes," she said. "A black liberal is nothing but a house negro. I said and I meant it. Al Sharpton and all of them, are overseers. Those are the overseers of all the house negroes."
"They manage them," Beatty explains. "They keep them intact. This is what Al Sharpton and Jesse Jackson do. They manage all these house negroes."
"They find new ways to keep them on board," she proclaims. "They find new ways to keep them enticed.  They build new incentives."
"LeBron James, house negro," she adds. "Stephen Curry, he turning into a house negro. Who else? Yeah, Snoop Dogg, super house negro with dreds and a blunt."
"These are nothing but house negroes," Bevelyn said. "Let's call a spade a spade."
"I'm an Uncle Tom because I'm a woman of God," she adds. "I'm an 'Auntie Tamisha', cause I'm definitely serving the Lord. Cause I got nothing to do with none of that."
"I don't need to be voting in this, and voting in that, and voting in a president who is telling me if I don't vote for him I ain't black," she explains.
"OK Massa…'No, we gotta vote for Massa cuz if we don't vote for him we ain't black, and he gonna kick us outta the house'" Bevelyn said. "I'm calling a spade a spade and I don't care who don't like it."
"I really don't," she adds. "I really don't. I'm calling a spade a spade. I'm tired of y'all."
"White folk, I'm warning you now," Beatty said. "If you call yourself a Christian and you white, I don't care what color that person is, you have no right to withhold the truth from them."
"And if you do, you're selfish," she declared. "You have absolutely no right to withhold the truth just because they are another color from you."
"You want to make an exception for them," she adds. "You wanna cloak the truth in certain ways for them. You are doing an injustice to black people when you do that and I am letting you know that to your face."
"If you know better you do better," Bevelyn said. "And for all white liberals, stop it. We are not your pawns, we are not your charity case, and we don't wanna be your charity case."
Be prepared to get bombarded with massive truth bombs right here.

Someone had to say exactly what we're all thinking. Glad she did!pic.twitter.com/G1jio2dAqK

— Machiavelli (@TheRISEofROD) June 18, 2020
Bevelyn Beatty's message is powerful and timely. 
Beatty and Edmee Chavannes are co-founders of "At the Well Ministries" and were handcuffed at the end of May praying outside a New York City Planned Parenthood where mass protests were approved by Mayor Bill de Blasio.
Beatty and her partner were then seen speaking to a woman outside the zone in Seattle, formerly known as CHAZ, after telling them: "Black Lives Matter can't save you. Only Jesus can save you."
She said the Republican Party is "the party of the blacks," history that isn't taught in schools. Beatty has told Fox News she doesn't support Black Lives Matter nor their acceptance of LGBTQ agenda or other liberal policies advocated by the organization.
This young woman can positively impact the upcoming election. Nancy Pelosi and her cohorts are scared to death that African-Americans will start to flee their Democrat plantation, and Bevelyn Beatty is their worst nightmare.