(This post may contain disputed claims. We make no assertions as to the validity of the information presented by our Opinion Columnist. We are an opinion blog, not a traditional news outlet, and this post should be treated as such. Enjoy.)
Amy Coney Barrett is being reported by White House insiders as President Donald Trump's frontrunner replacement for Ruth Bader Ginsburg's seat on the Supreme Court. Already, the Democrats are starting to smear and attack her, and that didn't end well. You'll love this.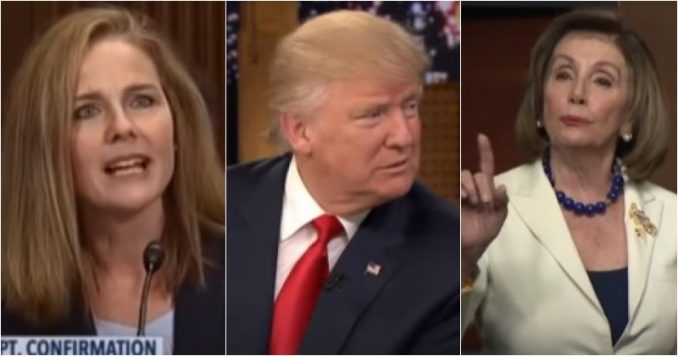 When Brett Kavanaugh was nominated to the Supreme Court, Trump administration insiders indicated that Amy Coney Barrett would be the next likely nominee. SCOTUS watchers knew that Ruth Bader Ginsburg's health was failing, and at 87-years-old, she would be the most likely to retire or sadly die.
"Judge Amy Coney Barrett has emerged as President Donald Trump's overwhelming favorite to replace the late Supreme Court Justice Ruth Bader Ginsburg, according to several people familiar with the deliberations, who say the President's view was solidified during a lengthy meeting at the White House on Monday," CNN reports.
That's why Trump officials wanted to save Amy Coney Barrett's nomination. Replacing Ginsburg with a woman would be a good public relations move.
The president previously said he was "saving her" for an appointment to the Supreme Court should Justice Ruth Bader Ginsburg retire or pass away, LifeNews reports. 
Let's be clear: the only thing Coney Barrett has in common with the deceased Ginsburg is they are both women. Amy Coney Barrett is about as conservative as you can get, which scares the living hell out of the Democrats.
Trump also told reporters on Monday that he had narrowed down his choices to five women. However, it's looking like Coney Barrett is the one.
"Trump has not finalized his decision, and with days to go until he announces his pick on Saturday, his thinking could change," CNN adds. "The White House is currently working to schedule a meeting between Trump and Judge Barbara Lagoa while he's in the Miami area Friday, two sources tell CNN. Lagoa is one of five female candidates the President is considering as a replacement, but two sources said her chances have dimmed significantly since the weekend."
Abortion is the one issue that causes the radical leftists to freak out. Amy Coney Barrett, a conservative Roman Catholic and mother of seven, is abortion activists' biggest nightmare.
The 48-year-old Barrett grew up in Metairie, Louisiana, a suburb of New Orleans, and attended St. Mary's Dominican High School, a Catholic girls' school in New Orleans. Barrett graduated magna cum laude from Rhodes College, a liberal arts college in Tennessee.
After graduating from Rhodes, Barrett went to law school at Notre Dame on a full-tuition scholarship. She excelled there as well: She graduated summa cum laude in 1997, received awards for having the best exams in 10 of her courses, and served as executive editor of the school's law review.
She was invited to clerk for Justice Antonin Scalia on the Supreme Court from 1998 to 1999. After working for a prestigious law firm in D.C., Coney Barrett returned to Notre Dame to teach law.
Barrett was named a professor of law at the school in 2010; four years later, she became the Diane and M.O. Research Chair of Law. Barrett was named "distinguished professor of the year" three times.
While at Notre Dame, Barrett signed a 2012 "statement of protest" condemning the accommodation that the Obama administration created for religious employers who were subject to the Affordable Care Act's birth control mandate.
When it comes to abortion cases, Barrett has been staunchly on the pro-life side.
She voted in 2016 to allow a hearing on a pro-life law from the state of Indiana that requires abortion centers to offer a proper burial or cremation for babies they kill in abortions.
In 2019, she voted to allow a hearing on another Indiana pro-life law allowing parents to be notified when their teenage daughter is considering abortion so they can help her make a better decision for her and her baby.
The Catholic conservative judge also backed an Indiana law enacted by then-Gov. Mike Pence that prohibited abortions performed for reasons related to sex, race, or disability. A woman could not abort her baby because she wanted a boy and it was a girl, or because she did not want to carry a baby of color, or because the child tested positive from Down's Syndrome.
Barrett joined the dissent that labeled the law a "eugenics statute."
The smears from Democrats and their cohorts in the mainstream media are already happening. 
The New York Times and Newsweek are making the unfounded claim that Barrett is part of some "backward" evangelical Christian group called "People of Praise."
They claimed "The Handmaid's Tale" author Margaret Atwood based her novel on an authoritarian take-over of America by evangelical extremists. Later, they had to make a correction.
"This article's headline originally stated that People of Praise inspired 'The Handmaid's Tale'. The book's author, Margaret Atwood, has never specifically mentioned the group as being the inspiration for her work," Newsweek reports. 
"The far-left Newsweek just fired off around a thousand words falsely accusing Amy Coney Barrett of inspiring the dystopian feminist thriller 'The Handmaid's Tale', and has been forced to retract it," Breitbart tweeted.
NOLTE: "The far-left Newsweek just fired off around a thousand words falsely accusing Amy Coney Barrett of inspiring the dystopian feminist thriller 'The Handmaid's Tale', and has been forced to retract it." https://t.co/Bifmrh5G3A

— Breitbart News (@BreitbartNews) September 22, 2020
Are the radical leftwing activists going to claim Amy Coney Barrett is a racist? That smear might not work out too well. The conservative judge adopted two children from Haiti.
"Imagine Democrats accusing Amy Coney Barrett of not caring about black lives when she adopted two," tweeted TheBradfordFile.
Imagine Democrats accusing Amy Coney Barrett of not caring about black lives when she adopted two.

— thebradfordfile™ (@thebradfordfile) September 22, 2020
Lastly, Amy Coney Barrett has already been confirmed by the Senate in 2017.
Barrett was appointed a judge on the 7th Circuit Court of Appeals in 2017. In her confirmation hearing, the judge faced hostile questions about her Catholic faith. Sen. Dianne Feinstein, the ranking member of the committee, told Barrett directly that her Catholic beliefs were concerning, as they might influence her judicial decisions on abortion.
"The [Catholic] dogma lives loudly within you," Feinstein declared.
WATCH: Sen. Feinstein to appeals court nominee Amy Barrett, @NotreDame law prof/#Catholic mother of 7: "The dogma lives loudly within you." pic.twitter.com/mpDgNZGRsa

— Jason Calvi (@JasonCalvi) September 6, 2017
Amy Coney Barrett is a veteran of Senate confirmation hearings. She weathered the process and was confirmed despite the Democrats' anti-Catholic bigotry.
"Amy Coney Barrett meets Donald Trump's two main litmus tests: She has made clear she would invalidate [Obamacare] and undermine a woman's reproductive freedom," said Nan Aron, the president of Alliance for Justice, a radical liberal group.
In other words, Amy Coney Barrett would vote to get rid of the un-Constrituional Obamacare and vote in favor of a baby's right to life. This reflects the majority of American patriots' views who elected Donald Trump, and that's why she is his frontrunner for the Supreme Court.