(This post may contain disputed claims. We make no assertions as to the validity of the information presented by our Opinion Columnist. We are an opinion blog, not a traditional news outlet, and this post should be treated as such. Enjoy.)
Mitt Romney badly needed Donald Trump's endorsement to become Utah's junior senator, and he got it. But now that Romney has betrayed the president, Trump is done playing nice. Evidence has come to light that shows the failed presidential candidate fooled the good people of Utah and became a senator to help the Democrats destroy Trump, and the president isn't going to let it go. Don't miss this.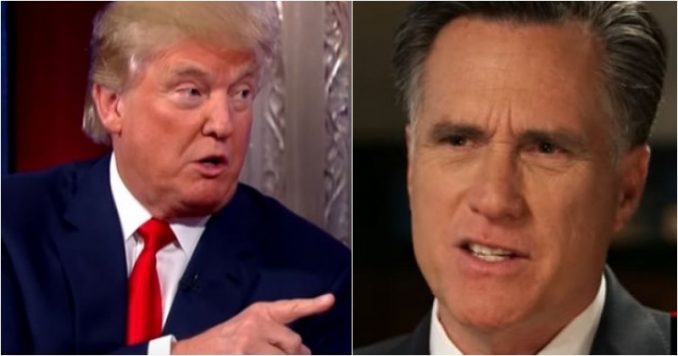 Let's face it. Mitt Romney was too weak to take on the mainstream media and the Democrat Party and win the 2012 presidential election. Romney's biggest problem besides being a wimp is his record as a politician. Mitt was always a flip-flopper, and Americans had zero faith in him.
Romney is the king of the swamp rats. 
We all know the junior senator from Utah is just a rich guy who has no convictions. We all know he hates President Trump. However, what is now coming to light is his real reason for coming out of retirement in 2018. Now, a very strong case can be made that Willard "Mitt" Romney came to Washington to help the Democrats destroy President Trump.
"The first thing [Mitt] did when he got to town was write an oped for The Washington Post attacking Donald Trump — the only Republican president elected in the past 16 years and a political foe of the previous two candidates, including Romney. He got some great TV out of that," The Federalist reports.
The other person Romney seems to have a close alliance with is John Bolton. In fact, Bolton, who is a huge neocon warmonger, shockingly endorsed Romney for president during the 2012 GOP primary which was very odd since there were hardcore conservatives still in the race like Newt Gingrich and Mike Huckabee.
We now know Bolton has betrayed Trump, and he also hired Lt. Col Alexander Vindman, who has been identified as the source who was directly working with the so-called Ukraine whistleblower. This led directly to the "whistleblower" complaint that ignited the impeachment hoax. All of this happened under the all-seeing eye of John Bolton.
This is clear evidence Bolton was involved with setting up the Ukraine hoax. And now we learn that insiders are claiming Romney became a senator to aid the swamp, via the Democrat Party, to impeach Trump.
"[Romney] went to Washington to do this," a former longtime Senate communicator said, referring to the impeachment vote. "Mixture of anger and delusional self-righteousness. Funny thing is he probably thinks this will make him a more notable figure in history. Instead, it just looks petty and makes him more of a footnote in political history."
"Far as I read him, he's attracted to praise and the power of high office," a D.C. reporter said. "He was never really motivated by any particular political principle." 
Romney's hatred of Trump has nothing to do with his "political principles" — he has none. Romney attempted to "infiltrate" the Trump administration. Romney and his GOP elite buddies campaigned for Mitt to be Trump's secretary of state. However, the president turned him down.
Then, 18 months later, Romney announces he would run for the senate. This was in February 2018. Meanwhile, the swamp creature who did make it into the Trump administration was John Bolton in April 2018. These dates are important to remember when you consider the Democrats were pretty sure they could at least take back the House in 2018.
Their only goal was to impeach President Trump.
When the Democrats took back the House in 2018, Romeny and Bolton were both in place to do damage to President Trump. John Bolton's role with the Vindman twins is well-noted, and Mitt Romney was the biggest proponent to have the fired National Security Advisor testify before the Senate impeachment trial.
"I think it's increasingly likely that other Republicans will join those of us who think we should hear from John Bolton," Romney told reporters. "I have spoken with others who have opined upon this."
That's right, it was Romeny who was rallying the GOP senators to break with the president and call for Bolton to testify. In fact, Romney was the only GOP senator to speak out publically about how Bolton "must testify," which was a huge gift to Adam Schiff and his cohorts.
Trump isn't going to let this go. Those who have wronged him will find out he isn't playing nice, anymore. According to Vanity Fair, Trump has his attorneys and investigators working overtime to uncover the Ukrainian plot and who was involved.
So, just what motivated Mitt Romney to betray his own party and become the thorn in Trump's side? His hatred of Trump does not explain going to these extremes to hurt his own party. He sure wasn't politically motivated since the people of Utah love Donald Trump.
However, when you put together all this history and evidence, the only answer left is Mitt Romney came to Washington to aid the swamp rats to get rid of Trump. Along with John Bolton, Romney is part of the deep state who want their power and control back, and the good people of Utah now have a choice.
This is enough evidence to recall Willard "Mitt" Romney and relieve him of his duties as their junior senator. It's the least they can do for the only president who is trying like hell to drain the swamp.