(This post may contain disputed claims. We make no assertions as to the validity of the information presented by our Opinion Columnist. We are an opinion blog, not a traditional news outlet, and this post should be treated as such. Enjoy.)
On Wednesday, Elisabeth Hasselbeck made a guest appearance on The View. You may remember her as one of the truly conservative former cohosts, who refused to listen to Whoopi Goldberg or Joy Behar's nonsense. As a staunch Trump supporter, Hasselbeck utterly torched Goldberg on live TV after Whoopi started panicking over the coronavirus and blamed President Donald Trump. You'll love this.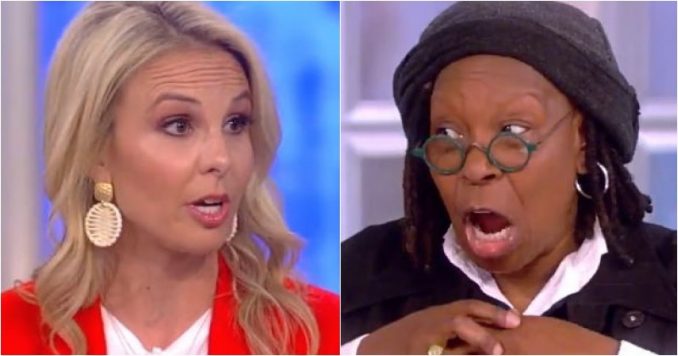 Whoopi Goldberg announced at the start of Wednesday's show that The View is foregoing having an audience in light of the coronavirus. Nothing like ratcheting up the panic. The coronavirus is similar to the yearly flu virus as far as mortality rates go.
The only difference is it is being politicized in the United States as a weapon by Democrats who are hoping to taint the president's response. The majority of the deaths are adults over 80, who have a compromised immune system. But don't tell Whoopi Goldberg or Joy Behar. To them, this coronavirus is about President Trump.
"I'm hoping [the government] are going to get a handle on [the coronavirus], Goldberg said. "Because people are doing what they are supposed to be doing. They are washing their hands, they are self-quarantining. People are starting to recognize all over the country that this is no joke."
Here, Whoopi is implying the Trump administration has treated the coronavirus "like a joke," and she is hoping "they get a handle on it."
"This is not a leftwing conspiracy to get 'you know who' out of the White House," Goldberg adds. "That's not what…this is real. This is people getting sick from something that is in the air."
Wow, Whoopi is really talking scientific here. The majority of viruses, including the common cold, are transferred by "something in the air." Never fear, Elisabeth Hasselbeck understands Goldberg and her pals are trying to ratchet up the panic, so she steps in.
"Well, I think there is a fine line in what is precaution, taking precaution and what is panic," Elisabeth Hasselbeck said. "Yes, we are going to take precautions, yes we are going to 'Purell.' Pray that God has got us in our tomorrows. We pray that this coronavirus is extinguished—that it stops in its tracks."
Whoopi, Joy, Sunny Hostin and Meghan McCain are all throwing daggers at Elisabeth Hasselbeck with their eyes. They hate she is being the only adult in the room.
"We've had deaths and yes, those are serious and not to be taken lightly at all," the 42-year-old Hasselbeck adds. "But we shouldn't be in a state of panic— because with all we are doing and taking cues from our president who is taking strong, bold, actions to keep this at bay— as much as we possibly can right now."
Oh, snap. Whoopi and her gang can't have Elisabeth Hasselbeck doing some truth-telling about the Trump administration's response to COVID-19. This is a disaster for them. Elisabeth wasn't done.
"So, I feel comfortable and confident that because of strong leadership, and because of—" Hasselbeck said as Joy Behar rudely cuts her off.
"Where's the strong leadership?" Joy asks. "[Trump] has told us nothing of any importance."
As Elisabeth starts to list all the things the Trump administration is initiating, Sunny Hostin cuts her off and starts making a ridiculous argument about people who don't have paid leave.
No matter what Trump has done or would do, the shrews of The View will never give him credit. They are hoping the coronavirus stops him from being re-elected.
"He's not going to get re-elected because of this, in my opinion," Behar chimes in. Hasselbeck just smirks in Joy's face knowing Behar just proved her point.
Elisabeth brings up Dr. Anthony Fauci, who is the expert in infectious diseases at the National Institute for Health and has advised six presidents. He is heading up Trump's team, and as Hasselbeck tries to state what he has said and done, big mouth Behar cuts her off, again.
"I only believe Fauci. I won't listen to doctor 'bone-spurs,'" Behar said.
"Look, I think we should prepare. I think we should pray," Elisabeth said. "I'm not going to panic and let the coronavirus be an idol. I'm going to use Purell right now." Hasselbeck takes a Purell canister from the table and dispenses some into her hands. It was a perfect response to their so-called panic.
CALMING CORONAVIRUS FEARS: After more than 1,000 COVID-19 cases in the U.S. were confirmed on Tuesday evening, the co-hosts discuss Pres. Trump's handling of the novel virus and share what precautions they're taking amid the outbreak. https://t.co/A3KVbgImL2 pic.twitter.com/F48yqvzaQk

— The View (@TheView) March 11, 2020
Elisabeth is being sarcastic with the Purell. She is making fun of the shrews and their fake panic. The former cohost has their number, and she exposed their true motives.
Joy Behar slipped up by saying: "He's not going to get re-elected because of this, in my opinion."
Behar exposes the plan. Goldberg and her pals are just following the orders coming from the Democrats: Rachet up panic inside the United States, claim President Trump is screwing up, and make voters believe the Trump administration is lying and the coronavirus will wipe out millions of Americans. The hope is that he won't get re-elected.
Elisabeth Hasselbeck shrewdly called them out on their panic. Good for her. She refused to play along and made the great point that Trump is taking "strong, bold, actions to keep this at bay." That's the appropriate response that every celebrity who really cares about Americans should be making.