(This post may contain disputed claims. We make no assertions as to the validity of the information presented by our Opinion Columnist. We are an opinion blog, not a traditional news outlet, and this post should be treated as such. Enjoy.)
Whoopi Goldberg and her co-hosts on The View are claiming President Donald Trump is "inciting" violence from "rightwing American terrorists" who are protesting to end the economic lockdown. Well, the shrews of The View got a rude awakening about real-life Americans who are losing everything, while they rake in their lucrative salaries from the comfort of their lavish homes. Don't miss this.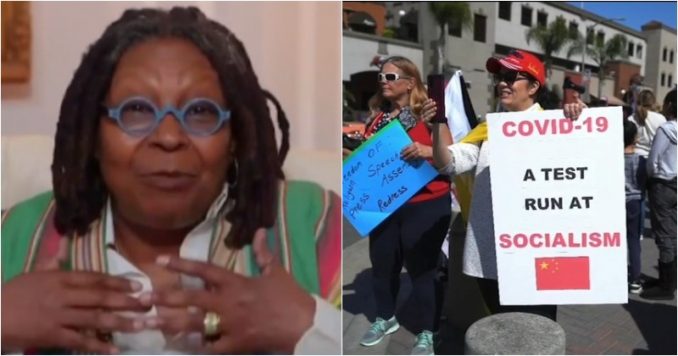 Whoopi Goldberg started a discussion on Monday by asking, "What is going on out there?" She showed tweets by President Trump that said "Liberate Michigan" and "Liberate Minnesota." Goldberg and her co-hosts claimed the president was inciting "violence" from "gun-touting rightwing American terrorists."
Golberg claimed Trump was dropping the ball and the only way the lockdown should end is if we have a vaccine.
Not only is that totally unrealistic, but it's also just another Democrat talking point. A vaccine is at least 18 months away. Right now, Americans are losing everything: their jobs, their businesses, and their homes.
The View sees middle-class Americans who are protesting their Democrat governors draconian measures as "rightwing terrorists."
"You have the president saying things like 'liberate Virginia,'" said Sunny Hostin. "Then also in the same sentence he is bringing up the Second Amendment. And to Joy's point, you saw protesters with guns. And in a sense, he is implying and inciting insurrection. The argument can be made he is inciting violence."
"If you are inciting lawlessness that is leading to violence that kind of speech isn't protected by the First Amendment," Hostin declared.
What violence has occurred during these protests? There has been no violence except in the heads of leftwing nutjobs like Sunny Hosting and Joy Behar.
So, exercising your First and Second Amendment rights is now a crime according to The View?
"I see those protesters carrying their guns," Meghan said. "And I know that may seem very foreign to some of our viewers or may seem violent, but it's perfectly normal to me and it's perfectly legal in the states they did it in. It's a culture symbol, nothing more."
At least Meghan McCain stood up to their crazy talk.
PROTESTORS DEMAND STATES RE-OPEN ECONOMY: The co-hosts discuss weekend protests against stay-at-home orders in some states as the president tweeted urging some governors to liberate their states. https://t.co/cVclFZQmjA pic.twitter.com/u6ED1YcjUm

— The View (@TheView) April 20, 2020
They don't want you looking at the science and the facts that could lead to ending the lockdown now. 
New reports about the testing of antibodies are something The View and their cohorts do not want you to know about. Antibody testing shows us many more Americans have already been infected by COVID-19 and are now immune to the virus.
According to the Boston Globe, 32 percent of those tested randomly at Massachusetts General Hospital tested positive for COVID-19 antibodies.
"Mass. General researchers ― who excluded anyone who had tested positive for the virus in the standard nasal swab test ― found that 32 percent of participants have had COVID-19, and many didn't know it," Boston Globe reports. 
This isn't just an East Coast occurrence. For weeks researchers have been perplexed as to why the most populated state in the country, California, is way behind on deaths to the virus. In fact, models predicted California would be the hardest hit.
A new study from "Stanford University, estimates that between 2.5% and 4.2% of Santa Clara County residents had antibodies to the new coronavirus," Los Angeles Times reports. 
"Though the county had reported roughly 1,000 cases in early April, the Stanford researchers estimate the actual number was between 48,000 and 81,000, or 50 to 85 times greater," they add.
California's COVID fatality rate is about 17 deaths per million of the population. Dr. Jeff Smith, the chief executive of Santa Clara County explains:
"The virus was freewheeling in our community and probably has been here for quite some time," Smith, a physician, told county leaders in a recent briefing. The failure of authorities to detect the virus earlier has allowed it to spread unchecked in California and across the nation.

"This wasn't recognized because we were having a severe flu season. . . . Symptoms are very much like the flu. If you got a mild case of COVID, you didn't really notice. You didn't even go to the doctor. . . . The doctor maybe didn't even do it because they presumed it was the flu."
As of this writing on April 20, California has had 1,072 deaths by the virus out of a population of 40 million, and still Democrat Gov. Gavin Newsom is hellbent on keeping the world's 5th biggest economy in lockdown.
Trump country in Orange County, California, came out and protested Newsom over the weekend. The old saying is "as California goes so goes the nation." If Californians can shame Newsom into opening up their state, it would help convince the other Democrat governors to do the same thing.
We all owe a debt of gratitude to those Americans across the country protesting, and President Trump is doing the right thing by encouraging them as they exercise their First Amendment rights. Anyone calling them "gun-touting rightwing terrorists" should be ashamed of themselves. Patriots for over 200 years have used these same principles to make sure our country stays "land of the free and home of the brave."