(This post may contain disputed claims. We make no assertions as to the validity of the information presented by our Opinion Columnist. We are an opinion blog, not a traditional news outlet, and this post should be treated as such. Enjoy.)
Whoopi Goldberg and her cohorts on The View were doing damage control for Joe Biden on Friday morning. "When [Trump] said he did more for black people, did you go 'blah-ha' like I did?" Whoopi asked laughing. That's when Goldberg and her cohorts attempted to twist the president's record with African-Americans by claiming Joe Biden and Barack Obama did far more for the black community. Well, they got torched. You'll love this.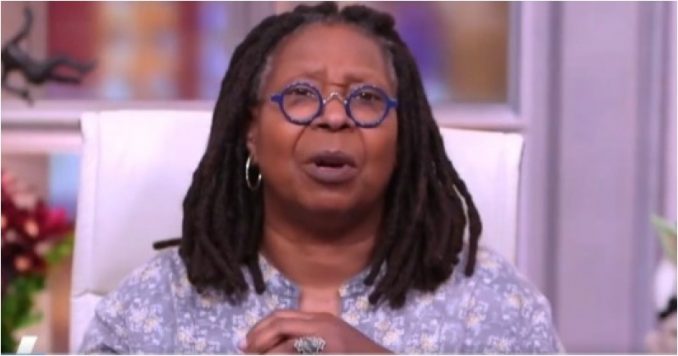 It was a bad day to be a supporter of Joe Biden. The former vice-president imploded his campaign on national TV during the debate on Thursday night. Trump hammered Joe on several issues and scored points with Americans.
Biden had to play defense most of the night. However, Joe went on the offensive when it came to the African-American vote which reports say his campaign is hemorrhaging support. Even the left-leaning Washington Post had to admit the president "cleaned Biden's clock on race."
"When [Trump] said he did more for black people, did you go 'blah-ha' like I did?" Whoopi asked.
"I did, Whoopi," Sunny Hostin said, laughing. "I'm still laughing about it. But when Trump said that and Joe Biden called him Abraham Lincoln and the most racist president in modern history and called him Abe Lincoln I thought Biden certainly handled it well."
"What I was hopeful for was that Biden would sort of fact-check him on that notion that he is not the person who has done more for black people as president than any other president," Hostin added.
"Did he do more than Abe Lincoln who emancipated the slaves?" Hostin asked. "Did he do more than Lyndon B. Johnson who passed the Voting Rights Act and Civil Rights Act?"
"Crazy, yeah," Whoopi said.
"Did he do more than Barack Obama who actually handed him the lowest unemployment rate for black people as well as the Affordable Care Act?" Hostin declared. "You know helped the disparity between black and white people."
Yeah, yeah, right," Goldberg interjected.
"I mean what really has he done?" Hostin asked. "He hasn't done anything. He hasn't done the HBCU [historically black colleges & universities] as he claims to have done. That was already in the works. He hasn't done the Criminal Reform Act. His administration has actually rolled a lot of that back."
"So, I just wish we would have saw a little more fact-checking," Hostin said.
"Were you surprised that Joe Biden said 'yes I was and I am responsible for that and I made a mistake'?" Goldberg said.
It appears Whoopi is referring to Joe Biden apologizing for supporting two crime bills in the 1980s and 1990s that put "tens of thousands of young black men who had small amounts of drugs in their possession" into long prison sentences.
TAKEAWAYS FROM PRESIDENTIAL DEBATE: @WhoopiGoldberg, @sunny Hostin, @sarahaines, and @ananavarro react to Thursday night's final presidential debate between Pres. Trump and former Vice Pres. Biden. https://t.co/IAIPJ9wP3p pic.twitter.com/y3qX6sq3B8

— The View (@TheView) October 23, 2020
Well, Whoopi, Sunny, and their cohorts got the fact-checking they wanted. 
The Obama/Biden administration did not have the lowest black unemployment rate. That's a downright lie that Sunny Hostin and Whoopi Goldberg are spewing on The View. 
"The unemployment rate for black Americans fell to 5.4 percent in October 2019, the lowest level since the government first started recording employment data in 1972," CentersSquare.com reports. "The jobless rate in America reached a 50-year low in April 2019."
"October is the third consecutive month of record-low unemployment overall, with September's black unemployment rate of 5.5 percent matching a previous record set in August, according to the Bureau of Labor Statistics," they added.
The Criminal Reform bill became a shining Trump achievement that passed the Democrat-held House and GOP-led Senate to become the First Step Act. For Sunny Hostin to again lie about this historic reform is a travesty.
Even hardcore leftist Van Jones had to praise the president. 
"This is a Christmas miracle," Jones, a prominent prison reform advocate, said on CNN's "New Day" in 2018. "You had, for the first time in more than a generation, both parties coming together to do something for people at the bottom."
"[Trump] became, to the shock of everybody, the biggest, loudest champion on criminal justice. I got 99 conflicts with the Trump administration, prisons are not one," Jones added.
As for the HBCU (historically black colleges & universities), Trump did deliver, and Obama/Biden did not.
In December 2019, Trump "signed a bipartisan bill that permanently provides more than $250 million a year to the nation's historically black colleges and universities, along with dozens of other institutions that serve large shares of minority students."
Michael Lomax, president, and CEO of the United Negro College Fund thanked Trump and the thousands of advocates who lobbied Congress to support the bill.
In fact, The View might want to check out pollster Nate Silver's latest stats on black voters in America.
"Trump's support among young black voters (18 to 44) has jumped from around 10 percent in 2016 to 21 percent in UCLA Nationscape's polling," Silver reports. 
A Rasmussen poll in August has Trump surging with blacks voters.
"The president's approval rating among African-Americans is at 36 percent, nearly double his support at this time last year," they reported. "Today's @realDonaldTrump approval ratings among black voters: 36%," Rasmussen said in a tweet. "This day last year: 19%."
If President Trump has done "nothing" for black Americans, then why are they turning away from the Democratic Party? It just goes to show you how out of touch with reality the shrews from The View truly are. They might be in for quite a shock on Election Day.