(This post may contain disputed claims. We make no assertions as to the validity of the information presented by our Opinion Columnist. We are an opinion blog, not a traditional news outlet, and this post should be treated as such. Enjoy.)
A group of Black Lives Matter activists headed to a quiet Ohio town to protest law enforcement, believing the tiny community to be the perfect place for their demonstration. Unfortunately, their plans were cut short when a group of 700 counterprotesters came to greet them.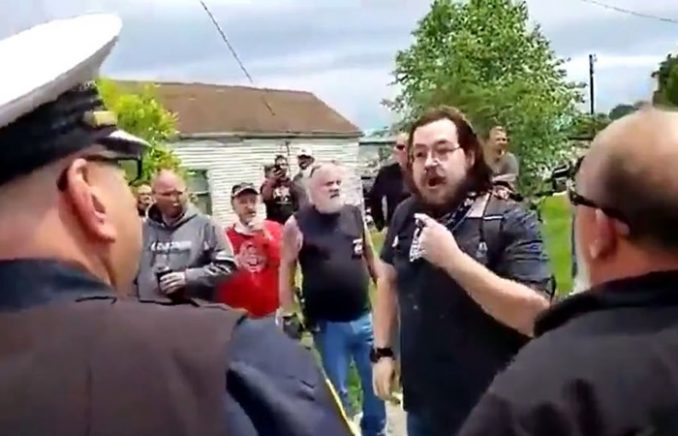 In an effort to demonstrate against "systemic racism" and law enforcement, Black Lives Matter protesters gathered in the center of Bethel, Ohio. Since a large number of the protests have turned into violent rioting and looting, locals decided to amass a gathering of their own. Incredibly, the turnout for the protest dwarfed in comparison to its opposition.
The Washington Post reports that a group of around 80 BLM protesters marched down the streets of Bethel only to be confronted by over 700 counterprotesters, many of whom were demonstrating their right to bear arms. Other counterprotesters arrived with baseball bats and clubs to ensure that the local businesses and residences as well as the six police officers on duty were protected from possible destruction.
Counterprotesters with rifles, pistols, and other various other arms convened on the sidewalks before clashing with the activists. Police reported several assaults, which were captured on video. In one incident, a BLM protester dressed in black is punched in the back of the head by a counterprotester as police stood just feet away. The department confirmed that only five arrests were made in a demonstration involving nearly 800 people, which should undoubtedly be classified as "mostly peaceful" by the mainstream media's standards.
A #BlackLivesMatter protestor in #Bethel #Ohio got sucker punched DIRECTLY IN FRONT OF A COP & nothing was done by the officer to protect and serve the protestor.

🤦🏻‍♂️ pic.twitter.com/BPeKhOjxb3

— Josh Martinez (@YoJoshMartinez) June 15, 2020
The BLM protester who was struck in the head has decided to pursue charges against 64-year-old Johnnie Devault, FOX19 reports. Despite supporting a movement that wants the complete abolition of the criminal justice system, the protester can be heard in the video immediately complaining to a nearby police officer that he was just assaulted.
"Once the victim made the officer aware of the assault, he was removed from the area and taken behind the Grant Memorial area for an interview and chose not to press charges," Teague explained. "That has since been changed. He came into our office on Monday morning and decided to press charges, so we have been actively working to get charges filed."
Major news outlet the Daily Mail decried the counterprotest as "white" in the town of 2,828 citizens, adding that there are only 13 black residents. Many outlets were quick to describe the clash as "horrific" and "violent." The same outlets had likewise reported that the destructive and deadly riots across the nation weeks earlier were "mostly peaceful." The riots immediately followed the protests in nearly every major U.S. city.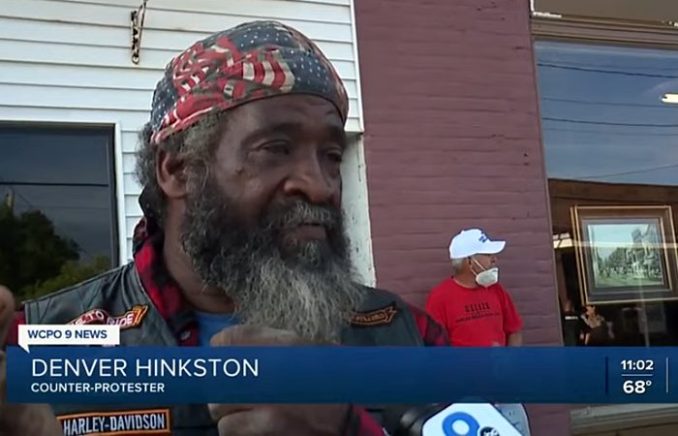 The counterprotesters included bikers from various motorcycle groups, many of which are believed to have come from out of town. Despite the media's dramatic reaction to the armed citizens, not one weapon was reportedly discharged. Additionally, the few individuals who sparred with protesters were hauled away in handcuffs. A total of 10 incidents are currently under review by the police.
Bethel Mayor Jay Nobel denounced the violence in an official statement. He insisted that any further protests remain peaceful in an effort to protect all Americans' civil liberties.
"I am completely against behavior that is illegal or infringes on any American's constitutional rights. Some of the law-breaking behavior that we have seen over the last couple of days is appalling and disgusting and does not reflect the values of our community," he said.
The police issued a mandatory curfew when the demonstration swelled into the hundreds but, overall, the protests were contained. There were no reports of rioting, arson, looting, or vandalism in the town, possibly due to the formidable pushback from counterprotesters.
After several days of protests, police reported that the two sides have come to an understanding. Interactions have been productive and inspired civil discourse. Some of the counterprotesters even embraced the BLM protesters in a symbolic peace treaty.
"We've got to come together, and we've got to stand up for the ones that are trying to start stuff, because what people are trying to do is divide us," BLM protester Denorver Garnett said.

Later, one counter-protester said to Garnett, "Assuming anything about you is completely unfair, other than that you're a black man who's a Christian and they were doing the same thing to our people out here, assuming that because where we live in this town this town's being racist… This town isn't racist. I've lived here my whole life."
As the protests in Bethel die down, the clash serves as an example to all Americans. Peace will not be maintained if both sides cannot come together on common ground. Of course, sometimes that requires law-abiding, well-armed patriots standing in the gap.