(This post may contain disputed claims. We make no assertions as to the validity of the information presented by our Opinion Columnist. We are an opinion blog, not a traditional news outlet, and this post should be treated as such. Enjoy.)
Joe Biden has been quite elusive when it comes to making comments on "defunding the police" or law enforcement issues in general. Why? He has to make the radical Black Lives Matter wing of the Democrat Party happy. Now, Biden just revealed a "shockingly stupid" plan for 911 calls, and that's when police advocates made him regret it. You'll love this.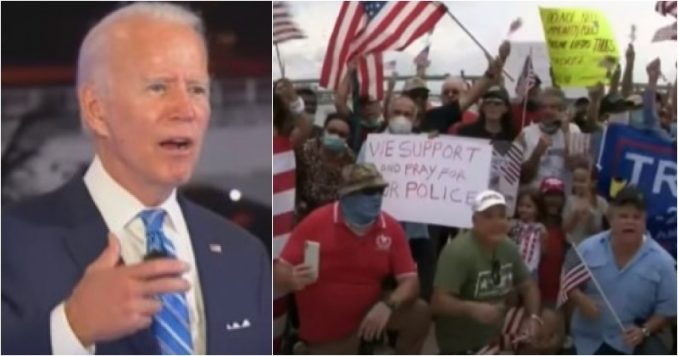 Just imagine having to call 911 when your life and those of your loved ones are in danger. Cops who have been on the job for years will tell you by the time they meet you, it will probably be one of the worst days of your life.
Enter Joe Biden and his campaign's plan for law enforcement. 
How to handle law enforcement in this country is unarguably one of Biden's weakest topics, especially given President Donald Trump's observation during the first presidential debate that the former VP has virtually zero support from American cops.
Biden was quizzed during Monday night's town hall about his position on the "defund the police" movement currently being aggressively pushed by the radical left — especially by groups like Antifa and Black Lives Matter, who would absolutely love to see a reduction in police forces around the nation.
You can see how this is a very sensitive subject for the Democrat candidate. 
Biden was quick to say that he has pushed for increased police budgets and "sensitivity training" for law enforcement officers. But the real doozy of the night was when he firmly stated that police officers should be required to take "with them a psychologist or psychiatrist" on calls involving a person who's "not all there."
Huh? If you are a little confused, you are not alone. You can watch his ridiculous suggestion in the video clip below:
This is the most dangerous idea Biden and his people have come up with so far. 
Many of those calls involve someone brandishing a weapon. That means these "mental health professionals" will be just a huge liability that the cops responding to the scene will also have to worry about.
Don't take our word for it. George Hoyt, who is an expert on matters involving law enforcement, weighed in on this latest Biden proposal in an op-ed for Law Enforcement Today.
"One of the first things to take into account is the general safety of these sorts of professionals during emergency calls. If the likes of psychologists and psychiatrists find themselves getting dispatched on emergency calls, then they're now one giant liability due to inserting themselves into possibly lethal scenarios involving dangerous individuals," Hoyt wrote. 
He goes on further to explain this is the last place for a psychologist or psychiatrist. He states the only logical thing to do would be to train them as police officers. Why? Because this a job for a cop, not for a psychologist or psychiatrist.
"Either these professionals run the risk of being, or gets, seriously injured or killed by the suspect – or if these professionals are trained as police officers," Hoyt states.
"Furthermore, numerous police officers and precincts across the country already teach methods of de-escalation to officers – and both the practices being led by a psychologist or psychiatrist on the scene likely wouldn't change many outcomes," Hoyt adds.
Psychologists or psychiatrists aren't professionally trained to subdue someone with a gun or subdue a suspect engaged in violence. In locked mental facilities, they have a team of trained professionals who know how to "takedown" and subdue a violent patient.
However, a locked mental ward has high security and no patient can get through intake with a weapon. So, what if that happened? What would the lead psychologist, psychiatrist, or nurse do?
Well, they would probably call 911. 
In fact, Biden's proposal is so dangerous, Law Enforcement Today, who never endorses a candidate felt the need to endorse President Trump.
"We've never before formally endorsed a candidate. Today, that changes. Law Enforcement Today proudly endorses Donald J. Trump for President," they posted.
We've never before formally endorsed a candidate. Today, that changes. Law Enforcement Today proudly endorses Donald J. Trump for President.

Here's what everyone in America needs to know about why we're doing it.https://t.co/EtP8HzfMht

— LawEnforcementToday (@LawEnforceToday) October 6, 2020
They write:
Biden supports cutting police funding. When an activist asked him if he supported efforts to "redirect" police funding, Biden answered without hesitation, "absolutely."

He then tried to walk back those comments, saying he never said he wanted to defund the police. Sorry Joe, redirecting means taking money FROM police and REDIRECTING it somewhere else.

In June, Biden campaign supervising video producer Sara Pearl tweeted support for the defund the police movement, saying that people shouldn't compare police to pigs, since pigs were "highly intelligent and empathetic" and would "never racially profile you."

Pearl also retweeted a comment that said while "pigs are sweet intelligent and compassionate, police officers are 'monsters' who 'don't deserve to be called pigs.'"
You get the picture. Joe Biden's campaign staffers are the people who run him day and night. He has employed radical leftwing aides who will also be shaping his policies if he gets elected.
If your life is ever in danger and you have to call 911, the last thing you will want to see is some guy or gal dressed in a white coat coming to your rescue. You expect to see trained cops with guns who will stand between you and a bad guy. A cop who will take a bullet meant for you. Police officers, who are trained to run toward danger, not away from it.
We all know there are certain professions that no amount of money can be paid that equals the job they take on. That's our military, firefighters, and cops. Joe Biden turned his back on cops in America, and that's why they turning their backs on him.