Alyssa Milano is having a really bad day. While Milano blasted Justice Brett Kavanaugh claiming we must "believe all women," she now says "not believing" Joe Biden's accuser is "the only way" to be a #MeToo feminist. Well, that's when she got utterly destroyed by her former allies in the "believe women" movement. You'll love this.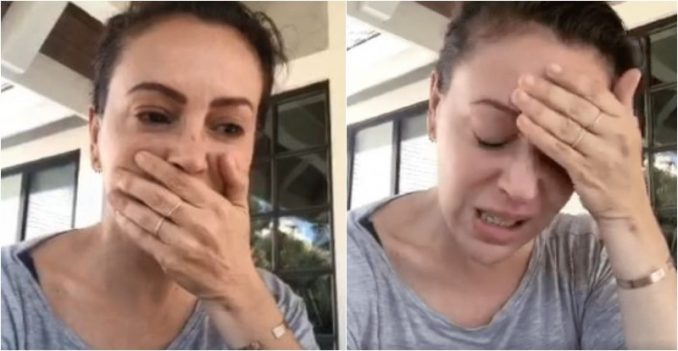 Alyssa Milano has been under fire over her hypocritical silence ever since Joe Biden accuser Tara Reade came forward with a horrific 1993 tale of Biden reaching down her skirt and penetrating her with his fingers — all without her consent.
She sought to explain her "silence" in the face of mounting criticism by supporters of Sen. Bernie Sanders, a Vermont Independent and Biden's primary opponent.
"I never thought [Me Too] would be something that would destroy innocent men," Milano said on SiriusXM's Radio Andy. "We don't want that to happen either. So we have to find this balance in the Believe Women movement and also giving men their due process and realizing that we're destroying lives if we publicly don't go through the right steps in order to find out if an accusation is credible or not."
"It's got to be fair in both directions," she added.
While Milano is refusing to believe Biden's accuser without a "thorough investigation," she believed Christine Blasey Ford's allegation against Kavanaugh the same day the doctor came forward in the Washington Post.
On September 16, 2018, after the Post named Ford, Milano went beyond merely calling for an investigation, instead, tweeting out her categorical support for Ford:
I stand in solidarity with Christine Blasey Ford. #MeToo

— Alyssa Milano (@Alyssa_Milano) September 16, 2018
One person calling Milano out is fellow #MeToo activist (and former Charmed co-star) Rose McGowan, who has been aggressively taunting the media for ignoring the Biden accusation.
McGowan has also been retweeting Milano's critics.
One of those retweets said, "Milano remains silent on the rape accusation against Joe Biden, after demanding we #BelieveWomen when Blasey Ford came forward against Kavanaugh," the tweet accurately points out, adding, "and despite Tara Reade having more evidence against Biden and Biden having more female accusers than Kavanaugh ever did."
But McGowan was just getting warmed up. During an interview with ABC's Nightline, McGowan throttled Milano badly and exposed her ulterior motives and blatant hypocrisy.
"Your former co-star, Alyssa Milano, gets a lot of credit for helping #MeToo go viral," said the ABC reporter.
"So?" said McGowan.
"Are you proud of her?" asked the reporter.
"I don't like her," McGowan said.
"Why?" the reporters asked.
"Cause I think she's a lie," McGowan answered.
"Why?" the reporter responded.
"Do you think I don't know these people?" McGowan asked. "I'm not looking at this from the outside. I have a lot of experience. I know she is married to a CAA agent (Creative Artists Agency–L.A. talent agency)."
"Do the math" McGowan added. "Who's behind 'Times Up'? CAA. Where do they meet? CAA. Who needs good PR? CAA. Who are part of the pimp problem? CAA."
"These are very powerful people you are talking about," the reporter warned.
"They are," said McGowan. "So am I."
I'm just going to leave this here pic.twitter.com/izHxpRZaIy

— Ashley StClair 🇺🇸 (@stclairashley) April 6, 2020
Milano's husband David Bugliari is indeed an agent at CAA. The Creative Artists Agency was a huge backer of Harvey Weinstein, and McGowan claims they are still "part of the pimp problem" offering up young starlets to movie moguls.
Gwyneth Paltrow described heading to a meeting with Harvey Weinstein at the Peninsula Beverly Hills hotel early on in her career.
She made it clear that she thought she would be safe at the meeting because her agency CAA had sent her. "It's on the fax, it's from CAA," she told the Times, referring to her schedule that day.
Alyssa Milano refuses to disavow CAA, and in fact, she helped them partner-up in the "Time's Up" movement. Time's Up is a spin-off of the #MeToo movement that McGowan founded.
Oprah Winfrey is also a big proponent and financier of "Time's Up."
Poor Alyssa is getting blasted on social media by her former allies. Clearly, they all see she is not a true believer. She's just a charlatan who latches on to any movement that will benefit her personally, and she is married to one of the vipers at CAA who sent young women into the arms of Harvey Weinstein. It looks like "time's up" for Milano. Her leftist allies have abandoned her for good.