New York City police detectives asked the public to help them apprehend a black man who ruthlessly knocked a 92-year-old white woman into a fire hydrant. You don't want to miss what happened to the suspect and how Black Lives Matter and Mayor Bill de Blasio are to blame for turning the Big Apple into a violent, racist cesspool.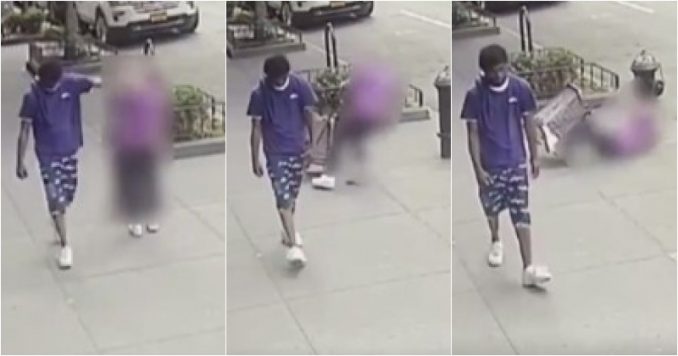 The New York Police Department has arrested a suspect for allegedly pushing a 92-year-old woman into a fire hydrant Friday.
The video appeared to show a black man in a purple shirt walking the opposite direction towards an elderly woman on the sidewalk and shoving her to the ground as she walks past. The suspect kept walking while looking back at the woman, who lay on the sidewalk after hitting her head on a fire hydrant.
NYPD Chief of Detectives Rodney Harrison posted the video Tuesday morning asking for the public's help in identifying the suspect.
"On June 12 at 3rd Avenue between 15th and 16th Street, this individual pushed a 92-year-old woman to the ground causing her to strike her head on a fire hydrant," Harrison said in a tweet.
On June 12 at 3rd Avenue between 15th and 16th Street, this individual pushed a 92-year-old woman to the ground causing her to strike her head on a fire hydrant. pic.twitter.com/Nr2GaTiqm6

— Chief Rodney Harrison (@NYPDDetectives) June 16, 2020
"The @NYPDnews is asking for the public's assistance identifying the person responsible for this assault," Harrison added. "Anyone with information in regard to his identity is asked to call the NYPD's Crime Stoppers Hotline at 800-577-TIPS (8477) or DM @NYPDTips."
Harrison said on Twitter early Tuesday afternoon that the suspect was apprehended.
***UPDATE***
This subject has been apprehended.

— Chief Rodney Harrison (@NYPDDetectives) June 16, 2020
The New York Post caught up with the 92-year-old woman, who identified herself as "Geraldine."
"Mostly I'm shaken. My head still hurts where it was bleeding, where I hit the hydrant — or where he hit me, I don't know," elderly victim Geraldine said in an exclusive phone interview, asking that her last name be withheld for safety reasons.
"Mainly it's psychological — just the fear of going out on the street," she added.
Geraldine, a Bronx native who has lived in Manhattan for more than 50 years, said she was on her way to Duane Reade when 31-year-old Rashid Brimmage allegedly shoved her to the ground near Third Avenue and East 16th Street Gramercy Park last Friday afternoon.
Geraldine hit her head on a fire hydrant and started bleeding, she said. A passerby saw the assault and called 911. An ambulance rushed her to nearby Beth Israel Hospital, she said.
The former teacher said her physical wounds were relatively minor and have since healed — but the mental toll has been much more severe.
"This damned guy put me in a state where I'm fearful to walk the streets alone. So my super's trying to find somebody who will walk me to a park nearby or to the supermarket, that kind of thing. So that's the problem," she said.
What causes this type of behavior? Well, when you have leaders like Bill de Blasio colluding with Black Lives Matter, it sends the wrong message.
De Blasio is on a campaign to punish conservatives, the Jewish community, and families with kids while he gives BLM "protesters" a big pass.
"Mayor Bill de Blasio defended his administration's practice of locking playgrounds on Tuesday morning, even though he personally has participated in crowded Black Lives Matter and transgender protests in recent weeks," Breitbart reports. 
De Blasio was addressing reporters at a press briefing the day after city workers welded the gates shut around parks in Brooklyn — and Orthodox Jews used bolt cutters to re-open playgrounds in their neighborhoods later the same day.
Yes. This is actually happening now!

Bill de Blasio is Welding the gates at the biggest park in the Jewish community, (Borough Park, Brooklyn) So your child shouldn't try to break in. While Hundreds of thousands of people gathered yesterday at Brooklyn Museum.#deBlasioMustGo pic.twitter.com/Q02ew5O5nZ

— Joel Fischer (@JFNYC1) June 15, 2020
De Blasio claimed that the city's policy was to keep playgrounds closed until "Phase Two" of re-opening after the coronavirus pandemic, and he warned that people who used playgrounds without permission risked spreading the disease.
While BLM and Antifa are allowed to run around with impunity in New York City, de Blasio made it perfectly clear he would "punish" anyone else who "took the law into their own hands."
"We are not going to allow people to take the law into their own hands," the mayor said. "It just doesn't work. So people are not allowed to open up a playground that is not yet available to the public."
Oh, but rioters and looters could roam around to pillage the city. De Blasio made the cops stand down.
"But if folks act prematurely and that causes the disease to start spreading again, then that's the kind of thing that undermines our ability to get to Phase Two," de Blasio added.
De Blasio had thousands in Brooklyn at a BLM protest over the weekend. However, he said nothing to them. He joined them. So, what is the message he is sending? If you are angry and black, go ahead and commit crimes. We won't stop you.
But if you are a law-abiding citizen who sees that the COVID crisis is now one big joke and wants to get on with your life and take your kids to the park, a Jewish park… you will be arrested.
These are the same clowns who are campaigning to "defund the police." De Blasio also plans to rename certain streets and paint "Black Lives Matter" on specific streets in all five boroughs. Is it any wonder why we find an angry black youth feeling entitled to knock down an old white woman?
He has been told by the mayor himself crimes have been committed against him by bad racist white people for hundreds of years. Go ahead and burn the city down and hit a few old white people while you're at it. According to de Blasio and his BLM cohorts, hurting white people is fair game.