(This post may contain disputed claims. We make no assertions as to the validity of the information presented by our Opinion Columnist. We are an opinion blog, not a traditional news outlet, and this post should be treated as such. Enjoy.)
As if 2020 wasn't bad enough, it just got worse. If you hoped to escape the chaos of the year by curling up with your loved ones and watching the "Peanuts" holiday specials, we have bad news for you. For the first time in decades, the iconic specials will not appear on network TV — and people are not pleased.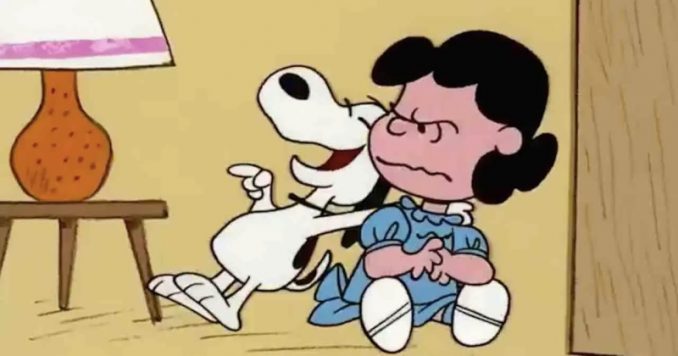 The year 202o has been a doozy, to say the least. The coronavirus, quarantine, social separation, distance learning, massive unemployment, rioting, violence in the streets, and a heated presidential race are just a few of the things we've had to endure. With the holidays headed our way, however, we were ready for a bit of reprieve from the year from hell.
Most of us were maintaining hope that some holiday traditions would give us an escape from the troubling reality that has been 2020, but instead, it appears we will be facing even more disappointment. For decades, many families have looked forward to watching the "Peanuts" holiday specials that aired on network television every year, but in 2020-fashion, there's been a wrench thrown in those plans.
Thanks to Apple, the iconic holiday specials won't appear on network TV. "Since Apple TV+ acquired exclusive rights to the entire library of Charles Schulz's animated specials, for the first time since 1965 those 'Peanuts' specials — 'It's the Great Pumpkin, Charlie Brown,' 'A Charlie Brown Thanksgiving,' and 'A Charlie Brown Christmas' — can be seen only on Apple TV+," The Blaze reported.
What's that mean? Well, if you were counting on a little respite from all the 2020 madness with the "Peanut" holiday specials, 2020 once again brings disappointment and heartbreak. No more Snoopy and friends dancing on regular TV since the specials won't air on ABC or any other broadcast TV network this year, 9News reported. Instead, you'll have to have Apple TV+, where each of the three specials will be available for just a few days.
According to FaithWire, the "Peanuts" Halloween special will be accessible on Apple TV+ from October 30 until November 1, the Thanksgiving special from November 25—27, and the Christmas special from December 11—13. The agreement is reportedly a part of an exclusive deal between Apple and Wildbrain, Peanuts Worldwide, and Lee Mendelson Film Productions, the outlet added.
"It's The Great Pumpkin, Charlie Brown" is now streaming exclusively on Apple TV+. Watch it for free from October 30 to November 1 and get ready for more Peanuts specials this holiday season. https://t.co/Ue6e351CTq #PeanutsHalloween #GreatPumpkin pic.twitter.com/Tn0n3UKads

— PEANUTS (@Snoopy) October 19, 2020
Perhaps in hopes of making it up to us, Apple said it's creating additional "Peanuts" specials to celebrate Mother's Day, Earth Day, New Year's Eve, and the back-to-school season at the end of summer, but that brings little comfort to those who have no interest in an Apple TV+ subscription. In fact, folks are furious.
"As you can imagine, Twitter is abuzz with venom over the move," The Blaze reported. "Users are accusing the powers that be of selling out, denying the joy the specials bring to families and individuals who don't have internet access, and for squelching a tradition that has put the country on the same page — even for just a little while — when we're already so polarized."
"Wow, I can't believe you aren't going to have it on regular TV this year. I've watched it every year for as long as I can remember. Decades of tradition over. 2020 just keeps getting worse," a disappointed Twitter user commented as another asked, "@ABCNetwork Why do you hate everyone? Did you just feel like 2020 wasn't bad enough so you needed to make it worse? Because you succeeded. So…congratulations???"
"2020 BLOWWWWS!!! The point of having them on network TV is the country coming together and watching at the same time. That's being taken from us. The 'Peanuts' specials are one of the very FEW things that brings US together," another user added, while yet another wrote, "Decades of people sharing this with generations of children, the love and feeling it brings to those that make it a tradition and you sell out for AppleTV? What the hell? Screw AppleTV. I can't believe you took this from people."
But, perhaps the best response is the one below:
THIS IS THE EQUIVALENT OF "I GOT A ROCK."
2020 just shit on us AGAIN!
This is not cool, @Snoopy, not cool.#TheGreatPumpkin #ACharlieBrownChristmas pic.twitter.com/hxR41YXozM

— Nina L. Diamond (@ninatypewriter) October 19, 2020
During a year where we've been forced to stay indoors and spend a lot of time alone in our homes, watching TV as a type of "comfort food" for our souls, 2020 strikes again. It is indeed the equivalent of "I got a rock." For the first time since 1965, the beloved "Peanuts" holiday specials won't air on broadcast TV this holiday season, marking the end of a 55-year American tradition. That's sad, and most people don't even know what we are really losing out on here.
The now-iconic "A Charlie Brown Christmas" was the first animated special of its kind for a variety of reasons. Many people don't know that executive producer Lee Mendelson had big issues with the special with his biggest complaint being Charles Schulz's insistence on the holiday special ending with the telling of the true Christmas story — the birth of Jesus.
"We told Schulz, 'Look, you can't read from the Bible on network television,'" Mendeleson recalled. "When we finished the show and watched it, [animator Bill] Melendez and I looked at each other and I said, 'We've ruined Charlie Brown.'"
The biblical references didn't harm the show, though. Instead, nearly 50% of all Americans watching TV on December 9, 1965, tuned in to "A Charlie Brown Christmas" and received the Gospel message. The special continued to air on network TV every year that followed — giving many more the opportunity to also hear the Gospel message — until it was brought to end 55 years later in 2020. So, make no mistake, the end to this tradition is heartbreaking, like so many other things this year has brought us.