(This post may contain disputed claims. We make no assertions as to the validity of the information presented by our Opinion Columnist. We are an opinion blog, not a traditional news outlet, and this post should be treated as such. Enjoy.)
Nancy Pelosi was holding her weekly press conference when she totally snapped and lashed out at one poor reporter who was only doing their job. The White House correspondent's crime was asking the Speaker about the Biden family scandal that is getting bigger by the day. Don't miss this.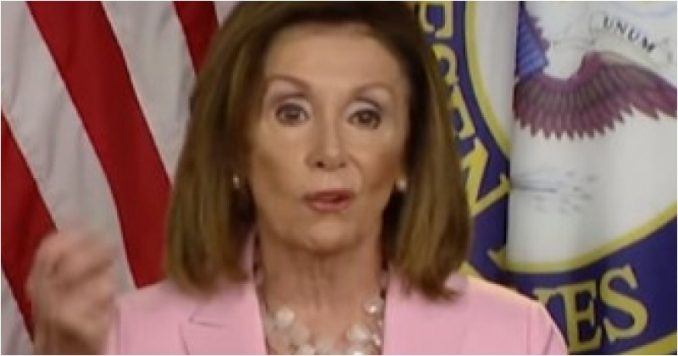 One principled reporter at Nancy Pelosi's Thursday morning press conference had the guts to do the unspeakable in Washington, D.C. The "unspeakable" inside the Beltway is anything to do with one of the biggest political scandals ever to rock Capitol Hill: the contents of Hunter Biden's laptop.
Kerry Picket, an independent reporter with various conservative outlets, was brave enough to ask the 80-year-old Pelosi about the Biden scandal.
"Madame Speaker," Picket began. "These allegations of corruption involving Joe Biden…"
Picket couldn't even complete her question. When Pelosi heard the words "allegations of corruption involving Joe Biden," the Speaker lashed out and cut her off.
"Excuse me. OK, I'm not answering your question!" Pelosi snapped. "OK, we're talking about the coronavirus. That's what I said."
Nancy sounded muffled and looked ridiculous donning her covid mask.
Pelosi snaps at a reporter asking about the Hunter Biden revelations:

"I'm not answering those questions… we're talking about the coronavirus."pic.twitter.com/EMu8SOrrCT

— Daily Caller (@DailyCaller) October 22, 2020
Conservative outlets were buzzing with new information on the Biden family scandal. 
Adam Mill writing for American Greatness wrote a piece that went viral titled: "Did Joe Biden Take A Bride?"
Mill suggested evidence coming directly from Hunter and Joe Biden's own words and emails, when pieced together, makes for a pretty stunning case.
"Contrary to the ridiculous attempts to discredit the New York Post reporting, the sourcing in that story is actually far superior to the journalistic standards followed in published attacks on Trump, which often rely on verbal accounts by anonymous sources," Mill reports.
Neither Joe nor Hunter has disputed the authenticity of any specific document. Indeed, as of Monday, the campaign called a "lid" on all public campaign activities until after the Thursday debate. With so few days left before the election, it's unprecedented to hide a candidate from the public for four days. That's a desperate measure to avoid answering questions.
Reporter Kerry Picket had every right to ask Nancy Pelosi about this scandal.
The Washington Post just published an article recounting an interview with a former advisor to Hunter. According to that account, the advisor warned Hunter Biden, "They're using you for your name. They will exploit your name to your detriment and your father's."
Hunter Biden responded, "My mom and dad don't have any money . . . I have to make money for the family." This corroborates the text message Rudy Giuliani publicized — that Hunter was expected to use his salary to pay family expenses.
"The New York Post reporting seems to show evidence of a quid pro quo, i.e. that Hunter received a lavish salary in return for using his father's influence to stop a prosecution," Mill adds. "Then came the reason Hunter had anything to do with Burisma in the first place."
Hunter's Burisma handler Vadym Pozharskyi wrote: "We urgently need your advice on how you could use your influence to convey a message/signal, etc. to stop what we consider to be politically motivated actions bearing in mind the following…Negative influence on our companies may result in multy-level negative social, econimical and political consequnces."
The Washington Post wrote that Biden's threat to withhold aid unless the prosecutor was fired actually happened during a 2015 visit. This appears to fulfill the request made by Burisma to Hunter in the 2014 email.
There's no dispute that Biden acted in his official capacity as the vice president when he threatened to withhold aid unless the prosecutor was fired.
"To recap: The emails show Burisma asking Hunter to intercede to protect Burisma from prosecutors. Then the emails show Burisma thanking Hunter for setting up a meeting with Joe Biden," Mill writes. "The text message and the Washington Post reporting show that Hunter may have shared his Burisma money with his father. And we know Biden threatened to withhold aid from Ukraine unless it fired the prosecutor tormenting Burisma."
"That looks like bribery," Mill concludes. 
Kerry Picket was just doing her job. For Nancy Pelosi to dismiss a credible question backed up by a trove of evidence is as sinister as it gets. For years we had to hear about the so-called "Russian collusion" hoax from these same people.
The mainstream media along with their Big Tech allies allowed for three years worth of reporting that was backed up by bogus "anonymous sources." Now, we have an actual story backed up by real sources who are named, and it's deemed "unspeakable."
This upcoming election is indeed the most important in our lifetimes. Either those elites who will lie to our faces get back in control, or the American people say "no more." Make sure you do all you can in the coming days to ensure America stays America. Our country is dependent on each and every one of us to get President Trump re-elected.