(This post may contain disputed claims. We make no assertions as to the validity of the information presented by our Opinion Columnist. We are an opinion blog, not a traditional news outlet, and this post should be treated as such. Enjoy.)
School boards are ready to implement the Black Lives Matter curriculum for students starting at kindergarten all the way through high school. One teacher was so disgusted by what she saw, she revealed the plans to parents. Well, that's when parents of all political backgrounds decided they needed to "step in." Don't miss this.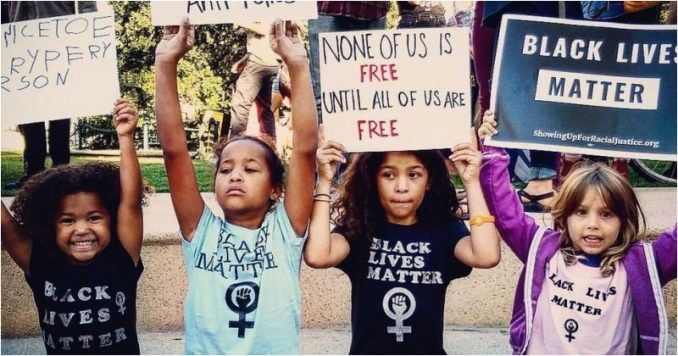 A few weeks ago, Fox News' Laura Ingraham exposed a Virginia school board attempting to implement the BLM curriculum. Now, on the west coast, we are finding the same thing. Red State's Kira Davis found one Orange County, California teacher who has come clean about her school board's latest curriculum trend of teaching BLM's agenda to all students.
"Brenda Lebsack has been a teacher in Orange County, California for over twenty-five years, and recently she sounded the alarm in her school district after discovering and reviewing the proposed new Black Lives Matter (BLM) curriculum that is being floated as a part of the new school year," Red State reports.
The teacher writes:
The National and state teachers union endorses Black Lives Matter and their K-12 curriculum. Within the BLM curriculum are teachings that Gender is the child's CHOICE based on the child's feelings.

These choices encompass: Boy, Girl, Both, Neither or SOMETHING ELSE. (the CDE says this choice can be made as young as TWO). The NEA partners with the Human Rights Campaign who has created preschool lessons teaching unlimited gender choices. The National Educators Association and ACSA (Administrators Calif School Association) recommend these "welcoming school" lessons for our primary school children.
You may be thinking what in the world does Black Lives Matter have to do with LBGTQ issues? Well, just as it was discovered BLM is a Marxist organization, they are also very involved in spreading the LGBT agenda.
"Perhaps the biggest indictment against the Black Lives Matter curriculum incursion (outside of its unapologetic communist core) is the inclusion of LGBT issues that, in fact, are not embraced by the Black community in general, and no student group is off-limits," Ms. Davis adds.
Here's a disturbing page from a BLM "coloring book" these leftwing union-backed school districts are condoning for little kids: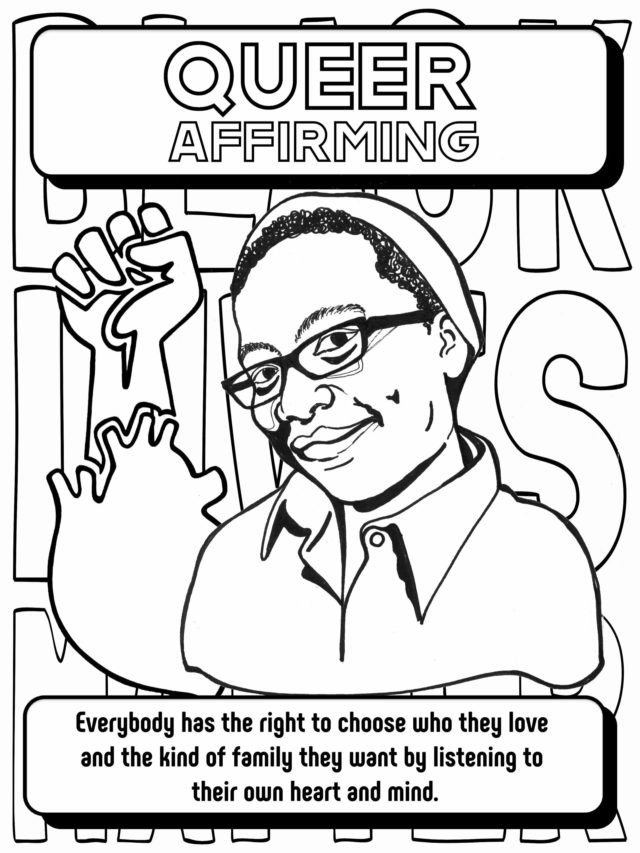 The union-backed teachers failed in Los Angeles when parents pushed back.
"Parents and many school employees pushed back against the BLM insurgence in their own district last month when BLM organizations began issuing guidelines for new curriculums and included a push to completely defund police presence in LAUSD schools. Having failed in Los Angeles (for now), BLM activists have been focusing on pushing their curriculum and political agenda into other districts," Red State adds.
They also have an "educational" graphic that defines white supremacy in its overt and covert forms. Some of the more eye-raising offenses on the white supremacy list include:
Make America Great Again
Paternalism (that would be FATHERS for all you out there who don't speak Communist)
Claiming there's only one "human race"
The "myth" of meritocracy
All Lives Matter
Good intentions
A cursory perusal of the California Teacher Association's (CTA's) classroom resources yields so much heavy-handed BLM jargon that it is nearly impossible to isolate just one thing that could set parents on edge for the new school year. One Democrat grandparent who is also a lesbian was outraged at this BLM curriculum:
I am a Lesbian parent and grandparent…Please do not assume all LGBTQ individuals think alike politically. Just as teachers are very diverse in their opinions and political affiliations, so are people who identify as LGBT. As a Lesbian parent and grandparent, I am not in favor of Black Lives Matter Curriculum in Schools that the Teachers Union ( CTA and NEA) endorses.

First of all, BLM promotes gender ideologies I feel are harmful to children. Their mission statement says they want to DISMANTLE the idea that gender is biologically determined. WHY? They say their movement is based on SCIENCE, yet their Science says kids can CHOOSE their gender as boy, girl, BOTH, NEITHER or SOMETHING ELSE. SOMETHING ELSE?!? That's an OPEN ENDED Pandora Box. What kind of science does BLM practice? – Christina Gonzalez, OUSD parent, California
Another Orange Unified School District parent, who is an immigrant from Korea named Jinah Yi, expressed her dismay and disapproval of this BLM curriculum:
I am an immigrant who came from Korea. I serve many Korean families in Orange County through Children's Ministries. Many Asians came here for a better life in America. Many risked their lives to escape a Communistic Regime. Communism uses propaganda to control people's thinking.

They control the media outlets and distort truth. They are mass manipulators for the sake of governmental oppression. They turn kids against their parents. I have lived in America for two decades and I can tell you, we are tip toeing on the edge of socialistic communism. This breaks my heart for America. The unions are behind these beliefs and yet teachers are too busy to notice. Teachers might think their union protects them, but when oppression ripens, no one is immune from its captivity.
If you are thinking that this couldn't happen in your state, think again. California and Virginia may be the test grounds for implementing the BLM agenda, but if parents do not stay vigilante as they did in Los Angeles, this type of radical propaganda will be taught everywhere.
That's the goal. This is another great example of how registered voters of all political parties can agree that the Democrats advocating for BLM must be stopped. No Democrat can honestly vote for Joe Biden knowing American kids will be at risk of BLM taking over their classrooms. That's why we all must ensure as many Americans as possible get this valuable information before the November election.