(This post may contain disputed claims. We make no assertions as to the validity of the information presented by our Opinion Columnist. We are an opinion blog, not a traditional news outlet, and this post should be treated as such. Enjoy.)
Tom Hanks' rapper son Chet went on a rant about Donald Trump, likely thinking it would be well received by his social media following. Unfortunately for him, it backfired — bigly. Don't miss this.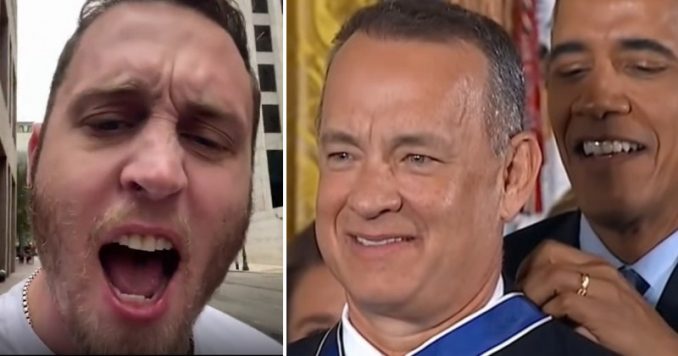 Chet Hanks, the 30-year-old rapper and actor son of Tom Hanks, shared a bizarre rant on Instagram on Sunday, in which he decided to share his thoughts on the recent presidential election. After the media announced an election win in favor of former Vice President Joe Biden, Chet initially appeared to sympathize with President Donald Trump.
Lamenting Trump's assumed defeat despite pending litigation to contest the results of the election, Chet told his fans to show the president "some respect," but it wasn't long before the Fantastic Four actor revealed his true intentions. Unfortunately for him, that's when things went from bad to worse. Rather than receive accolades from his liberal Hollywood following for mocking Donald Trump, Chet ended up on the receiving end of mockery for his video as social media backlash ensued.
"Hey guys, I just want to say that, you know like, now that Trump is leaving office, I think that it is important to remember that he was the president so we should show some res… psych!" Chet Hanks ranted in the clip, revealing that he was joking. And, it was all downhill from there.
It wasn't the fact that the 30-year-old had no idea that Donald Trump is still the president that was the problem, though. No, his obvious lack of understanding of how elections work wasn't the issue for his left-leaning followers. Instead, Chet made a bigger mistake in the eyes of liberals. He had committed the crime of "cultural appropriation" — a big no-no for the left.
Quickly making it clear he wasn't serious about showing Trump "some respect," Chet broke out in what seemed to be Jamaican patois, an English-based creole language with West African influences, according to the Daily Mail. And, it wasn't long before he was slammed for using the fake "Jamaican" accent.
Calling the President of the United States a "p***yclat," which is patois slang for menstrual sanitary napkins, Chet's insults against Trump weren't applauded. Instead, he caused fury on social media as he received a flood of comments from his 355,000 followers, with many slamming his fake accent.
Sadly, this wasn't a first for Chet Hanks. In fact, he has been routinely criticized and slammed for impersonating what seemed to be Jamaican patois and using the fake "Jamaican" accent. Earlier this year, he impersonated a Jamaican accent at the Golden Globes when joining his parents and three siblings at the A-list event, where his 64-year-old father was presented with the Cecil B. DeMille lifetime achievement award.
Taking to Instagram live on the red carpet, Chet shared a video of himself speaking what seemed to be Jamaican patois. "BIG UP FIMI WHOL FAMILY SOON COM AT DI AWARDS NA SEEN," he captioned the clip. "CHUNE IN."
Although his mother, actress Rita Wilson, commented on the video, saying it was "maybe the best laugh of the night," others weren't amused. Instead, the video was deemed "embarrassing" and "deeply disturbing" by many after it went viral. The backlash didn't deter the bizarre behavior, though.
Even with his attempts to speak Patois being regularly hit with claims of cultural appropriation, Chet did it again, and this time was no different. "This makes me hella uncomfortable," on unimpressed follower commented while another wrote, "Why are people ok with white folks acting Black?" and yet another deemed the video "the worst thing" they had "ever seen." Disappointed, many more commented that Chet had "done it again."
The lambasting Chet received spread from Instagram to Twitter, where hoards of people criticized the video. "Honest question: why does Chet Hanks do that accent lmao," one such Twitter user asked while another commented, "i can't believe chet hanks just woke up one day and decided he was jamaican [sic]."
Many of his followers also used his latest video to remind others that this is far from his first faux pas. In 2015, under the name Chet Haze, the aspiring rapper defended his use of the N-word, and a lot of his followers hadn't forgotten it. "I know the majority of y'all are not going to get this because the history is still so fresh in our country," he said at the time. "But hip-hop isn't about race — it's about the culture you identify with. Can't no one tell me what I can't say."
Chet defended his actions yet again while speaking about cultural appropriation in an Instagram video in February. "Why are we so caught up on this idea of theft and stealing?" he asked. "Why are we so quick to be angry and tense over the blurring of racial communities, instead of just being welcoming towards it?"
Chet Hanks is finding out the hard way that you have to share all of the left's views, lest ye be on the receiving end of their backlash for not toeing the liberal line, approved narrative, and what the left deems acceptable behavior. As a white guy, he should know better than to question what his left-leaning cohorts have dictated. Burning businesses might be allowed, but imitation is not acceptable. Welcome to the left's America that your father so warmly embraces, Chet. Now, you better get in line.