(This post may contain disputed claims. We make no assertions as to the validity of the information presented by our Opinion Columnist. We are an opinion blog, not a traditional news outlet, and this post should be treated as such. Enjoy.)
A Wisconsin school board meeting descended into chaos when Black Lives Matter protesters clashed with members, began chanting, and disrupted the meeting. Sadly, that was only the beginning as police would have to come in and escort members out. Don't miss this.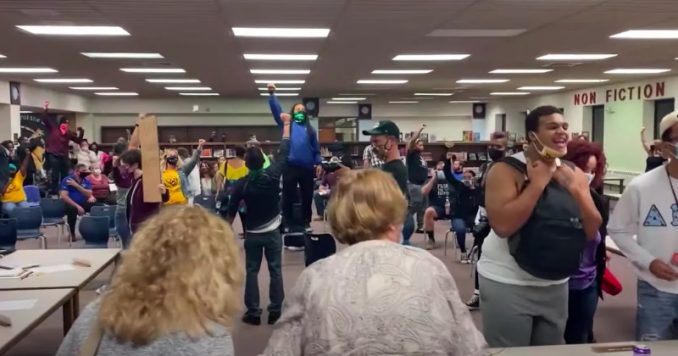 A meeting of the Burlington Area School District Board of Education in Burlington, Wisconsin, descended into chaos when Black Lives Matter protesters succeeded in disrupting and shutting down the meeting after they angrily confronted board members over an anti-racist curriculum, according to The Blaze.
Angry about allegedly racist comments made on social media against a fourth-grade teacher in the school district who had taught a lesson that many believed to be political propaganda related to the Black Lives Matter movement, BLM protesters shut down the Monday evening Burlington School Board meeting, Kenosha News reported.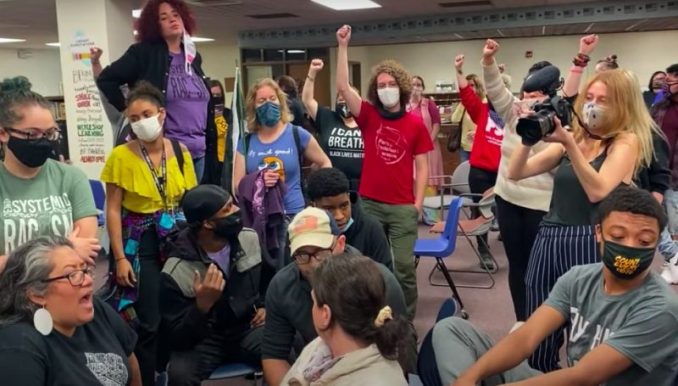 According to NBC News, the conflict began after Melissa Statz heard children in her fourth-grade class talking about the looting and rioting that recently occurred in the nearby town of Kenosha and decided to provide what she thought was some much-needed education. With her students unaware of the details behind the protests, Statz decided this could be a teachable moment.
Using a children's book, an educational video, and a worksheet — materials the teacher says she believed were neutral, Statz led a discussion on racism and why people were protesting. Statz claims she wanted her fourth-grade class to understand systemic racism, but parents said she was indoctrinating their children and wanted her fired.
After hearing about Statz's BLM lesson, a parent posted photos of the worksheet Statz used in a private community Facebook group with more than 40,000 members called "Burlington, WI, buy sell & trade." There, the worksheet was slammed as an attempt to "indoctrinate our kids." Like-minded community members were outraged and demanded that the school district discipline Statz.
With the community in an uproar, BLM protesters were allowed to publicly comment at the Burlington School Board meeting on Monday evening. "I'm sick of each and every one of you being silent!" one mother told the board while speaking about racism against her son. After listening to the concerns and arguments for about an hour, board members tried to move on to other topics, but the BLM protesters weren't having it.
Instead of allowing other concerns and topics to be addressed, the protesters began chanting, "Black Lives Matter!" and "Shut it down!" In a video of the incident, which was posted to YouTube by The Journal Times, protesters can be seen screaming and yelling at other members of the audience and getting in the faces of the school board members, whom they are accused of intimidating:
In the footage, one protester can be heard mocking a school board member about President Donald Trump. With the meeting descending into chaos, police were forced to shut down the event. They escorted the school board members out of the room, but the protest continued outside.
One protester claimed that he was pushed by police, and a scuffle appeared to break out as others tried to hold him back in an attempt to prevent the situation from escalating. "Stop holding motherf***ers back! If that's what they want to do, let them do it! The f***?!" yelled one woman.
Allegedly, a "Black Lives Matter caravan" with "many who said they came from Milwaukee and other area communities to show solidarity for black and brown children in Burlington" arrived at the meeting and were recorded leaving Karcher Middle School two hours after the meeting was abruptly adjourned, according to Mike Ramczyk of the Burlington Standard Press:
Black Lives Matter caravan, many who said they came from Milwaukee and other area communities to show solidarity for black and brown children in Burlington, leave Karcher Middle School, 2 hours after School Board meeting was abruptly adjourned. pic.twitter.com/aMaGGxCUSb

— Mike Ramczyk (@mikeramczyk17) November 10, 2020
"We are non-violent, but we did not stay peaceful," one protester admitted. Rather than discourage such tactics, however, protesters encouraged it. After the meeting, they told others to continue resisting racism through the use of disruptive tactics, such as those seen employed at Karcher Middle School. And, that is the problem.
Whether you agree with the Black Lives Matter movement or the lesson given to fourth-graders by Melissa Statz isn't the issue. What we should be discussing is how to make a positive difference in our communities. Violence, intimidation, yelling, and chaos will not do that. Until all involved can grasp that simple concept and have a rational discussion, nothing will be resolved — and a toddler-sized tantrum won't change that.