(This post may contain disputed claims. We make no assertions as to the validity of the information presented by our Opinion Columnist. We are an opinion blog, not a traditional news outlet, and this post should be treated as such. Enjoy.)
Conservative commentator and activist Candace Owens is suing Facebook for what she says is defamation. After allegedly being targeted by big tech and their cohorts, she declared it's "time to fact-checker the fact-checkers," vowing she's "not going to give up and sit down." Don't miss this.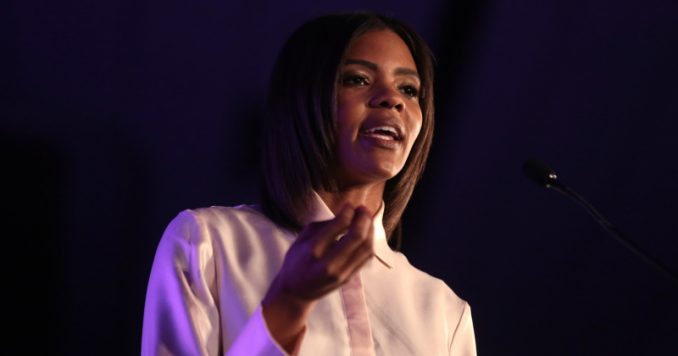 If you've spent any amount of time on Facebook, you have probably heard of the social media platform's fact-checkers, who are employed to flag what they deem to be misinformation. You've also likely heard that those fact-checkers seem to base their findings not on facts but rather on an approved narrative, dinging anyone with an opinion contrary to what they believe to be "right."
In our experience, if you stray from the mainstream media's talking points or question their validity in any way, you're fake news according to Facebook's fact-checkers. While this seemingly happens to even the average Facebook user, it's compounded if you are considered a prominent conservative influence or a publisher with conservative opinions — even if you're open about your own "bias."
In fact, Mad World News has had our own run-ins with Facebook's fact-checkers, who have sought to discredit our opinion blog in any way possible. Not only have our opinions been fact-checked, but we've also been flagged as "false" for asking questions in posts that were meant to create discussion. Since the inception of Facebook's initiative, the fact-checkers have seemingly gone rogue, but don't take our word for it.
Many conservative personalities have shared similar stories, claiming to have been targeted by Facebook's fact-checkers. One such conservative commentator and activist is Candace Owens, who claims the targeting of the fact-checkers led to a demonetization of her Facebook page. She's vowed not to take it lying down, though.
According to the Daily Wire, Owens announced earlier this month that she has connected with big-name lawyers to sue Facebook fact-checkers, who allegedly flag "misinformation." Giving an example of the censorship she claims to have experienced, Owens said one of her "opinions" concerning coronavirus, which was initially shared by a doctor, was "fact-checked" by Facebook's third-party arbiters.
"Quite literally a doctor gave his opinion about COVID-19, which I shared, and Facebook issued a strike on my account because they said only information that they agree with about COVID-19 … was acceptable," the conservative firebrand recalled, according to Fox News. The fact-check, according to Owens, led to her Facebook page being demonetized. She's since decided enough is enough.
Earlier this month, Owens shared further information in a video posted to Twitter. She captioned the announcement, "Guess what?! I am OFFICIALLY suing the 'Fact-Checkers' who are really just activists."
Guess what?! I am OFFICIALLY suing the "Fact-Checkers" who are really just activists. https://t.co/nvLBLZaQEH https://t.co/UGbJzMrMk0

— Candace Owens (@RealCandaceO) November 6, 2020
"I decided I was not going to give up and sit down. The fact-checkers … are activists for the left that shut down your speech if they don't like it," Owens explained. "It is time to fact-check the fact-checkers," she added. "I'm going to put these suckers through discovery and figure out what the relationship is that they have with Facebook."
That last sentence is perhaps the most important. Although Facebook likes to tout transparency, the platform's policies seem to be anything but that. After experiencing bogus fact-checks ourselves, we've asked our Facebook rep repeatedly to clarify the fact-checking procedure. We've only received vague responses that haven't helped. It's as if the fact-checkers have been given free rein to rule as they wish while Facebook shrugs their shoulders, claiming, "It's not us, it's them."
Facebook has refused to overturn obviously biased and questionable fact-checks, claiming they have no power over the third-party fact-checkers they have partnered with. Instead, we were instructed to contact the fact-checkers directly to dispute their findings. In cases where a "correction" is made and the fact-checker is notified, Facebook's policy states the fact-check should be overturned.
An issue arises, however, when the fact-checkers refuse to even acknowledge our correspondence while Facebook acts powerless to enforce their own policies regarding the fact-checkers. So, it would be interesting to see the relationship between the social media giant and their alleged third-party fact-checkers clearly defined for all to see, which is exactly what Owens said she hopes to do with her lawsuit.
In order to help crowdfund her forthcoming legal battle, Owens has launched an online website called Fact Check Zuck, referring to Mark Zuckerburg, Facebook's CEO. "Our freedoms are being stripped away," Owens' site declares. "The overlords of Big Tech are determining what Americans can and cannot say, share, like, and post. Support our legal efforts today as we fight back against Facebook's fact-checkers, confronting those who are suppressing free speech, thought, and expression across our great country."
Owens has reportedly retained a pair of lawyers to represent her in the suit, one of whom is none other than attorney Todd McMurtry — who was part of former Covington Catholic High School student Nick Sandmann's legal team. Sandmann successfully sued multiple media outlets, receiving settlements from two major media outlets in 2020.
On Jan. 7, 2020, CNN settled a lawsuit with Nicholas for an undisclosed amount. This lawsuit was the second filed on Nicholas' behalf but appears to be the first to be settled. It was originally filed on March 12, 2019 and sought $275 million in damages. The other lawsuit was against The Washington Post and sought $250 million. On July 24, 2020 (which Nicholas says was also his 18th birthday), WaPo settled that lawsuit as well. [Source: Distractify]
Facebook launched its third-party fact-checking programs back in 2016 to allegedly weed out "disinformation," but conservatives have repeatedly highlighted the strong and apparent liberal bias of the fact-checkers, accusing the platform of using the fact-checkers' "false," "altered," and "missing context" labels to reduce distribution or add labels to notify users about additional reporting elsewhere, which fits their narrative.
In one recent egregious case of biased censorship from Big Tech, a news report by the New York Post, which was critical of the family of Democratic nominee Joe Biden, was granted limited reach on Facebook and outright blocked from being shared or direct messaged on Twitter. That should be troubling to us all. Essentially, big tech is deciding what you need to know.
I'm not okay with that, and I hope Owens' lawsuit helps put an end to this censorship disguised as a campaign against "misinformation." After all, aren't we all capable of deciding whether such information is believable or not? Big tech obviously doesn't think so. Instead, they want to decide what you're allowed to see, read, and know. And, if you don't toe the line they have arbitrarily created, you get the boot. I agree with Candace Owens. Enough is enough. It's time to fact-check Mark Zuckerburg and his "independent" fact-checkers.