(This post may contain disputed claims. We make no assertions as to the validity of the information presented by our Opinion Columnist. We are an opinion blog, not a traditional news outlet, and this post should be treated as such. Enjoy.)
Police are investigating after a war memorial in Pittsburgh's Lawrenceville neighborhood was vandalized overnight on Memorial Day with a message, in an act that's been described as "incomprehensible."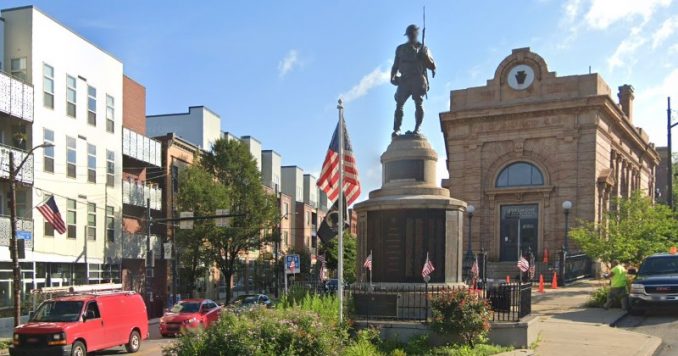 The War Memorial at Doughboy Square, located where Penn and Butler streets meet 34th Street in Pittsburgh's Lawrenceville neighborhood, was vandalized overnight on Memorial Day — a day meant to honor those who gave their lives for our freedom, making the greatest sacrifice in service to the United States of America.
During the act of vandalism, the Lawrenceville War Memorial, which is a statue of the World War I Doughboy that was erected in 1921 by Lawrenceville residents, was covered in red paint. The neighborhood landmark also had symbols and a message spray-painted on it as well.
#BREAKING: War Memorial at 34th and Butler in Lawrenceville vandalized. It's covered in red paint. Message reads "JUNE 19, 1986 GLORY TO THE DAY OF HEROISM!" pic.twitter.com/Go1AfoWtqH

— Mike Holden (@WPXIMikeHolden) May 25, 2020
"June 19, 1986 Glory to the day of Heroism!" the message spray-painted on the base of the memorial reads, according to WPXI. Although it's not clear yet what the message means or who may be responsible for the vandalism, it's been described as "incomprehensible."
"Vandalizing a memorial on any day is wrong, but it is incomprehensible to vandalize this memorial on a day in which we honor those who served and gave their lives for the freedoms we enjoy today," City Public Safety Director Wendell Hissrich said. "Pittsburgh Police will vigorously investigate this crime."
There are a number of surveillance cameras visible in that area, and police are reviewing "all available video footage," according to police spokeswoman Cara Cruz, who also said that arrangements were being made for the Department of Public Works to be brought in and clean the monument. Police have asked that anyone with information contact them at (412) 323-7800.
Our Graffiti Removal Team is working to clean the @CityPGH Doughboy War Memorial in Lawrenceville after it was vandalized last night.@PLANPGH's Public Art Division is on location to advise on properly cleaning the historic monument. pic.twitter.com/IPms2Won4u

— Pittsburgh Public Works (@PGHDPW) May 25, 2020
Ken Diulus, a resident of Lawrenceville who served in the U.S. Navy from 1982 to 1985, couldn't believe his eyes when he walked past the monument on Memorial Day, according to the Pittsburgh Post-Gazette. "I've lived my whole life here, with the exception of when I was in the service, and I have never seen anything like this," he said.
Mark Schram, who served in the Air Force, told WPXI that honoring those who died in service to our country is a tradition for him and the Memorial Day vandalism had him seeing red. "Breaks my heart. I go to the cemetery, my graves, my dad's, my uncles," he said. "And, I happen to come down and see Terry. And, that's [what] I got," he added, referring to the statue and the vandalism.
It's a sight he and others said they will never forget. And, some will never forgive the person who did this, either. "They should probably get a life and not be such a coward and do a cowardly act like this when no one is around," Ken Macieski said.
Larry Cmar shared similar sentiments as he took to video to share images of the vandalism and his thoughts on it, calling those responsible for it "a**holes" in his caption of the clip on YouTube:
"Well, I hope whoever did this, you enjoy your 15 minutes of fame. I hope this video goes viral. You couldn't have picked a worse day to do this," Larry said in the short clip. "These men gave their lives so you could have the freedom of expression, and this is how you repay their honor and their sacrifice on Memorial Day," he concluded, and we couldn't have said it any better.