(This post may contain disputed claims. We make no assertions as to the validity of the information presented by our Opinion Columnist. We are an opinion blog, not a traditional news outlet, and this post should be treated as such. Enjoy.)
A young mother with her child was terrified as they were being attacked by a Black Lives Matter mob in Virginia. The woman, who was in her car, called 911 only and got an unexpected reply from the dispatcher. But that's not all. This type of lawlessness in Democrat-run cities is happening far too often, and many peaceful citizens are getting hurt.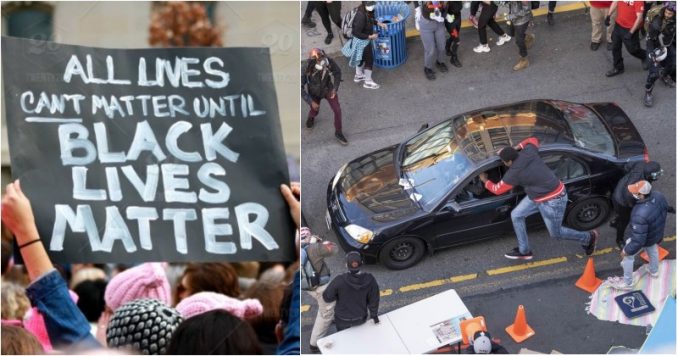 Tucker Carlson did a segment on Thursday night which shocked many in America. The Fox News host played the 911 call as an example of how our local Democrat leaders are not protecting the citizens they were sworn to represent. When it comes down to it, local Democrat governments are caving to the mob and telling their police officers to stand down.
Carlson makes the point that he could find a ton of incidences of violence by the mob, but what he chose to show is "more insidious than violence in many ways."
"It's neglect," Tucker said. "And neglect in itself is a form of violence." 
Carlson then says the 911 call is from a mom named Tara Durant who lives in a small town called Fredericksburg, Virginia. This event happened in early June.
"We were driving on Hanover Street when we came across where it intersected at Caroline Street (the main business district in the City of Fredericksburg) when we suddenly found our vehicle surrounded by protesters," said Durant.
"We were unexpectedly in the middle of the intersection on a one-way road," Durant said. "All of a sudden, we were surrounded by at least fifteen to twenty people, all screaming at us. It was frightening – they clearly had the upper hand, as they saw us getting more and more upset as I am calling for help on my cell phone."
"Then one of them started jumping up and down on my car and I kept screaming at him to stop. My daughter was terrified," the mom said. "People outside the car were yelling, 'f*ck you, f*ck your child.'"
Horrified and frightened by the dangerous situation unfolding around them, Durant called 911, but only to be informed that the officers were told to stand down and that the protests were in fact sanctioned by the city.
Tucker Carlson played the chilling 911 call that every American needs to hear:
Tara Durant relays her thoughts after the attack. 
"This was a horrible and unfair position to find ourselves in," said Durant. "You can either go slow and hope they don't get inside your car, or go fast and deal with the consequences. The utter shock that no first responder is going to come and help is unbelievable."
"There is nowhere to go anymore that you might get caught in a protest," the mother added. "This can happen anywhere, anytime, to anyone. My daughter is a victim and no one should have to feel unsafe driving home from any routine activity."
There are numerous examples of citizens who desperately tried to reach the police or were attacked in their cars, but no one helped. Here is one from Santa Monica, California:
Santa Monica…. BLM pulling white people out of their cars, beating them up and stealing their cars. We knew this was coming. It's here! BLM is a Marxist terrorist organization. pic.twitter.com/k7mxDI12Qq

— 💋❌PattyAngel❌💋 (@PattyAngel64) June 26, 2020
Even more terrifying is the leftwing fake news. Not only are they refusing to report on this ongoing violence against law-abiding citizens, but they are also telling their viewers it's "rightwing" haters that are trying to mow down peaceful protesters in the streets.
A recent article by NPR claimed people on the "far-right" have been running over people in the street. They cited 50 incidences. NPR would have their readers believe that far-right Americans suddenly decided just to start running over people?
Perhaps it has more to do with the frightened motorists who hit the accelerator for safety when the mob came for them.
NPR got caught and apologized for using the wrong photo. They replaced the photo with one from three years ago! They continued to push the false narrative that "right-wing extremists" are "turning cars into weapons":
Ya, NPR has been working the White Supremacy thing all day!!! pic.twitter.com/S1S5jADmnx

— 🇺🇸Dan (@Dan10768802) June 22, 2020
The leftwing media is feeding repulsive lies to so many Americans. If we had honest reporters, there would be no way anyone would vote for the Democrats, who are openly supporting the rioting and mayhem in the streets.
At least those Democrat-run cities who are in chaos cannot cover that up from its citizens. It's right in their face, it is where they live. If one good thing could come from all this civil unrest it is that many Democrat voters living in those cities will choose to vote straight GOP. For that, we can only hope and pray.