(This post may contain disputed claims. We make no assertions as to the validity of the information presented by our Opinion Columnist. We are an opinion blog, not a traditional news outlet, and this post should be treated as such. Enjoy.)
Fulton County District Attorney Paul Howard Jr. announced Wednesday that former Atlanta Police Officer Garrett Rolfe will face felony murder charges and could face the death penalty in the fatal shooting of Rayshard Brooks. Now, Atlanta is facing the consequences. Did you see this coming?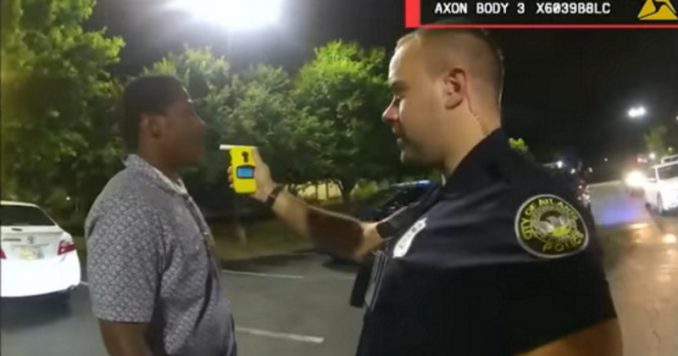 Rayshard Brooks was killed after officers were called to a Wendy's parking lot for reports of a man, later identified as Brooks, asleep in his car, ABC News reported. Police arrived on the scene and gave Brooks a Breathalyzer test, which registered a blood-alcohol level of .108%. With the results well above the legal limit of .08%, the cops tried to handcuff Brooks, and that's when things took a turn. Brooks resisted his DUI arrest and engaged in a ground scuffle with the officers before stealing a taser.
As seen in video footage of the incident, Brooks began to struggle and wrestled with both Officer Garrett Rolfe and Officer Devin Brosnan on the ground. He grabbed an officer's stun gun before making a run for it. Surveillance video captured Brooks running through the parking lot with the officers behind him. At one point, while trying to flee, he turned, pointed the taser, and allegedly shot the stun gun at an officer, who drew his weapon and opened fire, striking the man. Brooks died from two gunshots wounds.
The incident quickly garnered national attention as brief clips of the 43-minute encounter with police made their way to social media. Almost immediately, Brooks' death sparked an arson, protests, an investigation, and the resignation of Atlanta Police Chief Erika Shields, and things aren't getting any better for Atlanta since it was announced that felony murder charges are being filed against Officer Garrett Rolfe in the shooting death of Rayshard Brooks.
After the announcement of the charges in the Brooks shooting, reports circulated that many officers of the Atlanta Police Department were walking off the job, but the Atlanta police disputed the claim that a large number of officers walked off the job on Wednesday. They maintained that they were adequately staffed but did acknowledge, however, that a "higher than usual" number of officers called out of work, Fox News reported.
Earlier suggestions that multiple officers from each zone had walked off the job were inaccurate. The department is experiencing a higher than usual number of call outs with the incoming shift. We have enough resources to maintain operations & remain able to respond to incidents.

— Atlanta Police Department (@Atlanta_Police) June 18, 2020
Reports of a "blue flu" in Atlanta quickly filled social media.
So sad how Atlanta PD caught the corona tonight.

I hear the symptoms are really unique because of how much they're exposed to it on the beat. Stuff like radio silence and inability to start shifts, you know.

Nurses been calling it #BlueFlu, but that's just a rumor…

— Benevolent Warlord Jevaughn 👑+++ (@Jevaughn_Brown) June 18, 2020
This was a clear injustice!! These officers should not have been charged!!

The BlueFLU has already started! pic.twitter.com/EY6YLaqiZZ

— Brandon Tatum (@TheOfficerTatum) June 18, 2020
My heart hurts for every law-abiding citizen of Atlanta negatively affected tonight, but I support the Atlanta police walkout 100%.

Tough but valuable lesson for all. I hope the left is paying attention.#BlueLivesMatter #BlueFlu

— Sara Gonzales (@SaraGonzalesTX) June 18, 2020
And, many do not fault the officers one bit.
When America decides to place a police officer on death row for trying to do his job, America has gone wrong.

Huge support for every police officer in Atlanta refusing to come on shift

Police are being sacrificed to the mob.

#RayshardBrooks #BlueFlu pic.twitter.com/EmCaBYjmbx

— Katie Hopkins (@KTHopkins) June 18, 2020
Atlanta police officers reportedly walking off. As they should.

You want your lawless thug paradise? I have a feeling you're about to get it. Enjoy.

— Tomi Lahren (@TomiLahren) June 18, 2020
Police have been put in an impossible position when it comes to enforcing the law. When they have to make a split-second decision while faced with a violent criminal who resists and appears to intend to do them harm, they are immediately lambasted in the court of public opinion. Making matters worse, they now seemingly have no backup from leadership and D.A.s, who are under public and political pressure to rush to a judgment that falls in line with those in the anti-cop crowd, who riot and loot to get their way.
Can you blame law enforcement officers for not wanting to show up for a job that seemingly demands they put their life on the line while criminals are given the benefit of the doubt? Police are being asked at the risk of their own safety, knowing they aren't afforded the same trust the law-breaking suspects are given when things go wrong. Instead, the actions of cops are automatically assumed to be malicious and even racist as criminal behavior is ignored.
While it is tragic when any human loses their life, incidents involving a criminal who's breaking the law and police who are trying to enforce it aren't always so cut and dry. Perhaps Lance LoRusso, Rolfe's attorney, explained it best when defending his client's actions. "Mr. Brooks was not running away," he said, according to Fox News. "Mr. Brooks turned and offered extreme violence toward a uniformed law enforcement officer. If he was able to deploy the Taser, it would incapacitate Officer [Garrett] Rolfe through his body armor, and at that point, if he decided to disarm another officer, he would be in possession of a firearm."
All things considered, I think I'd be calling in sick too — sick and tired of the impossible standard and expectations that put officers in danger. An old saying comes to mind: "Damned if you do, damned if you don't." Personally, I'd choose whichever lets me come home safely to my family. And, when that begins to mean that I might be alive but spending life behind bars, it's time for a new career.
Our thoughts and prayers are with the officers who have been put in this no-win situation. Let's hope things get under control before we have no police force left.