(This post may contain disputed claims. We make no assertions as to the validity of the information presented by our Opinion Columnist. We are an opinion blog, not a traditional news outlet, and this post should be treated as such. Enjoy.)
Meghan Markle reportedly refused to renounce her United States citizenship and returned to America for one big reason. A source close to the couple claimed that the former D-list actress is looking to have a career in politics and someday become the president of the United States. Well, poor Meghan just got her dreams smashed. Americans gave her a brutal reality check.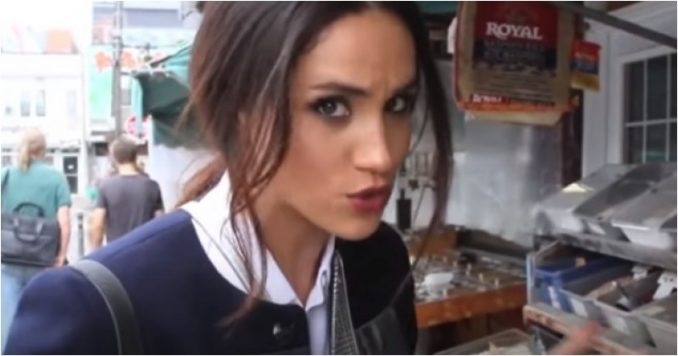 Meghan Markle would "seriously consider running for president" if she and Prince Harry ever "gave up their titles," a source close to the royal has claimed, the Daily Mail reports. 
The Duchess of Sussex, 39, and Prince Harry, 35, now ensconced in an L.A. mansion, recently recorded a video message for Times 100 urging Americans to vote and hinting they are supporting Joe Biden.
"One of the reasons she was so keen not to give up her American citizenship was so she had the option to go into politics," a source close to the couple claimed, speaking to Vanity Fair's Katie Nicholl. "I think if Meghan and Harry ever gave up their titles she would seriously consider running for president."
Make no mistake. Meghan and Harry may have dodged saying they support Biden during that recorded message knowing it would endanger the monies they get from the British Royal Family, but there are other times where they have left no doubt.
"Meghan made her stance on the 2020 presidential race clear when she addressed viewers at the When All Women Vote Couch Party — an online event organized by non-profit organization When We All Vote, which was founded by 'her friend' Michelle Obama," Daily Mail reports.
The 39-year-old disgraced royal voiced her excitement at seeing a "woman of color" on the Democratic ticket — Joe Biden's running mate, Kamala Harris — and explaining that the nomination was particularly meaningful to her because she is biracial.
In 2016, Markle called President Donald Trump "misogynistic" and said she would move to Canada should he be elected. Markle's husband Prince Harry appears to share the same opinion. Earlier this year, he was found to have accused Trump of having "blood on his hands" during a prank call with a Greta Thunberg impersonator.
Royal insiders voiced concern in Britain where the Queen and her family are expected to remain politically neutral at all times.
Buckingham Palace also distanced itself from Harry's remarks by saying that "the Duke is not a working member of the royal family" and describing his comments as "made in a personal capacity."
Mental health professionals have said Meghan's delusions about running for the presidency seem to point to a narcissistic personality disorder.
"I am concerned for Meghan Markle, because if she does have mental health issues (such as Narcissistic Personality Disorder or many traits of narcissism)," writes Mandy Klopper, who is a "Cognitive Behavioural Therapist."
"In my opinion, she exhibits all of the nine symptoms required to diagnose someone with Narcissistic Personality Disorder," she adds. "As a result, what [narcissists] see as normal may be seen by others as self-serving, self-promoting, or spoiled and entitled behavior."
Narcissistic Personality Disorder is characterized by a long-standing pattern of grandiosity (either in fantasy or actual behavior), an overwhelming need for admiration, and usually a complete lack of empathy toward others.
Americans blasted the fame-seeking American royal over this ridiculous idea to become POTUS. 
"What the hell is the fascination with this piece of trash? Besides acting, marrying into money, and virtue signaling without doing in actual work, what qualifies her to be elected to a school board? She just enjoys telling other people what to do… mainly Harry," said Leo from Chicago.
"Joe Biden who clearly has some issues will easily get 40-45% of votes just because there is a D next to his name. Can you really blame Meghan here? She sees the current nominee and thinks she can get a nomination too. Haha. Liberals should get some brains," Mike from Dallas said. 
"Gave up their titles?? Hahahahaha! That is all she has so she knows they are about to be stripped of their titles and this is her cover story. Does she really not understand how much she is hated and despised due to her psychopathic narcissist personality?" said Alice from Colorado Springs.
"So her real agenda has been coming out, and she pretty much is admitting that she tried to wreck things with Harry at home and not stay in the UK because she wanted a path in politics open. If that doesn't scream selfish narcissist, I don't know what does," said Eleanor from Tucson.
"The only other woman more unlikable than Hillary Clinton and Kamala Harris. Do it run. We'll all sit back at laugh at you!" said Lyon from Houston.
There sure seems to be something to the allegations that Meghan Markle has mental health issues.
Mental health professionals will also tell you that those suffering from a "personality disorder" rarely ever get help.
Another example of a "personality disorder" is an Anti-Social Personality Disorder, or the more commonly known as a sociopath. These would be your serial killers and gang members. These disorders cannot be treated with drugs since it is a personality disorder that stems from childhood.
These people do not believe they have a problem. They see the world as having "the problem" and tend to blame others for their behavior. They are perpetual victims in their own eyes.
Maybe Prince Harry should wake up. He now has a son to raise, and with Meghan's alleged mental health issues, this is only going to get worse. These relationships never end well.
Meanwhile, Meghan does not deserve any sympathy. She has to take responsibility for herself, and as long as she is getting away with acting out, the former D-list actress has no reason to seek help.