(This post may contain disputed claims. We make no assertions as to the validity of the information presented by our Opinion Columnist. We are an opinion blog, not a traditional news outlet, and this post should be treated as such. Enjoy.)
Last week, Jill Biden was gushing to reporters about Michelle Obama potentially becoming her husband's running mate, and like clockwork, we learn Netflix is rolling out a "surprise" documentary titled: "Becoming Michelle." However, Michelle's own mother previously said she does not see her as "a star." Don't miss this.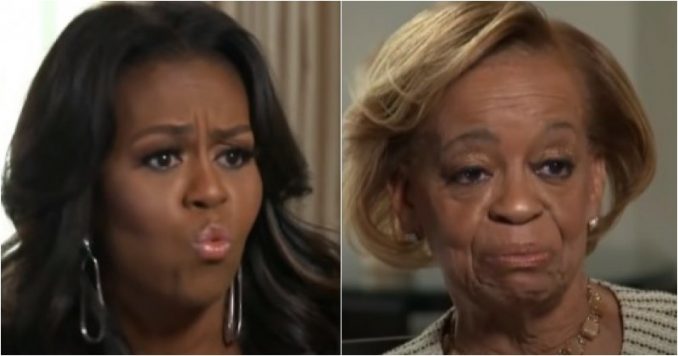 What could lure Michelle Obama to become second fiddle to Joe Biden? That question was answered last week by politicos in the know who claim the Biden campaign is trying to attract a huge name like the former first lady with the caveat that Biden's days as POTUS would be numbered.
His mental status is on the minds of the Democrats running the Biden campaign, so the Veep position must be someone who could take over the presidency during the first term.
So, we were not shocked to learn Michelle Obama is rolling out a "surprise" documentary.
"On the heels of increased speculation that she'll be Joe Biden's vice presidential pick and a star-studded online voter registration push, Michelle Obama is now set to star in a Netflix documentary focused on her 34-city book tour," Breitbart reports. 
"Becoming is an intimate look into the life of former First Lady Michelle Obama during a moment of profound change, not only for her personally but for the country she and her husband served over eight impactful years in the White House," a Netflix press release states.
"I'm excited to share that on May 6, will release BECOMING, a documentary directed by Nadia Hallgren that shares the stories of the amazing people I met after the release of my memoir. During this difficult time, I hope you'll find some inspiration and joy in this film," Michelle Obama said on Monday of Becoming.
Michelle's mother won't be on board with her campaign. 
However, there is one person very close to Michelle Obama who will be less than happy she is embarking on a potential run in politics hoping to "become" the president of the United States. That is the person who knows her best, her mother, Marian Robinson.
Marian Robinson was used by the Obamas as their built-in babysitter during their years in the White House. One telling event proves that Mrs. Robinson is no fan of Michelle's and sees her as a mediocre lawyer who got lucky to become the first lady. She does not see her as "a star" at all.
After the 2019 Grammy Awards, where Michelle made an appearance and was lauded by the Hollywood crowd, the former first lady shared a text conversation with her dear mother.
Many were wondering why Michelle Obama was on stage at the Grammys talking about pop music history when she has nothing to do with the industry, and there is no doubt that's what her own mother thought, too.
After the Grammy appearance, Mrs. Robinson was less than impressed with her daughter, texting to Michelle: "I guess you were a hit at the Grammys."
"I'm sitting here with Valarie [Jarrett] and this text is so typically you," Michelle responded. "Did you watch it?" Michelle asked.
Marian then said, "I saw it because Gracie called me. Did you meet any of the real stars or did you run right after you were done?"
Of course, Michelle's mom made the point she doesn't see her daughter as a "real star." After Mrs. Robinson and Michelle bantered back and forth over if she was informed about the Grammy appearance, Michelle quiped, "I AM A real star…by the way." Her mother answers, "Yeah."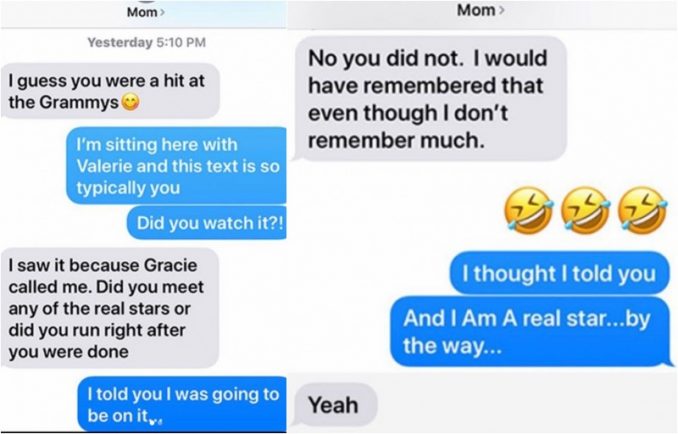 "When your mom doesn't think you're a 'real' celebrity…Tonight in Phoenix, I shared this text thread from my mom from #Grammys night, and I just had to share it with all of you," wrote Obama on her Instagram account after the event.
We can only surmise that Michelle was looking for sympathy. She wanted her followers to feel her so-called pain.
"You're not a fake celebrity, you're an inspiration! We miss you Miss O," posted "Chaurelle." Another follower, "Hurricane Marlee" said, "You're more than a celebrity! You're a hero!"
If this is how Marian Robinson reacts to Michelle making an appearance at the Grammy's, it's only logical to ascertain the former first lady's mother will not be on board to see Michelle launch a campaign to be potentially the next president.
"This isn't a surprise @Netflix this is an introduction to the VP Biden will pick…must keep all criminals in the family: Announces Surprise Michelle Obama Documentary 'Becoming,'" tweeted "S Finch."
This isn't a surprise @Netflix this is an introduction to the VP Biden will pick…must keep all criminals in the family: Announces Surprise Michelle Obama Documentary 'Becoming' https://t.co/TozOTEbNpI via @BreitbartNews

— S Finch (@Ladyred133S) April 27, 2020
The Obamas have certainly cashed in since leaving the White House in January 2017. In March of that year, the couple inked a book deal with Penguin Random House worth a reported $65 million.
The aforementioned Netflix deal is worth an estimated $50 million. The couples' $11.75 million, 7,000 square waterfront mansion in Martha's Vineyard was widely viewed last December as an early Christmas gift to themselves.
The road to Michelle Obama's political career is rife with incoming bombshells like her own mother's utter disdain for her newfound "celebrity" status. When your own mother thinks you are making a fool of yourself on a Grammy stage, just think what she'll say about Michelle being one step away from taking the world's stage as the leader of the free world.