(This post may contain disputed claims. We make no assertions as to the validity of the information presented by our Opinion Columnist. We are an opinion blog, not a traditional news outlet, and this post should be treated as such. Enjoy.)
President Donald Trump was totally blindsided by reports that Nancy Pelosi and her cohorts had once again abandoned Capitol Hill on Tuesday. Reporters were notified that the Speaker had abruptly left Washington D.C. along with her cohorts as the president was holding a presser in the Oval Office. When will the Speaker return to work? That answer caused President Trump to lash out at Pelosi. Don't miss this.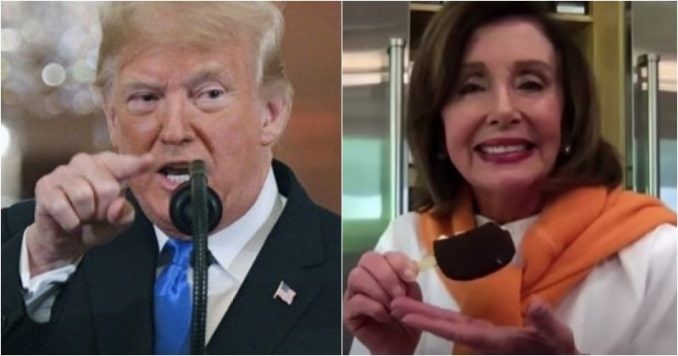 Nancy Pelosi waited until President Trump was busy holding a presser with Florida Governor Ron DeSantis to announce to the press corps she and her cohorts were once again abandoning Capitol Hill. Even as the presser was occurring in real-time, a few reporters thought Nancy Pelosi and her Democrat cohorts were still working on Capitol Hill.
Trump was hard at work inside the Oval Office with his economic team as they discussed Gov. DeSantis' plan to reopen Florida. Trump and his economic adviser Larry Kudlow told reporters he was ready to work with Pelosi to get another big tax cut for middle-class workers as soon as possible.
Trump said that "as people go back to work they can retain more of their hard-earned income." He added, "I wanted a payroll tax cut but the Democrats did not want to give it to us. Democrats did not want a payroll tax cut and I think that's a mistake. I want to change that."
One reporter, who was still under the impression that Nancy Pelosi was still on the Hill, asked Trump: "Mr. President, Congress goes back to work next week, what about aid to states?"
"I think there is a big difference between states who are suffering due to COVID and states that have been run badly for 25 years," Trump said. "We'd have to talk about things like payroll tax cuts, we'd have to talk about things like sanctuary cities where people who are criminals are protected from prosecution. I don't even know if they know they have a problem. But they have a big problem with their sanctuary city situation. We have to talk to [Pelosi and the Democrats] about all that."
"We are open to talking, but it would have to be COVID-related," Trump said. At this point, the president has no idea Nancy and her minions aren't on Capitol Hill to address any of these issues so important to the American people.
Then, one reporter gets a notification in real-time that Nancy and her cohorts have abandoned their jobs and left Washington, D.C.
"You know Congress was supposed to come back to work next week," the reporter said to Trump. "Steny Hoyer has just announced that the House will not come back since D.C. still has a 'stay-at-home' order. Is that a good move, a wise move?"
"The Democrats they don't want to come back…they don't want to come back," Trump said. "I think they should be back here, but they are enjoying their vacation."
"You think they are enjoying themselves?" the reporter asked Trump.
"Yeah, they are…they are. Look, Nancy Pelosi is eating ice cream on late-night television. Yeah, I think they probably are having a great time….eating ice cream. I think they should come back and we should work on this together."
So, when will Pelosi and her cohorts come back to work? They have no date according to their statement.
"The House of Representatives has dropped plans to return to Washington, D.C., next week due to concerns stemming from the Chinese coronavirus pandemic, according to a top congressional Democrat," Breitbart reports. 
Nancy relegates giving the bad news to her minion, House Majority Leader Steny Hoyer. She is totally aware of how incredibly tone-deaf this move is to the American people.
"House Majority Leader Steny Hoyer (D-MD) said lawmakers arrived at the decision on the advice of the Capitol physician," Breitbart adds.
"We made a judgment that we will not come back next week but that we hope to come back very soon," Hoyer said in a statement. Leaders of both parties had announced the House and Senate would return May 4. But the congressional physician's view was there is a "risk" to members, Hoyer said.
Well, it's pretty telling that the GOP representatives are not following along with Nancy and her cohorts plan to once again abandon Capitol Hill. However, they cannot pass tax cuts or any other legislation the country might need without the Democrats.
We are sure Nancy Pelosi is back at her lavish San Francisco mansion and enjoying her $12 dollar a pint ice cream as American lives are still being devastated. What more do supporters of the Democrats need to see to turn their backs on the party who abandons them during a national emergency?