(This post may contain disputed claims. We make no assertions as to the validity of the information presented by our Opinion Columnist. We are an opinion blog, not a traditional news outlet, and this post should be treated as such. Enjoy.)
When Antifa militants ganged up on Trump fans, allegedly pummeling women to the ground, the pro-Trump group didn't waste any time responding. The decidedly stark contrasts between the two groups and their reactions to one another was caught on video that can't be ignored. Don't miss this.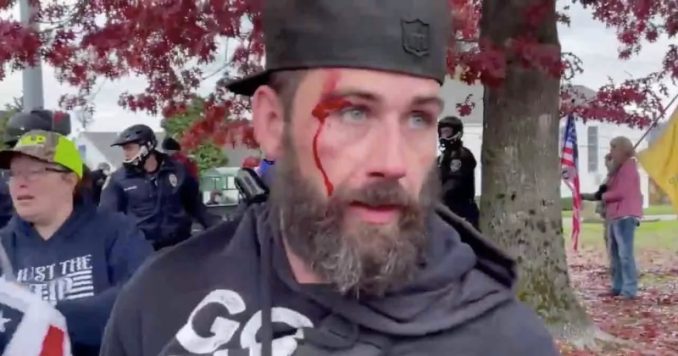 A large group of President Donald Trump supporters faced off with Antifa militants in Olympia, Washington, over the weekend after numerous media outlets called the 2020 presidential election in favor of former Vice President Joe Biden. With Biden declared the projected victor, allegations of election fraud and interference quickly flooded social media with President Trump refusing to concede as lawsuits were filed.
With the integrity of our election process called into question, Americans on the right side of the political aisle were called on to take back our constitutional freedoms. Heeding that call, Trump supporters lined the streets in Olympia and even gathered on the steps of the state capitol. This resulted in a sometimes violent study in contrasts, according to The Blaze.
As the president's backers waved American and pro-Trump flags and chanted the "back the blue!" pro-police rallying cry, the protests were chronicled on video by citizen reporter and video journalist Katie Daviscourt:
Crowd is chanting Back the Blue to show support for Law Enforcement. pic.twitter.com/52VNLqOy1r

— Katie Daviscourt🇺🇸 (@KatieDaviscourt) November 7, 2020
Chants of "USA! USA! USA!" rang out from Trump's backers, while black-clad Antifa militants managed several of their own cries, including, "F*ck the USA!" and "F*ck America." They were also captured stomping on Old Glory in the footage below. Be forewarned, it contains strong language.
President Trump supporters are chanting "USA – USA – USA." pic.twitter.com/pQvLW4KeWD

— Katie Daviscourt🇺🇸 (@KatieDaviscourt) November 7, 2020
The pro-Trump crowd told off the Antifa militants, countering their chants with strongly worded chants of their own. "Get a job!" and "F*ck Antifa!" they yelled back. And, again, we must warn you that the language might bother some viewers.
Crowd of Trump Supporters chant "fu*k Antifa" at the small group of militants across the street. pic.twitter.com/zB2i4FC8fM

— Katie Daviscourt🇺🇸 (@KatieDaviscourt) November 8, 2020
Sadly, it wasn't long before the war of words escalated. The verbal confrontation turned violent as a brawl ensued between the groups, forcing police to respond with a flash-bang and what appeared to be rounds of non-lethal munitions.
According to one witness, Antifa militants were "attacking two women." Then, a man, presumed to be a Trump supporter who was bleeding from his eyebrow, confirmed that he was attacked by Antifa as well.
NOW: Antifa Militants attack Trump Supporters. One man is bleeding from the head. Olympia PD deploys flash bangs and crowd control munitions. #stopthesteal pic.twitter.com/yU6HPMhN26

— Katie Daviscourt🇺🇸 (@KatieDaviscourt) November 7, 2020
After Antifa seemingly upped the ante, turning the verbal confrontation into a violent one, the pro-Trump group appeared to offer a fitting response, which was captured in another clip. As two pro-Trump women described the Antifa attack, a distinct sound can be heard in the background.
In the footage, one woman is describing how she was punched from behind while a leftist militant tried to steal her pro-Trump flag. Then, as the other woman was explaining how a gang of Antifa thugs jumped her, the recognizable sound began to fill the air. It was singing. Although a bit off-key and a tad haggard, it was the sound of song nonetheless, and it wasn't just any song, either. It was our national anthem.
Antifa and BLM attacked this group of women. #stopthesteal pic.twitter.com/GhRmk3wxYp

— Katie Daviscourt🇺🇸 (@KatieDaviscourt) November 7, 2020
While many want to point to President Trump, blaming him for Antifa's antics, it's worth noting that, over the weekend, anarchists also launched attacks on Democrats. They reportedly busted the windows at the Multnomah County Democrats building in Portland and spray-painted messages such as "F*** Biden" and "No Presidents" — along with the universal symbol of anarchists — on Saturday.
In Washington, D.C., black-clad demonstrators marched toward Black Lives Matter Plaza that same night, holding signs that read, "FREE THE PEOPLE, FIGHT THE POWER, F*CK THE POLICE – DEFUND, DISARM, DISBAND," and, "BURN DOWN THE AMERICAN PLANTATION."
"What do we want? Justice When do we want it? Now! If we don't get it — Burn it down! BURN. IT. DOWN!" the group chanted, adding, "F*ck Trump! F*ck Biden! No more presidents!" The same type of chants was also heard in Detroit, where one leftist group that wasn't too thrilled with Biden's projected win made it known. "F*ck Donald Trump! F*ck Biden too! Both of them don't give a f*** about you!" they chanted.
Antifa's disdain for America is evident, and it has nothing to do with who is in office. Their answer to the problems they perceive isn't unity, liberty, or freedom. Instead, it's cowardice, destruction, and violence, which is quickly becoming the group's trademark. Thankfully, the pro-Trump crowd is responding to their antics with a statement on hard-won freedom, breaking out in a song of unity that celebrates liberty for all — even those who'd rather stomp all over it, literally.