(This post may contain disputed claims. We make no assertions as to the validity of the information presented by our Opinion Columnist. We are an opinion blog, not a traditional news outlet, and this post should be treated as such. Enjoy.)
Cardi B freaked out after seeing Trump supporters "walking around." Exclaiming that they "are everywhere," the rapper lost it on video, saying she feared for her safety as Trump supporters allegedly swarmed LA. You don't want to miss her epic meltdown — or the real reason we think she had it.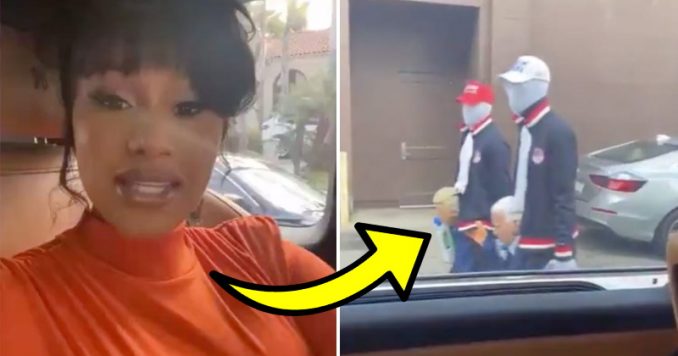 Cardi B, an American rapper and Joe Biden surrogate, was terrified when she recently observed groups of Trump supporters on the streets of Los Angeles, California. Although she was safe in her vehicle, the liberal performer, who was born in Manhattan and raised in the Bronx, was so frightened that she took to video to express her horror.
"I don't like this shit!" she screeched as she screamed in horror, claiming Trump supporters were swarming LA in their "big ass trucks."
According to Breitbart, the footage emerged when Cardi B reportedly posted a series of clips to her Instagram Stories on Saturday in which she live-streamed herself driving past Trump fans wearing MAGA hats and waving American flags. "Look how many fuckers! I'm scared now we're gonna get jumped. I really feel like we're gonna get jumped. Oh my God. Ahhh!" she screamed in the footage.
"Trump supporters are everywhere, I'm scared. I don't like it, with their big ass trucks," the WAP singer declared in another clip. "I don't like this shit. Look at this. Look at this! Look how they're walking around, with fake guns out and covering their fucking face. I don't like this shit!" she exclaimed in yet another clip of the "frightening" encounter, where Trump supporters walked past her vehicle without seeming to pay the leftist star any mind.
Watch the video for yourself:
Cardi B stunned by trump supporters moments prior to offset alleged arrest 😱 pic.twitter.com/IQEzJDcLtl

— soseriuzradio (@soseriuzradio) October 25, 2020
Scary, right? I mean, these Trump supporters were covering their faces during a pandemic as advised by the CDC. Oh, the horror! But, maybe that is terrifying to someone who recently threw herself a lavish birthday celebration in Las Vegas, where she was seen partying without wearing a mask.
Let's not forget what appears to be "menacing" toy guns in their hands, though. Not to mention those intimidating "big ass" trucks. Yes, I'm dripping with sarcasm here, and I wouldn't be surprised if there was another reason the rapper was trying to make a scene on her social media accounts. Perhaps Cardi B was trying to deflect attention from elsewhere — like distracting from her husband's detainment by police.
Coincidently, Insider reports that the videos posted to Instagram show Cardi B on her way to the scene where her husband — known as the rapper Offset — had been detained by police. Offset was reportedly being detained after someone inside his vehicle allegedly pointed a gun at Trump supporters who had just participated in a rally in Beverly Hills, Breitbart added.
The Beverly Hills Police Department released a statement late Saturday, saying that they had arrested one of the passengers in the vehicle for pointing the weapon. The individual was identified as Marcelo Almanzar, 20, who faces charges of carrying a concealed weapon and carrying a loaded firearm in public. The Beverly Hills PD said Offset wasn't arrested.
Offset was detained in Los Angeles while on Instagram Live after run-in with Trump supporters. pic.twitter.com/YbRR8WNIXg

— Pop Crave (@PopCrave) October 25, 2020
"Offset was removed from his vehicle and detained by police while driving through a crowd of Trump supporters," Insider further reported. "The authorities told him that they had received a report saying passengers in his vehicle were 'waving guns' at bystanders."
That doesn't look good for Cardi B, who reportedly pleaded with the officers to release her husband. It's also worth mentioning that, although her husband was released, Marcelo Almanzar, the passenger in his car who was arrested, is Cardi B's cousin.
When you actively campaign for Joe Biden, as Cardi B has done, it doesn't look good to have your cousin allegedly pointing weapons at Trump supporters while riding around with your husband. What better way to deflect from that bad publicity than to try to create a video accusing the other side of instilling fear.
Distraught Cardi B begs Beverly Hills police to release Offset https://t.co/Pzlg4T4g43 via @MailOnline

— For My People 💪🏾 (@Cecejaye23) October 25, 2020
"Look how they're walking around!" Cardi B screamed. Yep, walking around. I mean, watch the clip again. If we believe she was actually in fear, we also have to acknowledge that it's the mere existence of Trump supporters that caused her distress.
At no time was she ever actually threatened nor was any behavior displayed that would leave her to believe she would be. So, what's really going on here?
Here's another clue: Cardi B conducted a lengthy interview with Joe Biden, the Democrat presidential hopeful, for Elle magazine in August, in which she demanded free college tuition and health insurance. Knowing her history, I'm inclined to believe she wasn't afraid at all — not of any immediate danger presented by the Trump supporters, anyway.
She might, however, be afraid for her buddy Joe because his election chances aren't looking good. After all, Trump supporters are everywhere — even in the liberal land of Los Angeles, California.