(This post may contain disputed claims. We make no assertions as to the validity of the information presented by our Opinion Columnist. We are an opinion blog, not a traditional news outlet, and this post should be treated as such. Enjoy.)
Although the mainstream media would like us to believe that President Donald Trump's issues with their reporting only arose because of their criticisms of his job as Commander in Chief, there's been a longstanding dispute. On that note, enjoy a clip of Trump walking out of a CNN interview 30 years ago.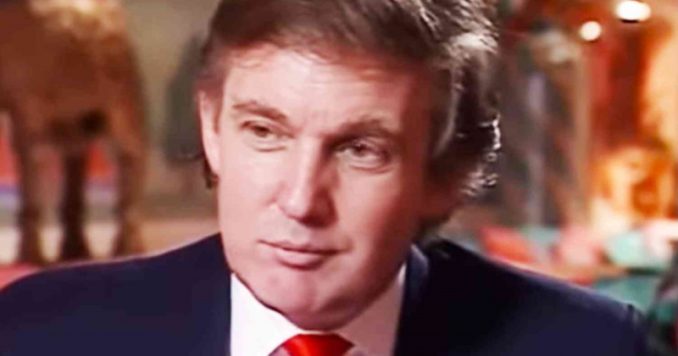 With the presidential race heating up and about to come to a head, the media's portrayal of President Donald Trump and what they choose to report has come under scrutiny. While some may claim that the president's attitude towards the media is related to their criticisms of his time in office, a video has reemerged, proving that Trump has had a longstanding dispute with the way the MSM spreads disinformation.
Don't believe me? You can watch a CNN interview from March 29, 1990, in which Trump becomes fed-up enough to walk out, at the bottom of this article. But, first, some background information. The exchange allegedly began when Trump was pressed on the economic outlook of his Atlantic City casinos by CNN reporter Charles Feldman, Independent reported.
For those who might not be able to watch the clip at this time, let me quote some of it for you. "People say something false, I attack those people because the news gets away with murder — the news media — they get away with murder. You're tough in terms of libel laws because the media is so protected, and it's ridiculous that they're so protected [that] they can write virtually anything," Trump said, scolding the mainstream media for being fake news.
"The difference is — with me at least — they pay some price, and I think more people should have that attitude, and I think you'd find a lot more accurate reporting, including yours," Trump continued.
When asked to explain what he found inaccurate, he said that questions posed were presented in a way that was false and unfair. After Feldman argued that questions couldn't be inaccurate by definition, Trump doubled-down, saying that he thought the questions were "put in such a way that made them statements."
"They became statements as opposed to questions," Trump said. "And, I think that's not good reporting." When asked to give examples, Trump boldly declared, "I don't think your viewers would be very interested in it, nor do I want to embarrass you."
Undeterred, Feldman attempted to ask about alleged negative financial analyst predictions on the then-soon-to-open Trump Taj Mahal, but when he vaguely said "this is them saying it, not me," Trump lashed out. "What do you mean by 'them'?" he asked. "This is one or two people, and what about the positive people?"
Feldman reassures Trump that it's not one or two people but rather "five or six," who said negative things, to which he replies, "Here we are. Back to the negative," he adds. "Do this interview with somebody else," he continues, removing his microphone. "Frankly, you're a very negative guy, and I think it's very unfair reporting. Good luck," he concludes, extending his hand for a handshake before walking out.
Is balanced reporting and integrity in the media really such a bad thing for a public figure to demand? I don't think so. I would think that's what a good journalist does — presents both sides and lets the viewers draw their own conclusions. That doesn't seem to be what our mainstream media is about any more, though, does it?
Instead, it's become a machine to tell people what to think, and I don't know about you, but I don't find that comforting at all. Personally, I'm comforted by the fact that Trump calls it out when he sees it — and I'm even more comforted to know that this isn't anything new for him. Donald Trump has pushed for honest, fair reporting for decades, and it's definitely something our country needs.
Donald Trump didn't create a distrust of the mainstream media. That's something they have cultivated for decades. They're just getting called out on it more frequently. That's a good thing.
While I have no problem with someone having an opinion, it should be presented as such. The mainstream media isn't an opinion blog, however. It's supposed to present the facts and the facts alone. Sadly, that's not the case, and apparently, it hasn't been for a while.